Labor Day Weekend should be the time to kick back and relax. Good company, good weather, and delicious food. 
While you've been busy getting ready for that first weekend in September, have you forgotten to plan what you'll be eating? Don't worry. We've got you covered!
Barbecuing is a staple of Labor Day Weekend and we're not going to let you go hungry. We've got together some BBQ and meat smoking recipes so that you can have the perfect Labor Day Weekend. 
Loaded Brisket Nachos
What better combo than brisket and nachos??!
It's two of the BEST foods COMBINED! All the toppings will make these LOOOOADED nachos the most EPIC appetiser for adults and kids!
See the loaded brisket nachos recipe here.
Brisket Sausage Rolls
Everyone loves brisket wrapped in pastry! These are perfect to make ahead of time and pop in the oven when guests arrive!
Plus you don't need any cutlery or plates to serve them! Just put out your favorite dipping sauces!
See the smoked brisket rolls here.
Smoked Chicken Legs
Who does love juicy grilled chicken drumsticks? I like to use a delicious peri peri rub!
See The Recipe: Smoked Chicken Legs
Stuffed and Smoked Chicken Breasts
Looking for something you can prepare earlier and just throw in the smoker? These stuffed chicken breasts are perfect, who doesn't love gooey, oozy cheese stuffed in chicken?
See the Smoked and Stuffed Chicken Breast recipe
Smoked Pulled Pork Nachos 
Got some leftover pulled pork? Let's whip up NACHOS!
This dish is easy to throw together! Just have your pork presmoked and pulled.
Then all you need to do is layer it will cheese, nachos chips, and grill!
See the Smoked Pulled Pork Nachos recipe
Smoked Meatballs in Subs
These smokey meatballs are a hit at all cookouts! You can serve them as an appetizer or as a main.
If you're serving them as a main, whip up some tomato sauce to serve them in or serve with subs.
Pork Shoulder Burnt Ends
What is better than juicy, smoky caramelized meat candy? Nothing!
These pork shoulder burnt ends are perfect if you have leftover meat. You can also do them with a whole pork shoulder.
Get the smoked pork shoulder ends recipe here
Garlic Grilled Shrimp Skewers
Are fresh shrimp too expensive? No problem. This recipe is best cooked with frozen shrimp!
These skewers are marinated in a delicious combination of olive oil, garlic, and herbs.
This recipe is easy, scrumptious, and also makes for fantastic leftovers!
If you don't have any skewers on hand, you could try searing the shrimp on a salt block
Smoked Pork Loin
Wanting to impress some guests?
Look no further than this smoked pork loin.
It features a beautiful combination of caramel, soy, and smoky flavors.
This sauce can also be used with duck or chicken breasts if that is what you have on hand.
If you're wanting to make food ahead of time, you can prepare the sauce up to a week beforehand.
Grilled Sausages
Easy? Tick. Few ingredients? Tick. Yummy? Absolutely!
Grilled sausages are a perfect dish if you've got little time and are after a quick and cheap meal.
Topped with grilled onions and sauce and you have a winner!
This dish is ideal for serving crowds, occupying the kids, or using up those spare sausages in your freezer.
If you're feeling a bit fancy (but without too much effort) this is the dish for you.
This recipe guarantees a smoky delicious salmon, without the pain of it sticking to the grill.
Topped with a sweet and salty glaze, that will surely win over any fussy guests.
Heat the barbecue and get cooking!
Smoked Ribs with The 321 Method
This recipe is all about enhancing the meat's authentic flavor and getting back to basics.
Sometimes simple is best. It doesn't take long to cook and can be served with rice, salad, or anything else you desire.
Beef Kebabs with Cashew Rice
A little bit smokey, a little bit salty.
That's exactly how we like our kebabs.
If you're after something similar, this dish might just tick all your boxes.
Try changing it up and serving it with mushrooms, zucchini, and halloumi.
Or try serving with whole smoked pineapple.
Smoked Pizza
Looking for a recipe that is super tasty but simple?
Smoked pizza is perfect!
All you need to do is heat the grill and throw in the pizzas!
You can even use a pizza stone
See the smoked pizza recipe here.
Detroit Hot Honey Wings
So, we heard you like your dishes with a bit of spice?
Welcome; you've come to the right place!
Spicy, juicy, and full of flavor. These hot honey wings are not only sweet and delicious, but they will also give you that extra kick.
If you're a bit worried about the spice factor, feel free to alter the amount of hot sauce you add.
There's no need to stress when it comes to planning your Labor Day weekend BBQ dishes.
These recipes are fun, simple, and most importantly tasty!
So, sit back and enjoy your hard-earned weekend.
What are your Labor Day go-to dishes?
Smoke On!

Charlie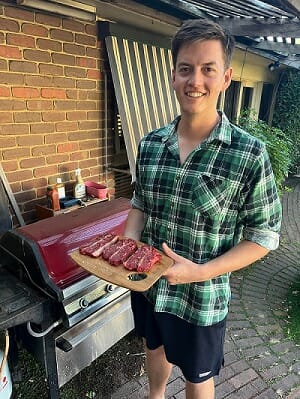 Author: Charlie Reeves
Hi, I'm Charlie, I am head taste tester at Simply Meat Smoking! I love it grilling, smoking, and getting out in the yard with the kids! The family also love to test all my recipes (especially my EXTRA CRISPY pulled pork, smoky pork loin, and ANY SEAFOOD I grill)
You will usually find me playing with the kids, perfecting my brisket bark, or sipping beers with boys around the fire. Can't wait to share all my delicious smoking and grilling adventures with you!

You can read more on our About Us page.
Hungry For More?