Who says that a Pit Boss pellet grill's only good for beef brisket!
It's fantastic for cooking smoked chicken, whether it's the chicken thigh, chicken leg, or chicken breast.
Smoked chicken, in my opinion, tastes EPIC.
Unlike ordinary grilled chicken, it has this excellent smoky flavor that makes it taste so good.
In this article, we'll be teaching you how to easily smoke chicken drumsticks at home
It's very simple to do! But we understand that the cooking process and prep work may seem a little overwhelming at first. 
But don't worry, we'll be sure to answer all of your questions and more.
Using Your Pit Boss Pellet Grill to Smoke Chicken Legs
Your Pit Boss pellet smoker's cooking grate will be able to hold chicken drumsticks just fine.
So even though chicken legs are a lot smaller than brisket, you won't have to worry about them falling through the grill grates. 
What You'll Need For Smoked Chicken Legs
Here is a list of everything you'll need for smoking chicken legs:
Chicken Legs or Chicken Quarters.
BBQ seasoning
Olive Oil
How Much Chicken to Buy to Make Smoked Chicken Legs?
Prepare half a pound of chicken per person.
The amount of chicken you'll need to buy depends on how many people you'll be cooking for.
However, if the chicken pieces are cheaper than usual, then we would recommend buying more than you'll need. 
This is an excellent cost-saving tip. Because you can always freeze the leftover chicken drumsticks that you don't intend on cooking immediately.
You also don't have to worry about the meat going bad because storing it in the freezer will help it keep for longer.
It's also quite convenient because you can defrost the raw chicken and cook it whenever you want.
Just remember to keep the meat tightly sealed in a resealable plastic bag so that it's not left directly exposed in your freezer.
Should You Wash Chicken Legs?
While it seems like a smart idea to wash the meat before patting your chicken legs dry, you actually shouldn't.
Doing is not only gets rid of most of the meat's flavor, but it can increase the bacteria count on the meat's surface.
Since white meat must be properly cooked through before it can be eaten, you won't have to worry about trying to get rid of any bacteria during the preparation phase.
So long as the chicken achieves an internal meat temperature of 165 ℉, everything should be fine.
How to Prep Chicken Legs for Smoking
Step 1: Start by removing the chicken legs from their packaging and then place them onto a clean cutting board.
Step 2: Next, grab some paper towels and just pat the surface of the meat so that it's dry before you season it.
What Temperature to Smoke Chicken Legs At?
You want to smoke legs legs at 250°F – 275°F, make sure you leave preheat your smoker.
If you're using a Pit Boss pellet smoker then leave the P-Setting at P-4. 
What Wood Goes Well With Smoked Chicken Legs?
The best types of wood for chicken is apple wood, cherry wood, and maple wood.
All these types of wood provide a light flavor that doesn't overwhelm the chicken.
See some more suggestions below
Applewood
Maple wood
Cherry wood
Pecan
Hickory
Step 4: How to Season Smoked Chicken
While you can easily make a dry rub for chicken at home.
Or you could also purchase an all-purpose chicken dry rub from the shops.
But here's an easy DIY rub that we recommend you try — Mike's All-Purpose Dry Rub for Chicken.
Do You Smoke Chicken in Indirect Heat?
Yes you smoke chicken with indirect heat.
Where to Place Chicken in The Smoker?
You should keep the meat away from the open flame and instead cook them using indirect heat.
If you cook the chicken legs at high heat for an extended amount of time, they will develop an undesirable leathery texture.
You can also just place the chicken pieces over direct heat at the very end of the cook so that it develops those nice grill lines.
However, you should make sure that your smoker grill's lid is left open for this process.
Should You Flip The Chicken Halfway Through The Cook?
Flip the drumsticks about halfway into the smoking session so that both sides are cooked evenly.
This will also ensure that both sides of the chicken legs have crispy skin.
Should You Spritz The Chicken?
Yes, you should spritz the chicken every 30 minutes.
See the types of liquids you can use to spritz chicken here.
What Internal Temperature Should Smoked Chicken Be?
When your meat thermometer reaches 165°F the chicken is done
It should take around an hour and a half to complete the cooking process.
We like to leave the chicken in the smoker until it reaches an internal temperature of 180 ℉.
Drumsticks don't dry out when you overcook them, so you don't have to worry about leaving them in the smoker for too long.
It's safer to overcook it than undercook it.
Do I Need to Rest the Chicken?
Yes! Resting the meat allows it to reabsorb some of its juices so that you're left with tender chicken that's a delight to eat!
We recommend placing the smoked chicken drumsticks on a cooling rack and leaving it to rest for at least 10 minutes before serving.
By doing this, you can be sure that each mouthful will be succulent and tasty.
And that's all you need to know to make delicious smoked chicken leg quarters on your Pit Boss pellet grill.
Jalapeno Cheddar Cornbread
Smoked Queso
Bacon Wrapped Brussels Sprouts

Click here to see more side dishes for bbq chicken thighs
Smoked Chicken Legs
These tender and juicy smoked chicken legs with homemade seasoning or BBQ sauce on a Pit Boss will get you drooling for more!
Ingredients
1

lb

Chicken Legs or Chicken or Quarters

½

tbsp

BBQ seasoning or any marinade of choice

Wood Pellets

for enhanced smoky flavour to your chicken

½

tbsp

Olive oil
Instructions
Preheat your grill smoker to 250 ℉ – 275 ℉. If you're using a legitimate Pit Boss pellet smoker then leave the P-Setting at P-4. 

Remove chicken legs from the packaging and place them onto a clean cutting board. 

Pat the surface of the meat with a paper towel so that it's dry before you season it.

Place the wood pellets on the griller (applewood, cherry wood or any wood pellers of choice).

Season the drumsticks with your favorite marinade or BBQ sauce.

Place the seasoned chicken drumsticks into your preheated smoker and smoke for 1 ½ hour. The exact time will depend on drumsticks size.

Flip the drumsticks about halfway into the smoking session so that both sides are cooked evenly.

Check the chicken's internal temperature. When your meat thermometer reaches 165 F, it's time to take it off the heat. You can also keep them until the temperature reaches 180 F. Drumsticks don't dry out when you overcook them, so you don't have to worry about leaving them in the smoker for too long.

Remove from grill, rest for 5-10 minutes on a cooling rack and enjoy!
Smoke On!

Charlie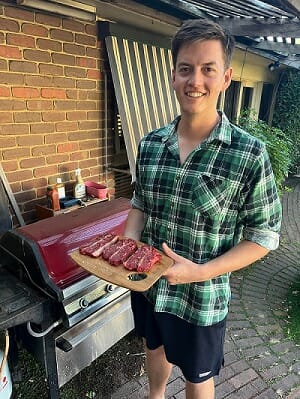 Hi, I'm Charlie, I have been meat-smoking and grilling for the past 15 years. I have an array of different smokers, thermometers, and have a love for finding the right wood and charcoal combo My favourite recipes are my EXTRA CRISPY smoked pork belly, juicy pulled pork, smoked brisket, duck poppers, and ANY SEAFOOD I grill).
I loves sharing his tips with beginners, helping them navigate the world of smoking. I find it's not just about cooking; it's a quest for that perfect smoky flavor.
You will usually find me playing with the kids, perfecting my brisket bark, or sipping beers with boys around the fire. Can't wait to share all my delicious smoking and grilling recipes with you!

You can read more about me on our About Us page.
Hungry For More?