Did you know your gas grill can be transformed into a smoker​​?
So now you can be smoking ribs, briskets, turkeys vegetables, and even fish on your grill!
In our particular model, there is a slot in which we can add wood chips in order to induce smoke. Whether your grill has that feature or not Ill show you EXACTLY how to smoke with your gas grill so you don't have to go and buy a smoker!
Then we have our family favorite recipe, smoked turkey on the grill! This is the exact recipe we use every Thanksgiving!
In This Article:
Smoking a Turkey on a Gas Grill
Sick of trips to the gas station? Consider a natural gas conversion kit, it was the best bloody choice have made plus natural gas is waaaaaaay cheaper!
The Essentials of Smoking on a Gas Grill
Smoking is on a gas grill is easier than building a charcoal fire or using an offset smoker.
But there is much more to it than turning the knobs on and off. You need to think about your hot zone and a cool zone, your burner configuration, and how you will motor the temps.
1. Internal Grill Temperature Monitoring,
Make sure you get yourself a digital thermometer.

We all know the thermometer that comes standard is trash. I never trust them.

If you're going to spend money on the meat you might as well get a good thermometer and know what going on inside your grill.

If the one you buy has a probe clip, just clip it to the grill grates close to where you will be cooking. No probe clip? No
2. Indirect Cooking Set Up
To master smoking on your gas grill you need to understand the concept of indirect cooking.
This is when food is placed away from your source of heat and the food is cooked like in a convection oven using reflected heat.
You need to create a hot zone and a cool zone in your grill. That means one of your burners needs to be off during the cook, this will be your cool zone.

You also need to place a water pan between the burner and your food. This helps to regulate the temperature in the grill by absorbing heat.
3. Setting Up Your Burners
You want to find a setup that will keep your grill at a steady 220°F to 250°F. If you have a two-burner grill, your option will be to have one burner on and one burner off.

However, if you have a four-burner grill it can get a little more complicated.

You will need to experiment with the burners to see having which ones, on and off help hold the steady temperature to cook low and slow. It might take you a few go's to figure out your setup, but once you do, you will be set.
How to Create Smoke in Your Gas Grill (3 Easy Ways)
Right now we know to set up our grill for smoking, but I bet you want to know how we are going to make the smoke?


If you want that smoky flavor you need to use wood chips, wood chunks, or wood pellets.
You can't just place your wood on the burner, its needs to be able to smolder. I have a few ways you can do it below, there is a mix between products you can buy and things you can make at home.
1. Smokebox
When I first started on my meat smoking journey, all I had was a gas grill, so I had to make do with a smoke box.
This is a nifty little metal box that you fill with chips and place in your grill.

First Preheat your grill with all burners on high for about 5-10 minutes. Once the grill is preheated, configure it for indirect cooking.
Then add your wood chips or chunks to the smoker box. Load your smoker box with wood chips of your choice.
Adjust your burners until your get an internal temperature of 220°F to 250°F
Then place your smoker box over the top of a burner
Once the box starts smoking, add your meat to the grill. Ensure your using the indirect cooking method still.
Once your food reaches the required internal temperature (this differs for each type of meat) remove it from the grill and let it rest
Enjoy the food and your hard work!
2. The Pellet Tube
I have seen some grill companies also have been producing grill tubes!
These are long circulation metal containers that you fill with wood pellets (not chips).
These pellet tubs allow way more oxygen in than a smoker box. So, if you were to use wood chips, they would ignite and burn out in minutes.
The pellet tube kind of works like the charcoal snake. You add in the pellet, light one end, and put the lid on the tube.
The pellets slowly ignite down the tube over a long period.
See the steps for igniting a pellet tube correctly here.
3. DIY Smoke Box/ Pouch
Last but not least is my favorite the DIY smoker box or pouch.
This one is pretty simple. Follow my instructions below to make your smoke pooch.
Lay a piece of foil out, an A4 paper sheet would do.
Put a small handful of wood chips or chunks in the middle
Wrap it up like a present and poke 5-10 holes in it
I usually make 6-8 of these, just in case they stop producing smoke before my cook is done, I can throw in another pouch.
Wondering What The Chain Is On Your Gas Grill?
You might notice there is a chain hanging from our gas grill. This is to hold a match if you need to relight your grill.
How To Smoke Meat On A Gas Grill (It's Not Hard We Promise)
To get smoking on your gas grill you going to have to;
Check if you have a smoker box inside of your unit – if you dont continue to the, 3 steps further down the page.
Have purchased a smoker box or pellet tube– if your unit doesn't have a smoker box you need to purchase one
Or create a homemade smokebox.
Once you have the above sorted, follow the steps below and you will be creating those delicious smokey flavors in no time.
Want a permanent smoker in your yard? I have a natural gas smoker and have it hooked up to my gas lines. No more filling gas tanks or running to the gas station,
3 Step to Smoking Meat on a Gas Grill
Heat your grill – adjust the burners
Light all yours buners. If you have a thermometer put that inside of your grill. You want to get your grill up to 220°F to 250°F.

You might have to play around with this. If its too hot, reduce the bruners, too cool, turn the burners up.


Add in your smoking box/ puch or tube
Once your up to temperature, you want to configure the grill for indirect cooking. That means jsut turning off burners, to create a cool section for your meat.

Then add your smoker boc, pouch or tube over the burner that is still going.


Add your food and start smoking
Once your smoker box is smoking and your grill is still between 220°F to 250°F, its time to add your meat. Just place it in your cool zone and montitor the temperatuer.

After all this work, you want to cut and serve this bad boy well. Make sure you pick up one of the a good carving knifes to do it justice!
Have a Weber Kettle? You can also try the charcoal snake method if you have a Weber kettle. I really like the smokey charcoal flavors you get from cooking low and slow with it.
Is the Weber EP 330 discontinued?? Find out more on the news of your favourite grill!
How To Smoke A Turkey On A Gas Grill
Smoked Turkey On A Gas Grill
Not everyone has a gas smoker, but thats ok. You can still smoke a turkey on a traditional gas grill, and its not too hard! I will walk you through step-by-step how to smoke a turkey on a gas grill.
Ingredients
1

tsp

kosher salt & black pepper

1/2

cup

honey

1

quartered small onion

1

turkey

around 10-15 lbs, unfrozen with the neck and giblets removed (set aside for later)

1

quart

water

1

cup

kosher salt

1

small bunch of fresh sage

1

small bunch of fresh thyme

1

large handful wood chips

I suggest apple, alder, or cherry wood

2-3

wood chunks

I suggest apple, alder, or cherry wood

3

tbsp

ghee

melted

6

cloves

garlic

I love my garlic so you might want to use a little less

A bunch of ice cubes

The rind of 1 lemon/orange
Instructions
Start off by pouring 1 quart of water into a very large stockpot, add the honey and kosher salt.

Heat on a high heat and stir until the honey and salt have dissolved. Remove from the heat and pour in ice, stir until the ice melts and the water has turned cold (you're looking for room temperature or below). Once at room temperature add the turkey and be sure the turkey is fully submerged (use a weight if you need to). Cover and stick in the fridge for at least 12 hours.Tip: If your fridge is not large enough, you can use a cold dark basement. If you choose to do this you want the temperature to be below 30°F.

After 12 hours remove the turkey from the brine and pat dry with a paper towel. Air dry for 30 mins on a wire racked lined with baking paper. If your fridge is big enough for the wire rack and turkey this is perfect, otherwise anywhere out of the sun is fine.

Now it's time to prepare your smoking woods. You will need to small aluminium pans, place one handful of wood chips in one and a few wood chunks in the other. In the wood, chips pan add about ½" of water. This will allow the wood chunks to burn & smoke first so you will not need to add more chips in mid-smoke. The best woods for this smoked turkey are alder mixed with one fruit wood. Mixing fruit woods can create a weird more complex flavour in my opinion, so it's best to keep it simple with just the one.

Add the aluminium pans under the grill grates, you want to place these on the side of your grill that is going to be kept hot.On the cool side place one large aluminium pan and fill with around 1" of water. This will keep the smoker nice and moist and will also catch any dripping so you can create a delicious gravy when done! (See the bottom of the page)

Once the bird has air dried, its time to prepare the aromatics for your stuffing. I find the rind of a lemon or an orange works much better than actual fruit pieces, this is because there is no moisture in the rind. Adding moisture to the inside of the bird can alter cooking times. Add the onion, garlic, lemon/orange rind, and the sage & thyme to the inside of the turkey.

Tip: don't overcrowd the inside of the bird. If it's a tight squeeze to get everything in don't use everything!




Once stuffed brush the entire turkey with the ghee. Start on the underside and work your way around to the top. Don't worry if the ghee starts to harden after it has been applied. Make sure you get every inch of the bird. Now season all over with the salt and freshly ground black pepper to taste.

Turn on your grill and heat on high for 10 minutes, You want to wait until you see wood chunks start to smoke. Once you see smoke appear turn off all the burners bar one. You want to leave one on and keep a stabilized temperature of 325°F. Once you have a stable temperature and only then, add the turkey! To prevent the wing tips from burning wrap them with foil. Cover the turkey and let smoke for one hour.Tip: Avoid peaking! The bird won't go anywhere, peaking will just let heat and smoke escape and will end up taking longer for your bird to cook.

After 1 hour you want to rotate the turkey. Take care when doing this you do not want to burn yourself! Or drop the turkey! Turn the turkey 180° so the other side is facing the hot side of the grill. At this stage, you can remove the foil from the wing tips. Be sure to pour out any liquid that has accumulated and cover up again and smoke for a further 45 minutes.

After 45 minutes open your turkey back up and pour out any liquid that has accumulated into the pan underneath. At this stage, you want to check the internal temperature of the bird. The breasts want to be around 160°F and the thighs to be 170°F (They will continue to cook a further 5 or so degrees while resting). If the temperatures are too low pop back in for further smoking, checking every 10 – 15 minutes to ensure you do not overcook. As a general rule of thumb, a 12-pound bird takes around 2 hours to reach these temperatures.

Place cooked bird on a wire back with baking paper to let rest for 20 minutes before carving. This will give the juices time to set and the bird to come all the way to temperature. So not cover with foil, this will turn your perfect crispy skin into soggy skin.

After the bird has rested it's time to carve! Remove each section individually from the bird and carve separately. I personally like to carve the breast against the grain into ½ – ¾" pieces and shave the thigh meat off the bone. Be sure to save any leftovers to add to the gravy broth.
Cooking for someone who isn't a fan of beef? Never fear, I have cooked for all types of guests. One dish that I find never disappoints is my smoked pork tenderloin recipe. The wife and kids bloody love it!
So you are gonna go smoke tube, smokebox or pouch?

I like going old school and making a smoke pouch! It takes me bad to the good old days!

Smoke On!
Charlie 🙂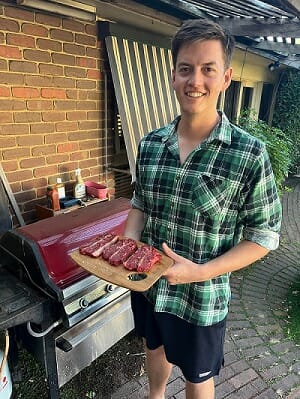 Author: Charlie Reeves
Hi, I'm Charlie, I am head taste tester at Simply Meat Smoking! I love it grilling, smoking, and getting out in the yard with the kids! The family also love to test all my recipes (especially my EXTRA CRISPY pulled pork, smoky pork loin, and ANY SEAFOOD I grill)
You will usually find me playing with the kids, perfecting my brisket bark, or sipping beers with boys around the fire. Can't wait to share all my delicious smoking and grilling adventures with you!

You can read more on our About Us page.
Hungry For More?