Can you hook up your propane grill to natural gas?
I get asked all the time!
Folks away say "I'd love to convert my propane grill to natural gas, but I just don't know how, or if it's even possible!"
So I have a simple answer, YES it is possible!
I recently just converted my Camp Chef to a natural gas smoker.
So you can convert your propane grill to natural gas.
However, before you go plumbing in your grill to a natural gas line, there are several SUPER important things that you must take into account.
Why You Should Convert To Natural Gas
There are several reasons why you should convert your propane grill over to natural gas.
For those of you who like to take your grill with you or move it around often, you should stick with propane.
Once the natural gas line is connected your smoker really doesn't have the luxury of moving.
I have some more reasons below about why we like using natural gas.

You Should Convert Your Propane Grill to Natural Gas If:
​​ You are sick of running out of propane mid-cook.
Carting your propane bottles around when it is time to swap.
You have a grill set up that you are not planning on moving around your backyard.
You like saving money on propane (natural gas is cheaper in the long run).
Looking for a unit to convert to natural gas? The Weber Genesis is a perfect candidate.
How To Convert Your Propane Grill To Natural Gas
Below there the 5 steps for converting your propane smoker to natural gas.
​1. Find Out If Your Grill Can Run Off Natural Gas
The first thing you need to check is if your grill is designed to run off natural gas.
Not every grill is designed for this, so the best thing to do is to consult your owner's manual or the grill manufacturer's website or helpline.
You want to look out for the 'dual fuel' markings on your grill. 
2. Buy A Conversion Kit
Conversion kits are not universal. You will need to get a conversion kit that fits your particular grill.
Each manufacturer will have its recommended conversion kit, however below I will list some of my recommendations.
3. Speak To Your Local Plumbing / Gas Inspector
It always pays to get in touch with your local plumbing inspector.

As with everything that involves natural gas, it's better to be safe than sorry. Make sure that it is legal to run a flexible gas hose, depending on the state and inspector you may need to install a more permanent system.
4. Switch off Your Gas Mains
Before starting ANY work, it is very important to switch off your natural gas line at the main. Also, switch off and disconnect your gas bottle.

You can then remove it and store it in a safe place. You will no longer need this!
5. Install Your Natural Gas Conversion Kit
Install your conversion kit as per the conversion kits manufacturer's instructions.
Here is a video from the guys at Char-broil converting a grill from propane to natural gas.
Recommended Propane To Natural Gas Conversion Kits
Below are our recommendations for conversion kits
#1 Char Broil Natural Gas Conversion Kit
Do you have a dual-fuel propane Char Broil natural gas smoker? This conversion kit is for you!

Easily convert your Char Broil propane gas smoker with this kit.

Be sure to make sure your model is a dual fuel model first!
---
#2 Embers Natural Gas Conversion Kit
Easily convert your dual fuel 3 Embers grill to natural gas with this conversion kit.

Please check your grill is convertible before buying this kit. This kit is designed for the GAS7480AS & GAS7480BS models only.

Please note: You will need the following parts to complete the conversion: two adjustable wrenches, Phillips screwdriver, and pipe-thread sealant.
---
#3 Briggs And Stratton Natural Gas Conversion Kit
Simple and easy kit to convert different systems to natural gas.
---
#4 Cal Flame Grill Conversion Kit
Natural gas conversion kit for your propane Cal Flame grill.

This kit comes with everything you need to quickly run this conversion.
---
#5 Camp Chef Natural Gas Conversion Kit
Easily convert your dual fuel Camp Chef propane grill into a natural gas grill.
---
#6 Lynx Natural Gas Conversion Kit
A decent conversion kit with everything that you need to convert your propane grill into a natural gas smoker.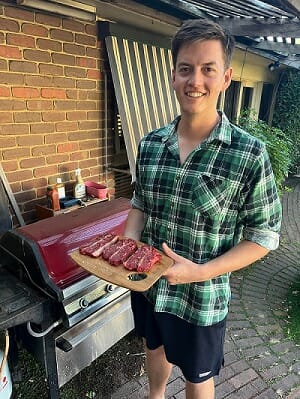 Author: Charlie Reeves
Hi, I'm Charlie, I am head taste tester at Simply Meat Smoking! I love it grilling, smoking, and getting out in the yard with the kids! The family also love to test all my recipes (especially my EXTRA CRISPY pulled pork, smoky pork loin, and ANY SEAFOOD I grill)
You will usually find me playing with the kids, perfecting my brisket bark, or sipping beers with boys around the fire. Can't wait to share all my delicious smoking and grilling adventures with you!

You can read more on our About Us page.
What to Do Next?
To get your creative cooking juices flowing see our best recipes!
Read: Sous Vide Brisket? You Heard Us Right it Absolutely Delicious
Cook: THE BEST Smoked Beef Short Rib Recipe

Hungry For More?