Natural gas smokers are popular now, and slowly taking over from their propane counterparts. But what is a natural gas grill?

A natural gas grill is a grill that is connected directly to the natural gas line in your home. This style of grill has many benefits. No more filling propane tanks!

Most of the big brands (and a few smaller brands too) have made their versions of a grill that is fueled by natural gas.

I will jump straight into some natural gas grill to start with. Followed by what you should be looking for when buying a natural gas grill. Then my BONUS, frequently asked questions.
Natural Gas Grills Ta
Don't have time to read the whole article? I have summarized my findings below.
Natural Gas Grills
1. Weber Genesis II S-335 Natural Gas Grill
We all know that Weber produces quality grills, and this wasn't an exception when I tested it. You know a brand is good, when it has been around this long!
Specifications
Weight: 190 pounds


Dimensions: 33 x 39 x 26 inches


Primary Cooking Space: 646 square inches


Total Cooking Space: 844 square inches


Burners: 4


BTU Output: 48,000


Wheels: 2 wheels and 2 casters
Why We Like It
As we all know Weber products can last for decades, so I know ill be passing this one down to my son.

It has an impressive 844 square inch cooking space, which meant I was able to feed everyone at our daughter graduation party. It is a perfect unit for anyone who likes entertaining in the back yard on a regular basis!

It has an excellent ignition system. Throughout my testing I have had no issues with the unit firing up whatsoever. One of the major reasons I buy Weber, is the peace of mind you get with their famous warranty.

A few extra things I liked were;
Extra space inside the hood: The grill is tall enough to cook beer butt chicken. It is built like a tank and has drip guards that catch grease quickly. Its burners are slid into place rather than screwed, so I found that rusting was minimal.
Even distribution of heat: The heat produced from the burners cooked my food evenly. I really like when grills don't have hot and cold spots
Easy to use and start: The ignition system of the GS4 (as it is popularly called) is one of its best features. I found this grilled started easily each time we used it. Weber calls it the infinity ignition, and it works pretty well.
What I Didn't Like
Side burners are not included: Its disappointing that this grill does not have side burners. Its four burners are just enough, but one of two side burners with them would have been preferable (especially when I want to sear my steak).

Its a heavy unit: At 190 pounds, I found it difficult to move alone, even with its wheels.
I wasn't sure if the natural gas grill would be as powerful as my propane grill. But as usual Weber has put together a top quality product. it a griller's dream unit and have recommended it to many friends and family members. Just don't try to move it alone, it's heavy!

---
---
2. Weber Spirit II E-310
The Weber Spirit II E-310 is the the little brother of 335.
It is a little more compact than the 335, which means less cooking space. I think more suited to weeknight cooking than big cookouts.
Specifications
Weight: 110 pounds

Dimensions: 5 x 52x 27 inches

Primary Cooking Space: 424 square inches

Total Cooking Space: 529 square inche

Burners: 3

BTU Output: 30,000

Wheels: 2
Why I Think You Should Consider It?
It might sound silly but one of my favorite features were the foldable side tables. You don't realize how handy it is to have some extra prep space in your outdoor kitchen
Like most grills made by Weber, the E-310 has reversible cooking grates. I found there helpful for cooking fish or sides!

This unit is also easier to assemble, but it was heavy so you might need some assistance to lift move it around the yard.
What I Liked About It
Excellent distribution of heat: The three burners meant I didn't have any hot or cool spots.
Ignition system worked every time: The ignition works perfectly every time I started it.
Easy assemble: It only took me and my son an hour to assemble it
Natural gas connection: We were able to hook up this grill to our natural gas line. That mean no more trip to the gas station to fill our propane tanks
What I Didn't Like
No side handles: Even though this grill has wheels, it is quite difficult to move around.
Overall Thoughts
I think this is the perfect match for someone looking for a weeknight grill. It's easy to fire up and get to temperature fast! That's mean we were able to get dinner on the table fast (perfect for our hungry little kids)
I love Weber's 10-year warranty on all the parts. It always gives me a piece of mind, especially when I am spending a fair bit of money.
---
---
3. Weber Q3200 Natural Gas Grill
So, why did we pick this Weber grill as our in this category? (Hint because I think Weber is the best)

Let's have a look at its specifications.
Specifications
Weight: 85 pounds


Dimensions: 30 x 50,2 x 55.5 inches


Primary Cooking Space: 380 square inches


Total Cooking Space: 494 square inches


Burners: 2


BTU Output: 21,700


Wheels: 2
Why I Think You Should Consider It?
I believe that the Weber Q3200 is perfect for small apartments and balconies. My sister has one in her apartment in the city and loves it. She let me give it test for you guys.
I thought it had a generous amount of cooking space for its size. We were able to cook for 6 adults and 3 kids on it. I managed to fit 4 steaks, 5 burgers and 5 corns cobs on it.
What I Liked About It
Side burner: I liked that I could sear a few steaks while I was finishing off the rest of the food.
Easy to start: I thought it was easy to start with it electronic ignition system.
Fast and even heat distribution: Heat is seem to be evenly distributed and I didn't find it had any hot or cool spots
Easy assembly: My sister said it was easy for her and husband to put it together and only took then 45 minutes.
Compact size: My sister only has a small balcony and the grill doesn't seem to take up much room.
What I Didn't Like
Short gas line: The gas line in this grill did seem a little short.
Overall Thoughts
This unit from Weber is best suited for those living in apartments or with limited space. My sister has one on her balcony at her apartment, she said it was a perfect size! I thought for it's size it produced some good BBQ
---
---
4. Weber Spirit II S-315 Grill
It is the Weber Spirit S-315 (the baby of the Weber grill family).

Let's have a look at its features and why I have chosen it.
Specifications
Weight: 100 pounds


Dimensions: 48 x 26 x 57 inches


Primary Cooking Space: 360 square inches


Total Cooking Space: 450 square inches


Burners: 2


BTU Output: 26,500


Wheels: 2
Why You Should Consider It?
I think is the perfect grill for very small patios and balconies. It had good strong two burners, which is what you would expect from a BBQ its size. There is also a warming rack where I could keep food warm while I was grilling other food, and this adds to the total cooking space of the grill


The grill boasts of the same grilling system as the GS4 and many other grills in the Weber E series. The flavorizer bars are porcelain-enameled, which I thought was a nice inclusion for this price point.
---
5. Weber Summit S-470
This is a powerful grill that we managed to get to 600 degrees with ease. We liked it that it came with a metallic smoker box, with its own burner. That meant I could add smoky flavors to my cooks.
At my son's 2nd birthday we managed to fit feed 20 hungry adults and 12 kids with ease.

We found the flavorizer bars to worked perfectly. They channeled the grease away from the burners, eliminating flare-ups while we were cooking.
I found for a grill with so many parts, we had it assembly was fairly quick. It took my brother and me 45 minutes and 2 beers.
Specifications
Weight: 235 pounds


Dimensions: 38.6 x 30.5 x 52 inches


Primary Cooking Space: 468 square inches


Total Cooking Space: 580 square inches


Burners: 4 primary


BTU Output: 48,400


Wheels: 4
I was impressed with the performance of this grill (plus how much food we could fit in it). Not only that it felt like it was durable Most of its parts, like the cooking grates, burners, and flavorizer bars, are made from quality stainless steel. Only the cook box is made from cast iron,

When friends or family are looking for a high end gas grill, I usually suggest this one.
---
---
6. Weber Genesis S-670
I think that this grill is suited for large families, professional use, or those who love to have large cookouts (like me).

It has a mind-blowing 60,000 BTU. I found that this grill cranks up very fast, so we didn't have to wait for long to get to the cooking temperature.

I liked that the burners are made from a single piece of steel, without welds. This gave the grill a durable feel.

I found that the built-in thermometer was calibrated right when I tested it again my thermometer.
Specifications
Weight: 170 pounds


Dimensions: 30 x 74.1 x 57.1 inches


Primary Cooking Space: 693 square inches


Total Cooking Space: 838 square inches


Burners: 6


BTU Output: 60,800 BTU


Wheels: 4 casters
What I Did Like
Large BTU output to get the grill to temperature quick
Large cooking space: I managed to feed 18 adults at our summer cookout.
Smoker box to add smokey flavors
Natural gas ready: I was able to hook it up to natural gas really easily
Infrared technology: This is why it can get up to temperature so quick
What I Didn't Like
It is very heavy: I needed my brother to help me move into a good spot in our yard for the cookout.
---
---
7. Napoleon Grills Prestige 500 NG Grill
Do you want to own a top quality grill? Then the Napoleon might be the winner for you!
It heated up extremely well with its four primary burners with a BTU output of 48,000. We found the side burner wasn't just for boiling or warming food. It can get up to 1,800 Fahrenheit in only a few seconds. That meant I was able to sear my steaks quickly!

We like the Jetfire ignition system. It made cranking up the heat, no problem at all.
The total cooking area was quite large at 760 square inches, which includes the space for the side burners, infrared burners, and warming rack. We used it for our Easter lunch. We have 13 guests. It easily fit enough food for everyone plus some leftovers.
We also like that it can be hooked up to natural gas. We didn't need to run to the gas station to top up any propane tanks!
Specifications
Dimensions: 20 x 64 x 50 inches


Total Cooking Area: 760 inches square


BTU output: 48,000


Build Material: Stainless steel


Wheels: 4 casters


Burners: 4
What I Liked
The well-shaped wave rod cooking grates


The 10- foot long hose and a brass connector (this was handy for connecting it to my natural gas)


The grill felt durable and was quite easy to clean


The inclusion of infrared technology to the grill
The Bottom Line
The inclusion of infrared technology is a plus (I love a grill that can get this hot). If your looking for a top of line grill that runs on natural gas, this is one of your best options.

---
---
What is Natural Gas?
Natural gas is a fossil fuel that forms deep beneath the earth's surface. This gas is a rare, odorless, non-toxic substance containing high proportions of methane. Propane, electricity, and charcoal are conventional grilling alternatives to natural gas.
Are There any Benefits to Cooking with Natural Gas? (5 Reasons Why)
Natural gas is the perfect choice for cooking. We like that natural gas ignites, burns, and reaches the desired temperature quickly, making cooking time very short. Some other benefits of natural gas include;
1. No More Worrying About Gas Bottle Levels!
This is one of the most amazing benefits of cooking with natural gas. A hose connects the grill to the gas line of your house. Unlike propane and charcoal grills that use up fuel quickly, you do not have to refill your gas bottle or add more charcoal continually.

You will never run out of gas while cooking with natural gas grills
2. Saving Money
Natural gas grills save a lot of money for you in the long run. The only significant cost you may have to incur is in installing a gas line, if you do not already have one. If you cook a lot, you will be please to learn that cooking with natural gas is much cheaper than using propane tanks.
3. Natural Gas is Better For the Environment
Using a natural gas grill to cook reduces environmental pollution. It is the cleanest grilling gas and when burned, releases only a small amount of oxides, and almost no ash or smoke (which could end up on your food).
4. Easy Installation
A natural gas grill needs to be connected to the main gas supply in your house, so a line must be installed. The process is easy and quick. You just need to contact a professional
5. Environmentally Friendly
The carbon emissions to the environment are also significantly lower in natural gas grills than others. Natural gas is an eco-friendly grilling option.
Can You Use Propane in a Natural Gas Grill
Using propane in a natural gas grill is like putting a square peg in a round hole. It doesn't work!

The energy and oxygen ratio needed for combustion in these two grilling gases are very distinct, making either unsuitable as replacements. A few accessories like hoses and regulators of each of these gas grills do not fit in the other.
Quick Overview: Converting from a Propane Grill to a Natural Gas Grill
Converting from a propane grill to natural gas grill would ensure that you never run out of fuel.

However, not all gas grills can be converted to natural gas. Check the grill's manual for a dual fuel logo or any similar sign that will indicate that the grill is convertible.

You will need a natural gas conversion kit. Again, not all grills use the same kit, so make sure you get the right one.
Note: These instructions are intended to be an overview Not as a step-by-step guide to follow yourself.

Making the conversion yourself is only recommended if you have the necessary qualifications. If in doubt please do not attempt yourself, consult a professional.
Turn all knobs and regulators to the 'Off' position and cut off the propane gas tank's supply. Then, remove the tank from its regulator.


Next, remove the warming wraps, cooking grates, and panels. Then, remove the hitch pins and carryover tubes. Do not forget to remove these pins from the back as well.


Disengage the burners from the valves by sliding them over carefully. Use the orifice removal tool to unscrew the orifices from the grill.


Pull out the burner control knobs from their stands and unscrew the washers and screws that secure the knob to the grill's body.


Put the new bezels on the control knob stand and fix the knobs back to the bezels.


Reinstall all tube burners, panels, and tanks. Finally, put the natural gas tank and orifice in place for grilling.
Note: These instructions are intended to be an overview to show you the steps. Not as a step by step guide to follow yourself. Making the conversion yourself is only recommended if you are confident and have worked with natural gas before. If in doubt please do not attempt yourself. Consult a professional.
How to Choose a Natural Gas Grill (11 Things You Need to Think About)
There are many options when it comes to natural gas grills. So selecting one can pose quite a challenge. Here are some of the things to look out for and questions to ask yourself before you buy one.
The BTU Rating
The BTU of a grill represents the maximum power output that it can provide. The size, cooking surface, number, and power of the burners will help you decide how powerful your natural gas grill needs to be.
The Size of Gas Grill
Think of the number of people you will be cooking for. Do you intend to use the grill for big cookouts, family dinners, competitions, or lunch? The size of the grill you need should be large enough to cater to your guests (or family).

You will have to keep people waiting for their food while cooking many portions if you buy a smaller grill than what is required. Also, it would be a total waste to get a larger one when you do not need it.
Cooking Surface Area
Another thing to keep in mind when determining the size of the grill is the cooking surface area. A grill can look big but have a small cooking area. The area is measured in square inches, and 450 to 500 square inches should be sufficient for small family meals. For a family of around 5 or 6 you should be looking at 550 to 650 square inch grills.

The cooking space or area is divided into two: primary cooking space and secondary cooking space. The area just above the grates and burner is called the primary cooking space, and this is where most of the cooking or grilling is done.

The secondary space includes all the side burners and racks that you could open up to allow more space for cooking. If you intend to use your grill to cook for several people at a time, then a sizeable secondary space is necessary.
How Much Space Do You Have Available?
How much room do you have for your grill setup? Do you intend to use it in your porch, balcony, or backyard? Natural gas grills can be quite large.
Burners
Burners are vital components of any grill, and natural gas grills can have up to 8 burners, although this is very rare. They are the heating element in the grill, and so determine how hot the grill gets when food is being cooked.

Burners have different configurations that allow for versatile cooking. They could be made from materials like brass and aluminum, and supply various temperatures. Here is everything there is to know about burners.
Burner Materials
There are many materials used to make burners. The general thing that all of them have is the ability to withstand intense heat and pressure for an extended period.

Four common materials used in making burners are brass, cast iron, stainless steel, and aluminum, with stainless steel burners being the most popular.

304 stainless is the best grade of stainless steel used in making these components. It contains about 18% of chromium and 10% of nickel but is not the most used grade in grills. A lot of average-priced grills are made from 430 stainless steel, which would corrode faster than the 304 grade. A magnetic test is a good indicator of the burner's quality, with 304 stainless steel burners being almost non-magnetic.

The second material that burners are made from is cast iron. Cast iron burners are more expensive than their stainless-steel counterparts and need to be well maintained. The usual maintenance practice is to wire brush cast iron burners to remove rust, debris, and flakes. Then you should lightly coat them with vegetable oil.

Aluminum and brass are two other materials used to make burners in natural gas grills. The aluminum is cheaper but brass has the upper hand. Its resistant to corrosion and stains which are ideal properties of a burner.
Infrared Burners
The possibility of cooking food in half the time is mind-blowing, and this is exactly what this new type of burner does. Infrared burners reach well above 700 degrees F quickly, that charring steak on the outside with a nice raw middle is now possible. But how does it work?

Infrared burners focus flame on the ceramic tiles with microscopic holes. This, in turn, converts the flame's heat to infrared energy, which is the same as what the sun emits on a cold, windy day. The heat from these burners is higher and more persistent than in standard burners so that you can cook almost twice the quantity of food in a shorter time.

Conventional grills work by heating the air around the food. But in these burners, metal screens are used to get infrared energy from convectional heat. The flow of air is stopped by the metal screen or ceramic diffuser, which radiates infrared heat instead.

This new technology cooks food evenly and makes grilling more enjoyable. It is particularly good at searing meat and reducing the flare-ups you would get from a conventional burner, but for a high price. You would consume less gas while supplying high-intensity heat with infrared burners.
Side Burners
Side burners are one of the most underused cooking parts of a grill.

A side burner gives extra cooking space and allows for additional types of cooking apart from grilling. You don't have to go inside to warm or sear your steak. It is right there for you to use to do that. They are useful for cooking vegetables, especially when the normal grill is being used for cooking meat.

A side burner can also be used for frying foods. The odor from fried foods cooked in the kitchen stays inside even with good ventilation systems. Luckily, you can use side burners to fry catfish, French fries, and hushpuppies.



Materials, Quality, and Durability
The materials a grill is made from will determine the overall quality, craftsmanship, and price of the unit you choose.

A stable and strong setup is ideal, but you still have to play your role in maintaining it. If you are in doubt of the material your grill should be made of, then perform a magnetic test. An excellent grill will be almost non-metallic.
Flavorizer Bars
When natural gas grills were first introduced, they w used lava rocks that were prone to flare-ups. Nowadays, almost every natural gas grill uses flavorizer bars to direct drippings and grease away from the tubes of the burner. The grease from food fall on the bar is vaporized and finally circulated back to the food to give an extra flavor.

The roof-shaped bars are placed under the grates and just above the burners to protect them from grease and prevent flare-ups. Flavorizer bars are made from different types of materials.
Cooking Grates
Grates are the cooking surface and one of the most important parts of your grill. It should be made from a strong, resilient, and durable material that can easily transfer heat. They don't necessarily have to be non-stick, but food shouldn't be hard to remove from them either.

The most common grate materials are cast-iron, stainless steel, porcelain-coated steel, or just plain steel.

Let's take a closer look at each type:
Steel Grates
Grates made from plain stainless steel are the most affordable kind available. However, these grates come with several setbacks. Stainless steel units also lose most of their non-stick fast although not as quickly as plain steel grates.

If cleaned properly and regularly, stainless-steel units should last for a long time. Avoid plain, rod-type steel grates. They would develop rough and uneven surfaces quickly.
Cast Iron Grates
Experienced grillers usually go for cast iron grates, even though they are heavier. Although cast iron grates take a little longer to heat up they can handle extreme heat and retain it for a long time.

Cast iron grates are more expensive than all other types however they can last for years on end. However, one drawback is that they need to be maintained regularly.

Porcelain Grates
You can get two different types of porcelain grates:​ porcelain-coated steel and porcelain-coated cast iron.
Ignition System
When you've prepped everything and ready to cook, nothing could be as frustrating as the grill not starting.

Here are the different types of ignition systems.
Hot Surface Igniter
Hot surface igniters are ignition systems that must be connected to an electricity source to operate. Some of these igniters light the main burner without requiring a pilot light, although this is not always the case. They have few parts, which means fewer things can go wrong with them. Host surface igniters are found in very expensive and fancy grills.
Battery Ignition
Battery-powered ignition systems produce repeated, reliable, and hot sparks.They have little step-up transformers in them to increase the voltage. Two of the most common types are the AA and AAA batteries. Battery-powered ignition systems are the easiest to fix. Just remove and replace the batteries when they get bad.
Piezo Ignition
Piezo electronic igniters were one of the first attempts to make a fully automatic system. They come in two types: the pushbutton type and rotary unit.

The former has a wire terminal that connects it to the electrode, while the rotary unit can have up to four wires. This system will get your grill started in no time, and is recognized by its clicking sound.
Warranty
Warranty times differ from manufacturer to manufacturer.

Check the manufacturer's guide to see all the parts and cases that are covered by the warranty. The shipping and transportation fee for damaged parts are usually free.
Ease of Cleaning
When choosing a grill, I prioritize the units that have removable parts. They make cleaning and keeping on top of maintenance a whole lot easier.

The burner, flavorizer, cover, and grate materials would determine how often your grill needs to be cleaned.
Smoke On!

Charlie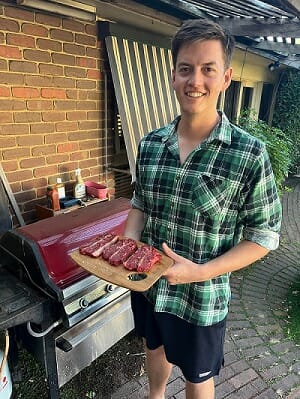 Author: Charlie Reeves
Hi, I'm Charlie, I am head taste tester at Simply Meat Smoking! I love it grilling, smoking, and getting out in the yard with the kids! The family also love to test all my recipes (especially my EXTRA CRISPY pulled pork, smoky pork loin, and ANY SEAFOOD I grill)
You will usually find me playing with the kids, perfecting my brisket bark, or sipping beers with boys around the fire. Can't wait to share all my delicious smoking and grilling adventures with you!

You can read more on our About Us page.
Hungry For More?