While the smoked turkey is the crowning glory of the holiday table, you need some equally impressive side dishes to round out the festive feast.
A holiday meal just a holiday meal without the table heaving with the weight of a variety of delicious side dishes to choose from!
From the old favorite vegetables like potatoes, beans, and corn to the slightly more adventurous salads, and the tasty sauces and gravies, the options are endless.
Below are favorite sides to serve with turkey!
Thanksgiving Side Dish Recipes for Smoked Turkey
It doesn't matter if you're going all out and smoking a turkey electric smoker or just smoking turkey breast, you need sides! Here are some of our favourites!
Smoked Mac and Cheese
Mac and cheese is the ultimate comfort food, and this smoked version is sure to be a big hit with adults and kids alike.
Mix it up a little with different pasta and cheese or bulk it out with some added extras like bacon, peas, broccoli, and bell peppers. This also goes really well with smoked turkey legs.
Find the recipe for Smoke Mac and Cheese here
Carrots in Brown Butter
Prepare to surprise your guests with a new side dish! Throw your carrots on the smoker for that extra flavor then top with brown butter
Find the recipe here: Carrots in Brown Butter
Smoked Brussel Sprouts
Take a classic and easily elevate it by throwing them in the smoker. Want to impress your guests more? Throw some crispy bacon on top.
Find the recipe here: Smoked Brussel Sprouts
Mashed Potatoes
What could be better than mashed potatoes topped with cheese, bacon and scallions?
Find the recipe here: Mashed Potatoes
Mushroom and Leek Bread Pudding
Bread puddings are a great alternative to stuffing, and this one is no exception. The rich mellow flavors of the mushroom and leeks are the perfect side to the smoked turkey. 
The recipe can also be tweaked to be gluten-free, vegan, or vegetarian.
Find the recipe here: Mushroom and Leek Bread Pudding Recipe
Want some more ideas for smoked sides?
There are dozens here for you to try, doesn't matter if you're having beef, chicken, duck, or pork. We have them all covered!
Smoked Corn on the Cob
What could be better than corn dripping in butter? Smoked corn!
It's easy to throw when your turkey is cooking. All you have to do is then covered with butter and you have a side done.
Find the recipe here: Corn on The Cob
Smoked Asparagus
Sick of the same old grilled asparagus? You have to try smoking asparagus
This humble vegetable is delicious when smoked!
Find the recipe here: Smoked Asparagus
Get the full recipe here: How to Smoke Asparagus
Smoked Zucchini
Ever tried smoking zucchini? They take on a deliciously deep smoky flavor when done right and goes perfectly with turkey.
Find the recipe here: Smoked Zucchini
Get the full recipe here: How to Smoke Zucchini
Slow Cooker Scalloped Potatoes
If oven space is running short, try these scalloped potatoes done in the slow cooker. This makes a great alternative to the usual baked potato or mashed potato.
Simply load all the ingredients into the slow cooker, and in a few hours, you'll have wonderfully creamy potatoes with very little effort.
Find the recipe here: Crock-Pot Scalloped Potatoes
Smoked and Baked Potato With All The Trimmings
There is nothing like a classic baked potato! They are easy to throw in the smoker with your turkey. Then just serve a few different toppings like sour cream, green onions, and crispy bacon with them.
Find the recipe here: Pit Boss Baked Potato
Barbeque Cranberry Sauce
For something a little different this year, why not try this Barbeque Cranberry Sauce. It's a delicious blend of sweet and savory and is a glorious condiment to slather over the smoked turkey or any other meat for that matter!
It's incredibly versatile and very easy to make.
Find the recipe here: Cranberry BBQ Sauce – The Mountain Kitchen
Buckwheat with Collard Greens and Mushrooms
Cooked buckwheat, fresh greens, and meaty mushrooms are the perfect healthy combination to balance the richness of the turkey and creamy dishes.
This simple dish is packed with flavor, full of nutrients and will fill you up and leave you feeling extra healthy.
Find the recipe here: Buckwheat With Collards and Mushrooms
Roast Vegetable Medley with Honey and Balsamic Syrup
Of course, no popular holiday meal is complete without roast vegetables.
The options are limitless when it comes to vegetable selections, but the usual family favorites tend to be potatoes, sweet potatoes, brussels sprouts, baby carrots, and parsnips.
Find the recipe here: Roast Vegetable Medley
Smoked BBQ Creamy Corn
Smoked cream corn is a wonderful mix of flavors and textures. The creamy base, combined with the extra texture and crunch of corn kernels is perfectly offset against the sweet and smoky flavor of the grilled corn.

Smoking the corn on a charcoal grill adds a flavor that is sure to make it a new favorite recipe.
Find the recipe here: Smoked Creamed Corn Recipe
Southern Style Green Beans
Southern-style green beans are a combination of fresh green beans, cooked low and slow with salty bacon until they are tender, full of flavor, and melt in your mouth tasty.
The perfect side dish any time of the year! Combine with a cream of mushroom soup, and you've got a great green bean casserole.
Find the recipe here: Southern Style Green Beans Recipe | Yummly
There is no shortage of delicious holiday side dish options to perfectly complement the smoked turkey centrepiece. Most can be made ahead of time, saving time and stress on the day. Simply apply the finishing touches while the turkey is smoking.
With so many great options, the difficult part will be deciding!
Smoke On!

Charlie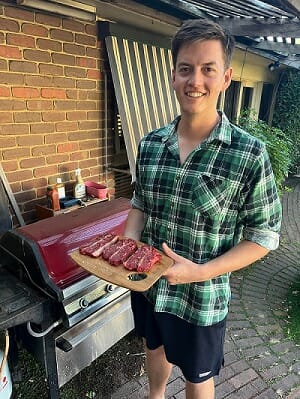 Author: Charlie Reeves
Hi, I'm Charlie, I am head taste tester at Simply Meat Smoking! I love it grilling, smoking, and getting out in the yard with the kids! The family also love to test all my recipes (especially my EXTRA CRISPY pulled pork, smoky pork loin, and ANY SEAFOOD I grill)
You will usually find me playing with the kids, perfecting my brisket bark, or sipping beers with boys around the fire. Can't wait to share all my delicious smoking and grilling adventures with you!

You can read more on our About Us page.
Hungry For More?