Meatloaf is the ultimate comfort food.
And when it's smoked, the flavors get even better.
Not sure what to serve with your juicy meatloaf?
We've put together some of our favorite side dishes so that you don't have to.
There's something delicious for everyone's taste buds, no matter how fussy they are.
Have a read of the guide below to discover what to serve with smoked meatloaf.
Cream of Mushroom Soup
This rich and creamy soup will go down a treat with hearty meatloaf.
Not only is it delicious on its own, but it also works as faux-gravy with your meatloaf.
Serve this soup as an appetizer or alongside your main.
Find the recipe on Pinterest:
Cedar Plank Brie With Gin Infused Caramelized Onions
This cedar planked brie is so good it might even outshine your meatloaf.
It is creamy, and smoky and will effortlessly melt in your mouth.
Adjust the toppings to your personal preference or what ingredients you already have at home.
Find the cedar plank brie recipe here.
Looking for a Meatloaf Recipe?
Have you got ahead of yourself and looked for sides before finding a meatloaf recipe?
Don't worry here is my tried and tested smoked meatloaf recipe. It is loved by kids and adults alike.
Maple Syrup Brown Sugar Carrots
Why have boring old carrots when you could have these amazing ones?
This dish is sweet, savory and features a delicious sticky glaze.
It's perfect for serving with the smoky flavors of meatloaf.
Find the recipe on Pinterest:
Smoked Mac and Cheese
Cooking for a big group of people?
This smoked mac and cheese is perfect for feeding the masses.
The combination of this dish with meatloaf is hearty, filling and delicious.
Slow-Cooked Green Beans With Bacon
For something simple, and healthy (but still tasty), try this recipe.
It is super easy to make, features simple ingredients and requires minimal effort.
This recipe is also gluten-free for anyone out there with dietary requirements.
Find the recipe on Pinterest:
Smoked Cream Cheese
While your meatloaf is smoking, serve this dish as a yummy starter.
This recipe is easy and works even if you're a barbecue novice.
Serve your cream cheese with crackers and top with honey.
Smoked Sweet Potatoes
By smoking your sweet potatoes you'll be rewarded with unforgettable flavor.
Did we also mention that cooking them only takes 3 simple steps?
This dish is ideal for complimenting and highlighting the flavors of the meatloaf.
Cauliflower Tots
For a healthier alternative to tater tots, this cauliflower recipe will do the job.
This is a great dish if you're looking for something small to add to your meal.
These cauliflower tots are also kid-friendly, gluten-free and vegetarian.
Find the recipe on Pinterest:
Smoked Gruyere Cheese
If you're feeling a bit fancy, then this recipe is for you.
We love this dish alongside meatloaf, soup or stew.
Serve your smoked gruyere cheese with toasted bread and serve immediately.
Lemon Cake
Looking for something to balance out the heaviness of meatloaf?
This light and airy dessert is excellent for serving afterwards.
Serve it with or without frosting- it's tasty either way.
Find the recipe on Pinterest:
Smoked Asparagus
This isn't just any old asparagus…
This recipe takes asparagus to the next level by smoking it and gives it a flavor boost.
Be sure to get fresh, crisp asparagus as they will smoke the best!
Find the smoked asparagus recipe here
Cranberry Bacon Broccoli Salad
This fresh and leafy salad is simple but works well alongside smoked meatloaf.
It is great all year round and can be served with a light and tangy dressing.
Feel free to add extra nuts, cheeses or dried fruit to your salad.
Find the recipe on Pinterest:
Garlic Bread Cheese Toastie
Garlic bread is one of the world's classic comfort foods.
Make some at home using quality bread, add some cheese and you've got yourself a toastie.
Add some leftover meatloaf and you've created the perfect meatloaf sandwich!
Find the recipe on Pinterest:
Smoked Pineapple in Brown Sugar
Smoked pineapple is not a classic recipe, but it is well worth trying.
This delicious recipe has a short smoking time and has the perfect flavor for complimenting meatloaf.
Whilst fantastic with meatloaf, it is also great for topping tacos or pizza!
Find the smoked pineapple recipe here.
Scalloped Potatoes
If you're sick of making mashed potatoes, try scalloped instead.
This cheesy dish has incredible flavor and a wonderful garlic-herb butter taste.
It nicely compliments the smoke flavor of the meatloaf without overpowering it.
Find the recipe on Pinterest:
Smoked Corn on the Cob
This corn-on-the-cob recipe can be made in a matter of minutes.
It also goes with pretty much everything so is super versatile.
Feel free to experiment with the seasonings to get the amazing flavors you want.
Roasted Potatoes With Peppers and Onions
Can't get enough of potatoes?
We love the simplicity of this dish and how nutritious it is.
With a handful of spices and some vegetables, this is the perfect last-minute recipe.
Find the recipe on Pinterest:
Meatloaf for dinner is an amazing dish to have on any night of the week.
We love the richness and heartiness of this crowd-pleasing dish.
But when it comes to delicious side dishes, we sometimes get stumped.
Luckily, there are plenty of scrumptious options out there to suit everyone.
So, get out your classic meatloaf recipe and get cooking!
What do you like to serve with smoked meatloaf?
Smoke On!

Charlie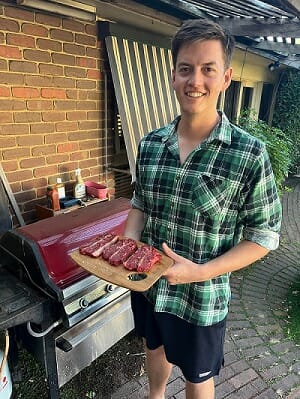 Author: Charlie Reeves
Hi, I'm Charlie, I am head taste tester at Simply Meat Smoking! I love it grilling, smoking, and getting out in the yard with the kids! The family also love to test all my recipes (especially my EXTRA CRISPY pulled pork, smoky pork loin, and ANY SEAFOOD I grill)
You will usually find me playing with the kids, perfecting my brisket bark, or sipping beers with boys around the fire. Can't wait to share all my delicious smoking and grilling adventures with you!

You can read more on our About Us page.
Hungry For More?