Serving smoked duck and not sure what sides go with it?
Duck is so delicious it deserves the spotlight but you need something yummy to serve alongside it.
Below are 15 yummy yet simple smoked side dishes that will be perfect for serving with duck!
Mashed Potato
Is there anything mashed potato doesn't go well with? And this creamy, fluffy mashed potato recipe is out of this world.
Not only is it buttery and creamy, but it's also got bacon mixed through it! Throw a handful of fresh greens to mix through it for a healthy punch.
Find the recipe here: Smoked Mashed Potatoes
Smoked Carrots With Brown Butter
Want a new way to cook your carrots? You need to smoke them. It is simple and tasty and the kids will love them.
Find the recipe here: Smoked Carrots
Baked Potatoes Topped With Cheese and Butter
You can cook these potatoes along side your duck. Making the prep and cook super simple.
Just make sure you add the extra cheese and butter
Find the recipe here: Smoked and Baked Potatoes
Prosciutto-Wrapped Smoked Brie Recipe
This is the perfect recipe to serve your guest while they are awaiting your smoked duck.
Just remember some crackers or toasted bread and your good to go
Find the recipe here: Prosciutto-Wrapped Smoked Brie Recipe
Smoked Sweet Potatoes
Potatoes are the perfect side for duck. That is why we have included mash, regular and sweet potatoes. However the sweet potatoes are our family favorite.
Find the recipe here: Smoked Sweet Potatoes
Smoked Cauliflower
Simply and tasty, all you need is a head of cauliflower and your favorite spice rub.
It makes a simple keto side, that you can prepare alongside your protein.
Smoked Broccoli
Another delicious vegetable that just needs some spice rub and time in the smoker to become a delicious side.
Roasted Vegetable Medley
Why waste time on fancy side dishes, when you can have the vegetables smoking away right along with the duck?
This roasted vegetable medley is fuss-free, easy to prepare, and incredibly tasty.  And it's the perfect side for a holiday meal.
Use whatever seasonal vegetables you have on hand. The options are endless. Try potatoes, carrots, sprouts, parsnips, and sweet potatoes.
Toss in some seasoned balsamic vinegar dressing and coat in herbs and spices for a tasty twist.
Find the recipe here: Roast Vegetables with Honey and Balsamic
Buttery Chestnuts with Rosemary and Honey
This side dish is made for the festive season. Roasted chestnuts scream Christmas!
But you'll love it so much you'll want to serve it all year round.
These delicious chestnuts are roasted in creamy butter and are topped off with fresh rosemary.
That will get the nose twitching and the mouth-watering!
Find the recipe here: Roasted Chestnuts with Butter, Rosemary, and Honey
Creamy, Crunchy Coleslaw
White meat and coleslaw are perfect for a summer picnic or outdoor lunch.
Creamy coleslaw is full of crunch and color and is fabulous for leftovers the next day.
You can buy a precut mix and add your mayo for a shortcut.
Or make the whole salad from scratch with shredded white and red cabbage, and grated carrot.
Find the recipe here: Home Style Creamy Coleslaw
Aglio E Olio Pasta
This classic Italian dish is perfect for busy weeknight dinners.
Aglio E Olio translates into spaghetti with garlic and oil and that's just what this dish is.
Toss it through the oil and top it with some parmesan or mozzarella cheese.
Ready in ten minutes, you'll have dinner on the table before in no time.
And because there are very few ingredients, you won't need to make a special trip to the supermarket.
You can throw some vegetables in there if you wish.
And any type of pasta will work, not just spaghetti. So use whatever you have on hand.
Serve beside your roasted duck, or mix the shredded meat through it.
Find the recipe here: Aglio E Olio Pasta
Easy Loaded Cauliflower Casserole
This side dish is both tasty and healthy.
Swap out the usual potato for cauliflower and have a low-carb alternative to a staple side.
Of course, you can live a little and sprinkle some bacon through it!
The combination of cheese, sour cream, and cauliflower make this a dish that will be a firm family favorite.
While fresh is always best, you can easily substitute and use frozen cauliflower.
Find the recipe here: Loaded Cauliflower Casserole
Sauteed Mushrooms and Onions
This dish is a fabulous combination of earthy, salty, sweet, and tangy.
It's easy to prepare, takes just one pan, and will be on the table ready to eat in no time.
The heartiness and earthiness of the mushrooms balance beautifully with the smoked duck.
Find the recipe here: Sauteed Mushrooms and Caramelized Onions
Black Bean, Corn, and Rice Salad
A salad with a Mexican twist!
This is the perfect side if you have leftover charcoal grill corn on the cob.
You can serve this over a piece of duck breast, or shred the meat and toss it through the salad.
Top with some sour cream, to bring out the best of the flavorful duck.
Best of all, it is quick and easy to throw together. You'll have a tasty, healthy meal on the table in no time at all.
And the leftovers are fabulous for lunch boxes the next day. Win, win!
Find the recipe here: Black Bean, Corn, and Rice Salad
Baked Parmesan Yellow Squash
You won't believe how tasty these simple treats are!
And all you need is two ingredients – yellow squash and parmesan cheese.
Slice the squash into rounds, top with grated parmesan, and bake it in the oven. As easy as that.
But be warned – this dish will be in high demand.
This recipe will work with zucchini too if you find them more readily available.
A simple side dish for beautiful white meat.
Find the recipe here: Baked Parmesan Yellow Squash Rounds
Smoked Queso
The rich flavors of the cheesy dip combo are delicious when spooned over a smoked duck breast.
And once you have the base recipe done, you can add just about anything to spice up the flavors.
Load it up with spicy sausage, or fiery jalapenos to really bring the smoky flavors to life!
Or try a bit of lemon juice and black pepper for a citrus twist.
And you won't believe how easy it is to put together!
Find the recipe here: Smoked Rotal Dip
Roasted Bell Pepper with Basil, Feta, and Pine Nuts
This rainbow-colored salad will be the perfect backdrop for your smoked duck meat.
And trust us, the flavor will be as spectacular as the presentation.
The combination of flavors and textures will bring your duck to life!
Find the recipe here: Roasted Bell Peppers with Basil, Feta, and Pine Nuts
Let's face it – smoked duck is a pretty impressive dish as it is.
So why not serve it with a worthy side dish?
These dishes are simple, yet incredibly tasty. Try some today!
Smoke On!

Charlie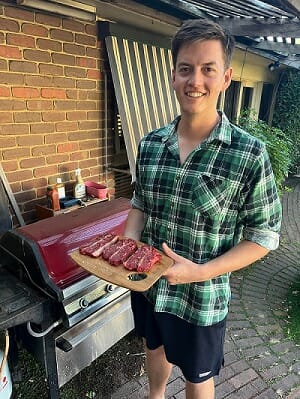 Author: Charlie Reeves
Hi, I'm Charlie, I am head taste tester at Simply Meat Smoking! I love it grilling, smoking, and getting out in the yard with the kids! The family also love to test all my recipes (especially my EXTRA CRISPY pulled pork, smoky pork loin, and ANY SEAFOOD I grill)
You will usually find me playing with the kids, perfecting my brisket bark, or sipping beers with boys around the fire. Can't wait to share all my delicious smoking and grilling adventures with you!

You can read more on our About Us page.
Hungry For More?