Are you cooking up lamb koftas?
Has it suddenly occurred to you that you didn't plan some side dishes or dips to go with them?
Originating in Turkey, this eastern dish is enjoyed all over the world.
Fragrant spices in the ground meat mixture tickle hot coals.
But what lovely recipes shall we serve with them?
Tzatziki Sauce
Tzatziki is a yogurt sauce with minced garlic cloves and grated cucumber.
With lemon juice and fresh herbs.
This Middle Eastern dish has been paired with succulent lean lamb for decades.
The cool greek yogurt cuts through the high-fat content in your lamb kofta kebabs.
I use chopped fresh coriander, mint, and parsley.
These herbs compliment the eastern spices like ground cumin in the lamb mixture.
Tip: Make the sauce a day before to let the garlic and herbs infuse in the yogurt. Use a traditional Lebanese cucumber!
Need a Lamb Kofta Recipe?
Need a delicious lamb kofta recipe? This one ensures they come out juicy and delicous
Grilled lamb koftas with yoghurt recipe – super juicy koftas
Flat Bread
Turkish flatbread or Lebanese bread should always be pantry staples.
They are light and delicious but also hearty.
An all-rounder for any toasty or sandwich!
Bread and meat are staples in Turkish cuisine.
They are authentic to what would be served if you were at a street vendor in Istanbul.
Hold the bread and close your hand around the Kofta.
Then slide the spiced ground meat off the metal skewers for easy finger food.
The meat juices are absorbed in the bread so no paper towels are necessary!
Tip: Don't have time to make bread? Integrate yourself with the local Middle Eastern shop to get traditional-made bread.
Piyaz Salad
This is not your typical simple salad.
Layers upon layers of fresh veg intertwined with tangy olives and hot chili peppers.
Try and find some sumac which is a bitter spice traditionally used.
A fresh salad like a Piyaz is the perfect accompaniment to your ground lamb kebabs.
The fresh aromatic flavors from this big salad offer a respite from the high-fat content of the lamb.
Season aggressively and let rest in the fridge for at least 2 hours.
Freshly cracked black pepper and parsley over the salad right before serving is the way to go.
Tip: Buy fresh produce and wash the veg before making. Use a red onion as the brown onions are stronger and bitter.
Smoked Beef Kabobs
Indeed, some people aren't lamb lovers like me or you.
Having both options are a safe bet, especially when entertaining guests.
There is also something great about comparing a lamb kofta and beef kabob.
The talking points can sometimes be just as important as the food.
They still can act as an easy appetizer and go alongside.
Use a charcoal grill if you do not have a pellet smoker.
Tip: Serve the kabobs on wooden skewers like a bamboo skewer, to help people tell the difference!
Mexican Pulled Pork Tacos
Mexican food follows similar a similar lineage to the Middle East.
Fundamentally what is the difference between a taco and a kofta wrapped in bread?
Serving a lamb kofta kebab with a pulled pork taco has always worked for me.
Give your guests and tastebuds a choice.
Both cuisines have pungent spices like ground coriander or paprika.
The smoked pork gives more choice so the lamb fans like me can have more!
Selfish, I know.
Vegetable Biryani
This side dish is fragrant from cardamon pods and cinnamon sticks.
The Indian spices infuse with vegetables and pilau rice which is then steamed.
The complex flavor from the Indian spices matches the middle eastern aromatics.
Within our koftas!
Soak the rice first to remove the starch before you cook so it doesn't get mushy.
Add pine nuts, chopped yellow onion, and bell pepper.
Then lay your koftas directly on top.
Serve hot from the residual heat.
Jalapeño Popper
Serving a Jalapeño Popper next to your lamb koftas is a kind of culinary east meets west.
Don't limit yourself to eating a popper on game day!
Give the recipe a little love and jazz them up for a seductive side dish.
And some heat!
I experiment with the best type of cheese to stuff and top them with.
English red Leicester cheese or a dutch gouda have high melting points.
With amazing flavor!
These are also vegetarian!
Fun fact: A red jalapeño pepper is just a ripened green one.
See the jalapeno popper recipe here
Smoked Shrimp
I had to include at least 1 seafood recipe on this list.
A "surf & turf" is when you combine fish and meat.
Like a beef steak topped with lobster.
Or lamb koftas and smoked shrimp!
The sweet taste and smokiness of the shrimp make for an excellent pairing with the grilled lamb.
Remove the shrimp vein with a cocktail stick before cooking with the shell on.
The simpler the better.
Use a few basic ingredients with light hardwood.
I use cherry, a fruitwood.
This will give the shrimp a sweeter taste to compliment the stronger taste in your kofta.
Your Favorite Hot Sauce
Now this one isn't an actual recipe.
But more like a push in the right direction.
Deciding on a hot sauce is hard at the best of times.
It is also very subjective depending on spice tolerance and taste preference.
I like a fermented vinegar-based sauce.
The natural fermentation process is super interesting.
And also delicious.
One thing I can say for sure is that a tender lamb kofta needs an acidic chili sauce to be enjoyed with.
I don't care which one you pick but please, go and find your favorite!
Sweet Smoked Potatoes Wedges
We had the poppers but these might not be enough food for vegetarian guests.
I haven't met anyone that doesn't try and eat a steaming hot potato wedge with some sour cream.
Don't burn your tongue.
Cheap and easy to prepare with minimal cook time.
I season the wedges with the same spices I used in my lamb mixture.
Smoked paprika with a pinch of cumin and lemon zest.
Or what about some topping with scallions and a cheese of your choice?
Whatever you decide, make sure they are served hot and next to the lamb kofta skewers.
What Will You Make With Spicy Lamb Koftas?
The possibilities are endless.
Smoke On!

Charlie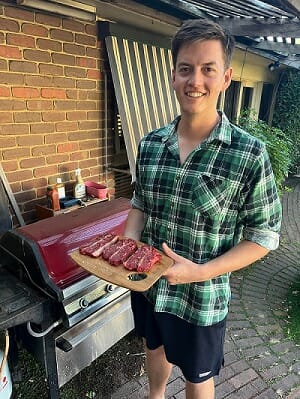 Author: Charlie Reeves
Hi, I'm Charlie, I am head taste tester at Simply Meat Smoking! I love it grilling, smoking, and getting out in the yard with the kids! The family also love to test all my recipes (especially my EXTRA CRISPY pulled pork, smoky pork loin, and ANY SEAFOOD I grill)
You will usually find me playing with the kids, perfecting my brisket bark, or sipping beers with boys around the fire. Can't wait to share all my delicious smoking and grilling adventures with you!

You can read more on our About Us page.
Hungry For More?