Nothing beats a good old beef burger. BBQ sauce on your chin, gooey cheese, and if your lucky crispy bacon.
Most of us have our tried and true hamburger recipe. But, sometimes we need a change from the regular old grilled burger.
I am talking about a different way of cooking the burger, smoking it!
The smoke gives the patty a unique depth of flavor. This is what the burger was missing all these years.
Today's technique is from Pitmaster Robbie that made his burgers go from great, to legendary!
What Do You Need to Make Smoked Hamburgers?
There are lots and lots of additional ingredients that you can add to your burgers depending on your taste and preferences.

However, at the base level, you only need 4 ingredients to make a good-tasting burger. The most important part is getting the right blend of steak to fat. A good amount of fat will help keep your burgers juicy and tender.

I usually like to try and keep my ratio to 70% meat to 30% fat. For this recipe, I have found that this is perfect for my taste buds.

To make a basic burger the 5 must-have ingredients are:
ground chuck steak
steak seasoning
pepper
hamburger buns
Want to Try Brisket Burgers?
You can also ground brisket for burgers. Just remember it still needs the ratio of 70% meat to 30% fat.
Don't Have a Smoker?
You have a few options if you don't have a smoker.
You can use your gas grill as smoker asnd use a smoking box.
Use a cedar plank for your burgers, this add a delcious smoky flavor.
Using a Pellet Grill?
If you're using a pellet grill for your burgers I would suggest you follow this delcious recipe.
How To Smoke Hamburgers (6 Easy Steps)
Below are Robbies 6 steps to a delicious smoked hamburger!
Step 1: Preheat The Smoke and Prep Patties
. When you smoke hamburgers, you need to preheat your smoker to 300 degrees F. I prefer to use hickory as it has a good strong smoke flavour. Place your patties on the cutting baord and lightly season with a steak rub. To stop the brugers from shrinking on the grill put a dimple in the middle of it.

Step 2: Add The Cheese and Pineapple to Burger Patties
Start with your 1/2 chunk burgers,add a slice of pepper jack cheese, a pinapple slice and a babybell cheese in the middle of the pineapple ring

3. Wrap the Burgers With Bacon
Wrap each pattie with 2 pecies of bacon and prepare your tools for the grill. Grab a clean plate, oil, tongs, and a spactual.

Step 4: Place Your Burgers in the Smoker
Put your burgers in the smoker. Cook until your reach an internal temeprature of 155°F and the bacon is crispy on the ourside.

Step 5: Glaze Your Burgers
Glaze the burgers with a BBQ sauce. Here Robbie used a homemade mango Jalapeno barbecue sauce

Step 6: Buns and Toppings Time
Place your smoked hamburgers on your toasted bun and add the toppings of your choice.

2 Hot Tips to Smoking Great Burgers

Make sure you use ground beef with appropriate fat content. I sometimes go for a mix of chuck and sirloin. The intense heat and smoke can dry out your meat. So try to get a fat content of at least 15%

Hamburgers aren't on the smoker very long, you want to use strong wood. I like to use hickory, oak, mesquite for their intense flavor profile.
Some Yummy Sides For Smoked Hamburgers
Burgers are delicious on their own, or with a second burger, however, to make a real meal out of these smoked burgers you really should serve them with a side or sides.

Here are my go-to sides for my smoked hamburgers.
Smoked Burgers Recipe
Smoked Burgers Recipe
Everyone loves a burger, but some people get sick and tired of the same old grilled burger. Surprise everyone at your next cookout with these smoked burgers.
Ingredients
1 1/2

pounds

ground chuck

steak seasoning

3

tablespoons

butter melted

8

hamburger buns brioche

8

slices

bacon

4

whole

pineapple rings

4

whole

babybell cheese

4

slices

cheddar cheese
Toppings (my suggestions):
Lettuce

Sliced tomatoes

Sliced dill pickles

Grilled bacon

Sliced onions

Ketchup

Mustard

Mayonnaise

Avocado

Red pepper

Cheese
Instructions
In a large mixing bowl mix together the ground beef. Be sure to work the meat delicately. Once mixed together form 1 inch thick patties around 4 inches in diameter. Season to taste with steak seasonings then place a thumb hole in the center of the pattie, around 3/4 of the way through. Set on a wire rack over an ice tray.

Place a slice of cheddar cheese on top of each patty, then add a pineapple ring, and a baby bell cheese in the middle of the pineapple. Then wrap the burger with two pieces of bacon

For smoking on a gas grill: Set up your grill for direct grilling and preheat too 300°F. Then add the wood chips to a smoke box. Close the lid and once the box is smoking. Smoke the burgers until the internal temperature is at least 155°F.

If you're using a smoker: Heat your smoker, to 300°F. Then place your burgers in the smoker and leave then for 35 minutes or once the internal temperature of the burgers reaches 155°F

Slice your buns, brush with melted butter and grill for 30 seconds to get a good char.

When you remove the burgers, glaze them with a BBQ sauce

Starting at the bottom but stack on your favorite ingredients. I like to use BBQ sauce, lettuce, tomato, red onion, avocado (in that order).
Can You Smoke Ground Beef?
You sure can! Smoked hamburgers are absolutely delicious!! If you enjoy smoked flavors you have to check out my other favorite recipes! Smoked Mushrooms & Twice Cooked Smoked Pork Belly, are fantastic! Smoking your beef takes an old school (but a goodie) to the next level!
Learn the difference between the most common cuts and who the winner of filet vs rib-eye is!
What Temperature Are Burgers Done At?
The burgers will be ready to serve when the internal temperature reaches 155 degrees. Make sure you have a good thermometer, so you can monitor this.
Hot Tips to Smoking the Best Burgers

Make sure you cook to temperature not to a certain color. You might find that smoking causes a chemical reaction in your meat that turns it pink. Just use and an internal thermometer and you will know when they are perfect!
How Long Does it Take to Smoke Burgers at 325?
It will take about 30 minutes to smoke the burgers at 325 degrees. For a nice rare burger taking them off the grill at 20 – 25 minutes will be perfect. If you want to have a well done burger let them cook for a further 5 minutes.
For the ultimate smoky feast, try these smoked mushrooms as a topping, they are delicious!  I would absolutely LOVE a smoky BBQ sauce recipe to go with this. Does anyone have a recipe they are willing to share with me?
Smoke On!

Charlie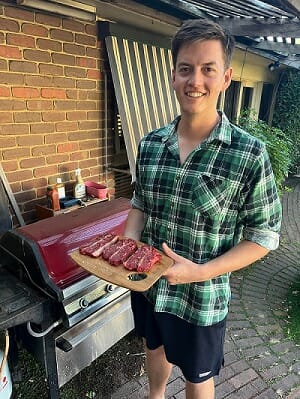 Author: Charlie Reeves
Hi, I'm Charlie, I have been meat-smoking and grilling for the past 15 years. I have an array of different smokers, thermometers, and have a love for finding the right wood and charcoal combo My favourite recipes are my EXTRA CRISPY smoked pork belly, juicy pulled pork, smoked brisket, duck poppers, and ANY SEAFOOD I grill).
I loves sharing his tips with beginners, helping them navigate the world of smoking. I find it's not just about cooking; it's a quest for that perfect smoky flavor.
You will usually find me playing with the kids, perfecting my brisket bark, or sipping beers with boys around the fire. Can't wait to share all my delicious smoking and grilling recipes with you!

You can read more about me on our About Us page.
Hungry For More?