There are few things as tasty as a golden brown beer can chicken. Packed full of flavor, this one is definitely a crowd-pleaser.
Not sure what to serve alongside it? There are plenty of amazing options out there that you can choose from.
Most of them are also pretty simple to make and have minimal ingredients.
Have a read of the guide to discover some delicious side dishes for beer can chicken.
Bacon Mac and Cheese
Nothing says comfort food like mac and cheese.
Take this classic side dish to the next level by adding bacon, because how doesn't love bacon.
Smoked Mashed Potatoes
We swear this is the last potato recipe on here.
But mashed potatoes are a classic and perfect if you want something fuss-free.
We recommend using russet potatoes for the best texture and flavor.
See the Smoked Mash Recipe Here
Smoked Garlic Bread
Who doesn't love garlic bread?
But imagine how much better it is when smoked!
See the smoked garlic bread recipe here.
Brussels Sprouts With Bacon and Shallots
This recipe is an amazing holiday-ready dish and goes fantastic with chicken.
The crispy bacon bits perfectly balance out the brussels sprouts. Choose smaller brussels sprouts for a more mild flavor.
See the Brussel Sprouts Recipe Here
Smoked Pickles
Pickles are the perfect side dish for any meal. They help to cut thought the richness. But what is even better than your traditional pickles? Ones you smoke your self at home.
See the smoked pickles recipe here.
Mexican Street Corn
Mexican street corn, also known as elote, is tangy, creamy and a little spicy. This dish is super simple and only takes a matter of minutes to make.
Cotija cheese is typically used but feel free to substitute with what you have.
Want Our Favorite Beer Can Chicken Recipes?
Love beer can chicken but need a delicious recipe?
Smoked beer can chicken on a pellet grill
Don't forget the beer! What beer to use for beer can chicken, they ensure your chicken is super juicy!
Roasted Vegetables
Roasted vegetables are a versatile classic that goes with pretty much everything!
Mix and match with what you have in your fridge for this dish. For fast-cooking veggies go with asparagus, bell peppers and onions.
Smoked Shotgun Shells
What could be better than pasta stuffed with meat and cheese then wrapped in bacon and smoked?
Nothing I say!
See the smoked shells recipe here.
Greek Salad
If you're looking for a fresh salad to go with chicken breast, try Greek salad.
It is a healthy, effortless dish that doesn't require any leafy greens.
We recommend dicing up food into bite-sized pieces rather than thinly slicing.
Smoked Carrots in Brown Butter
Take the humble carrots and smoke it! You won't believe how carrots are smoked! All you need is some butter and some seasoning and you have an epic side!
See the recipe for smoked carrots here.
Smoked Olives
Why have regular olives when you could have smoked olives?
You can eat these olives an an entrée or add them to other dishes.
For faster smoking use a smoking gun or smoker.
French Style Potato Salad
For a beautiful side dish with great flavor pairings, try this recipe.
It is perfect to complete a filling summer dinner with crispy chicken skin.
You can always add crispy bacon bits for additional topping.
Honey-Glazed Spiced Carrots
These flavorful carrots will have you wishing you'd discovered this recipe ages ago!
With an amazing layer of flavor they will perfectly compliment your juicy chicken.
This recipe is also simple to make and uses minimal ingredients.
Old Fashioned Baked Beans
There are many kinds of vegetables and beans are not everyone's favorite.
However, with this dish, you can easily win over all the black bean sceptics.
This hearty dish is also perfect for serving large groups.
Smoked Pineapple in Brown Sugar
This smoked pineapple is about to become your latest obsession.
The sweetness of the fruit perfectly compliments beer can chicken.
This recipe only has 4 steps and barely any prep time.
Sweet Potato Chips
Cook these sweet potato chips in the air fryer and they'll be done in no time.
Quick, simple and nutritious they are a great addition to any meal.
Be sure to remove the water from the potatoes so that they can get nice and crispy.
Chickpea and Vegetable Pasta Salad
This cool salad is great if you're after a colorful bowl of vegetables.
Not only is this an incredibly fresh recipe, but it is also very filling.
Ideal for the hot summer days, we highly recommend this delicious dish.
Baked Onion Cheese Rings
These cheesy onion rings will have you coming back for more!
Keep a close eye on the cooking time for these as they won't take long.
If they need more flavor feel free to add some fresh ground pepper at the end.
Cream Cheese Stuffed Mushrooms
This is one of our favorite recipes and it should come as no surprise.
This recipe gives you individual juicy pieces, which means it's perfect for serving groups or as an appetizer.
The cooking process is also super simple and is well worth putting on the menu.
Smoked Asparagus
This is another great way to add some vegetables to your meal.
For an even cook, go for bundles of asparagus the same length and thickness.
Because it's smoked, this asparagus won't need a lot of seasoning to taste good.
Lemon Butter Parmesan Green Beans
This recipe is a fun twist on classic green beans.
The combination of flavor is great if you're looking to have a fresh and light side dish.
Serve this dish with toasted pine nuts for additional flavor.
When it comes to side dishes for hot chicken, there are plenty of delicious ideas.
You can make one, or have several to choose from! Either way, you're bound to find something that will perfectly go with your beer can chicken.
We love the different flavor combinations and versatility of these dishes. Not only are they great with chicken, but we'd also eat them on their own!
What side dish do you like to serve with beer can chicken?
Smoke On!

Charlie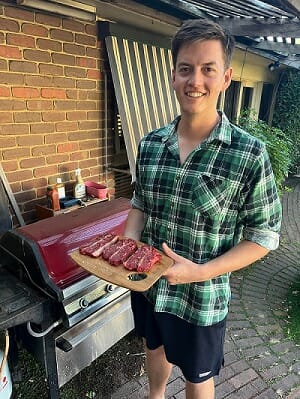 Author: Charlie Reeves
Hi, I'm Charlie, I am head taste tester at Simply Meat Smoking! I love it grilling, smoking, and getting out in the yard with the kids! The family also love to test all my recipes (especially my EXTRA CRISPY pulled pork, smoky pork loin, and ANY SEAFOOD I grill)
You will usually find me playing with the kids, perfecting my brisket bark, or sipping beers with boys around the fire. Can't wait to share all my delicious smoking and grilling adventures with you!

You can read more on our About Us page.
Hungry For More?