Smoked cream cheese is an EPIC way to spice up your barbeque appetizers, or a cheese platter
It's amazing what a bit of smoke can do!
Smoking cheese on a pit boss pellet grill is an incredibly easy cooking process.
But beware – it's very addictive and will have you coming back for more!
What Tools Do I Need?
For the cheese smoking process you just need
A smoker
disposable aluminum tray or cast iron skillet
Cream cheese
Any extra flavors you want to add.
What Type of Cheese Can I Use?
Specifically, this is smoked cheese recipe is for cream cheese, but a huge variety of types of cheese can be smoked.

I smoked the following types of cheeses with delicious results!
Brie, mozzarella, parmesan, swiss, gouda, and cheddar cheese.
How Long Do You Smoke Cream Cheese on A Pit Boss Grill?
You will want to smoke your cream cheese for 2 hours or until it has a golden color.
Prepping the Cheese
At least one hour before smoking, remove the cheese from the refrigerator and let it come to room temperature.

With a sharp knife, cut the block into pieces if you want to smoke smaller portions.
Which Flavor of Wood Pellets Work Best With Cream Cheese?
When starting, it's much better to choose the delicate flavor of mild wood pellets such as fruits, softwoods, and nuts.
That way you'll have a lovely smoky flavor, without overpowering the cheese flavors.
Chips of cherry wood pellets, maple, or pecan wood are perfect to start with for a balance of smoke flavor.
Stronger barbecue flavors could handle the delicious smokiness of bacon-type flavor of hickory and mesquite wood chips.
How to Store Leftover Smoked Cheese Cream
Assuming there are any leftovers to store, it's best to place them in an airtight container. Once refrigerated, it can last up to four days.
Cream cheese isn't suitable for freezing, so make it in small batches to consume.
Looking for More Cheese Recipes?
I love cheese, after BBQ it's my favorite thing to eat. If you're looking for some more cheesy recipes, check out my smoked mac and cheese and my grilled cheese sandwich stuffed with pulled pork.
Smoked Cream Cheese Recipe
Ingredients:
Cream Cheese block
Olive Oil
Choice of flavor toppings
Method For Smoked Cream Cheese
Pre-heat the pellet grill to medium heat, around 200-250°F for 5-10 minutes.
Make a tray with an aluminum tray or tin foil.
Place the cream cheese block on the tray, and brush with olive oil, coating the entire surface.
Coat with the chosen toppings and place the tray on the smoker rack.
Close the grill cover to maintain the smoker cooker temperature.
Smoke the cream cheese for 2 hours, or until the surface has a lovely golden color.
Topping Ideas:
The blend of flavor combinations is limitless when it comes to smoking cheeses. It's just a matter of experimenting and finding flavor combinations that you enjoy.
Here are some ideas to get you started:
Try drizzling with a honey and cinnamon sugar combination, for a sweet rub twist.
Dry ranch dressing and olive oil mix to enhance the smokey flavor.
A barbeque spice rub with barbecue sauce and a dash of bourbon for a bit of southern-style smoked cream cheese.
Fresh chopped chives, chopped green onions, fresh parsley, onion powder, and crushed garlic cloves for a fresh flavor.
Chopped fruit, apple slices, and nuts for a delicate flavor.
Whether you prefer a sweet or savory snack, there's a cream cheese to cater to all. Serve up with crackers or baked pretzels for a simple comfort food snack.
Experiment with different flavors to jazz up your block of cream cheese, and you'll be addicted in no time!
Smoked Cream Cheese
This smoked cream cheese is delicious. You're going to want a piece of it pretty much always.
Ingredients
10

ounces

cream cheese

2

tbsp

olive oil

2

tbsp

roasted garlic blend
Instructions
Preheat your pellet grill to 200-250° for 5 to 10 minutes.

Place the cream cheese onto the aluminum tray and brush with the oil.

Coat with the chosen toppings (garlic blend).

Place the tray on the smoker rack.

Serve with dry ranch dressing and olive oil mix.
Smoke On!

Charlie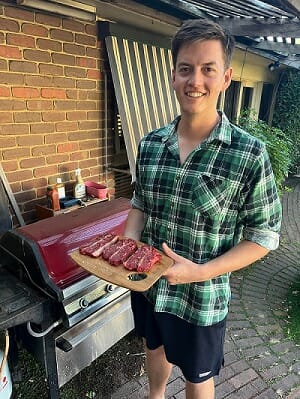 Author: Charlie Reeves
Hi, I'm Charlie, I am head taste tester at Simply Meat Smoking! I love it grilling, smoking, and getting out in the yard with the kids! The family also love to test all my recipes (especially my EXTRA CRISPY pulled pork, smoky pork loin, and ANY SEAFOOD I grill)
You will usually find me playing with the kids, perfecting my brisket bark, or sipping beers with boys around the fire. Can't wait to share all my delicious smoking and grilling adventures with you!

You can read more on our About Us page.
Hungry For More?