The best thing about smoking brisket? They're so big, there is usually leftovers! 
In fact, how many times have you wondered "What can I do with leftover brisket?" But don't underestimate your leftover brisket meat. There are so many wonderful dishes that you can create with brisket.
From brisket dumplings to tacos, the possibilities are endless!
Here are some of our favorite leftover brisket ideas:
Brisket Lasanga
Leftover Brisket + Lasanga = EPIC
What happens when you combine two of the BEST meals ever?
You end up with an EPIC brisket lasagna
See how to make this leftover brisket lasagna at home
Brisket and Cheese Pies
But making your work lunches doesn't have to be boring. Especially when you have that leftover barbecue brisket in the fridge. 
Want a plain beef brisket pie? This has homemade puff pastry!
Visit this site for the delicious cheese and brisket recipe.
Loaded Leftover Brisket Nachos
Just when you thought nachos couldn't get any better! We have combined the BEST two foods EVER!
All the toppings will make these LOOOOADED nachos the most EPIC MEAL!
See the loaded brisket nachos recipe here.
Slow-Cooked Beef Brisket Ragu
Want to try making leftover brisket pasta?

Tomato sauce pasta is great and all, but it can get a little boring.
Thankfully, we've found this hearty slow-cooked beef brisket ragu recipe! It's the perfect if you love cooking meals in a casserole dish and just throwing it in the oven.
This ragu has such an amazing flavor that it might even become your ultimate comfort food! We know that it's ours's!
Here is what you'll need:
1.5kg brisket (beef of choice)
3 tbsp olive oil
1 tbsp butter
105g thinly sliced pancetta, finely chopped
1 large onion, sliced (for caramelized onions)
1 medium carrot, finely chopped
2 celery stalks, finely chopped
4 garlic cloves, sliced
⅓ bottle of wine (preferably white wine)
750ml fresh beef stock
2 x 400g tins peeled plum tomatoes in juice
3 tbsp chopped fresh oregano
4 fresh bay leaves
2 tbsp tomato purée
1 tbsp caster sugar or maple syrup
This recipe actually calls for quite a bit of slow-cooked meat, so it's great to make if you've got an extra brisket that's leftover from a big gathering.
You can totally eat this ragu with any other form of carbs. We've tried placing it on top of baked potatoes once, and it was still magnificent!
Here is the link to the full slow-cooked beef brisket ragu recipe.
Leftover Smoked Brisket Chili
Want to take your chili to the next level? Use your leftover brisket! It's the ultimate comfort food and the way to use up that brisket!
See the leftover brisket chili recipe.
BBQ Beef Brisket Sandwiches
If you're a fan of pulled pork sandwiches then you're going to love leftover brisket sandwiches.
We've found this simple that involves making a dressing and chopping your brisket. You can also try grounding the brisket and making burgers.
Here's the ingredients list:
2 teaspoons celery salt
2 teaspoons ground black pepper
1 ½ teaspoons salt or kosher salt
1 teaspoon garlic salt
1 teaspoon onion salt
2 teaspoons Worcestershire sauce
3 lbs beef brisket
1 cup Russian dressing
1 cup hickory-flavored barbeque sauce
What truly makes this recipe unique is the addition of the Russian dressing.
We added chilli sauce, ketchup, mayonnaise, horseradish, radish and paprika. But you don't have to follow what we did. You can feel free to add in more spices, or even switch out the paprika for something else.
We do realize that this recipe does call for a lot of salt. But this is also completely customizable. Cut out as much salt as you'd like. Just add to suit your taste. Trust us, it'll still be a total flavor bomb!
Here is the link to the full BBQ Beef Brisket Sandwiches recipe.
Braised Beef Brisket Stew
If you're looking for warm and cozy weeknight meals, then try this super simply super simple braised brisket stew.

It has all the vegetables and carbs you need to fill you up after a busy day at work. But it's also tasty enough to completely satisfy your taste buds.
Here's what you'll need:
3 to 4 pounds Beef brisket
2 tablespoons extra virgin olive oil
salt and ground black pepper
2 medium onions sliced
3 celery stalks
2 to 3 minced cloves of garlic
4-5 large carrots
2 parsnips
1 pound yellow potatoes
⅔ cup all-purpose flour
3 ½ cups hot water
2 tablespoons "Better than Bouillon" beef base
1 tablespoon tomato paste
1 cup whiskey
1-2 tablespoons stone ground mustard (prepared mustard)
1 teaspoon onion powder
¼ teaspoon garlic powder
3 to 4 fresh thyme sprigs for garnish
We love making this dish whenever we have half a brisket leftover. It's warm, it's hearty, and it's sure to fill you up.
Check out the full Braised Beef Brisket Stew here.
Leftover Brisket Breakfast Skillet
Let's say it's Sunday morning. You're meant to make a big breakfast for the whole family. But you don't have bacon to fry.

Well, there's a way you can make things easy for yourself. Simply toss all of your other breakfast ingredients, plus yesterday's leftover brisket, into one big skillet.
This recipe that we've found is the ultimate breakfast brisket recipe. Try it out for yourself and thank us later.
Here's what you'll be needing:
1½ cups of potatoes cubed
1 tbsp of your favorite seasoning
¼ cup of white onions chopped
¼ cup of red bell pepper chopped
3 garlic cloves minced
½ cup of Brisket cubed
2 tbsp of chipotle puree
4-5 free-ranged fresh eggs
1 tbsp of chives chopped
2 tbsp of olive oil
You can cook this in a regular oven. But if you want the best flavor, then start up your charcoal grill and place the skillet on top of that to cook. The charcoal adds a different flavor dimension that you just have to try.
Here's the link to the complete Leftover Brisket Breakfast Recipe.
Leftover Smoked Brisket Tacos
We obviously couldn't leave a taco recipe off of our list.
Who hasn't tried making tacos out of their leftover briskets?

What's excellent about tacos is that they can be soft or hard-shelled.
This means, no matter how you cooked your brisket — be it smoked or braised — you can make tacos out of them and they would taste phenomenal.
However, here's a leftover brisket taco recipe that stood out to us.
So, here's the ingredients list:
1 tablespoon extra virgin olive oil
2 cups leftover smoked beef brisket
8 corn tortillas
1/4 cup pickled onions
1/3 cup diced white onion
1/3 cup diced tomatoes
1 cup blender salsa
1 sliced avocado
1/3 cup sour cream
1/4 cup diced cilantro
1/2 cup cheese
1 lime sliced
The toppings are all customizable — that's why tacos are so great. You do not have to stick to the ones that we've suggested.
Try out this brilliant leftover brisket taco recipe yourself by visiting this site for the full recipe.
We hope that our list of leftover brisket recipe ideas gave you some inspiration for what you should create out of your leftover meat.
Now, go ahead and get cooking!
Charlie 🙂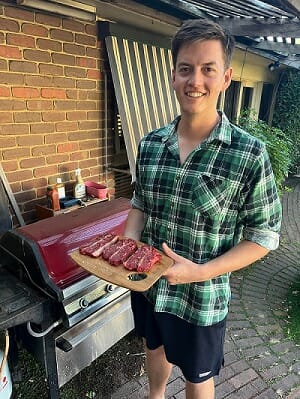 Author: Charlie Reeves
Hi, I'm Charlie, I am head taste tester at Simply Meat Smoking! I love it grilling, smoking, and getting out in the yard with the kids! The family also love to test all my recipes (especially my EXTRA CRISPY pulled pork, smoky pork loin, and ANY SEAFOOD I grill)
You will usually find me playing with the kids, perfecting my brisket bark, or sipping beers with boys around the fire. Can't wait to share all my delicious smoking and grilling adventures with you!

You can read more on our About Us page.
Hungry for More?