Wondering if your Pit Boss grill can get rusty?
If they are not properly cared for or maintained, they may begin to get rusty.
Would you like to know what you can do to prevent rust on your Pit Boss?
In this post, we will look at the causes of rust on a Pit Boss and how to prevent it.
What Could Make A Pit Boss Grill To Rust?
Usually, rusting occurs on your iron grills when they are exposed to oxygen and water for an extended period. 
This could be a result of improper storage, maintenance, or other factors.
Pit Boss pellet grills are made of top-grade stainless steel material. In addition, they have a protective coating to prevent rust.
The environment where you keep your wood pellet grill plays an important role here as regards rusting.
If where you store your grill is exposed to rain and a high level of humidity, then your grill may begin to rust.
Remember, rust doesn't only affect the aesthetics of your cooking grill, it may also affect its functionality with time.
Now, we will look at some of the most effective ways to prevent your grill from rusting.
How To Stop Your Pit Boss Grill From Rusting (8 Easy Ways)
If you're looking to prevent rust on your Pit Boss, then you should do the following:
Clean Your Grill Regularly
One of the best ways to protect your grill from rust and make it last longer is to clean it regularly.
Ensure you clean it after each use. This would help it stay clean always.
Use a grill brush to clean the cooking grates. After brushing the grill grates, use a cloth to wipe off any leftover food or stains that may present.
The shutdown cycle is also very good as it helps remove food residue and remnants and keep your grill clean.
Also, you need to clean the outside with soap and water. Then dry it properly after cleaning.
Season The Grill
You should season your Pit Boss grill before using it for the first time, this is also known as a burn off.
This is very important as it would help get rid of unwanted items, contaminants, and odors that came with the grill.
Seasoning your grill will also help it build a protective barrier that repels rust.
Dry It Thoroughly After Cleaning
The Pit Boss gas grills come with electrical components that are prone to rust, such as the fire pot, RTD temperature probe, and auger.
So after cleaning your grill, always make sure you dry it out completely if you don't want any of these components to start rusting.
Make sure you check the small crevices just to be sure there's no water left behind.
You can use a paper towel to wipe the entire inside of the grill in case there's any water or moisture left behind after cleaning.
For a more thorough resource on cleaning your temp probe see here.
Deep Clean Your Grill
Deep cleaning your grill and grates can also help prevent rust.
In the Pit Boss users manual, it is recommended that you deep clean your grill at the end and beginning of every grilling season.
Alternatively, you may deep clean your Pit Boss 1-3 times per grilling season.
Avoid Using Water On The Flame Broiler
In the Pit Boss users manual, it is clearly stated that you shouldn't use water on the flame broiler. That is because the flame broiler is not designed to be waterproof.
It will start to rust if it comes in contact with water regularly. So, whenever you are cleaning your grill, don't allow water to come in contact with it.
Use a scraper or piece of tile to scrape the main plate while cleaning.
Avoid using a wet cloth to wipe it.
Use some aluminum foil to protect and cover it. That way, it will stay clean, and you don't have to be cleaning it always. Spraying the flame broiler with cooking oil can also help prevent it from rusting.
Store It Properly In An Enclosed Building Or A Garage
Leaving your grill outside will expose it to humid conditions and make it rust faster. Instead, store it in a garage, carport, or any other place with a shelter.
You don't have to worry about moving your Pit Boss grill from the garage whenever you need it as they come with a handle and wheels for easy mobility.
Use A Grill Cover
Investing in a grill cover can also help prevent your Pit Boss from rusting. This is particularly important for people who store their grill outside.
Constant exposure to rain will not only make your grill rust faster, but it will also make water enter the hopper.
Once water enters the pellet hopper, the pellets will become ruined, leading to a clogged auger. However, using a good protective grill cover will save you the trouble.
It will protect your stainless steel grill from rain, snow, moisture, and extreme weather conditions that could lead to rust formation. In addition, it will also help keep your pellets dry.
With a grill cover, you don't have to worry about your grill being exposed to harsh conditions that could make it rust. All you have to do is cover your Pit Boss with it after every use.
Use Touch Up Paint
If you use your pellet grill often and move it around a lot, the paint may start flaking off at some point, making it vulnerable to rust.
Don't wait until the entire painting of the grill flake off. Use touch-up paint to cover up the exposed parts of the pellet grill.
Look for high-quality paint, such as the Rust-Oleum High Heat Primer or any other heat primer spray paint. These paints are inexpensive and will help protect your Pit Boss from rusting.
Although the Pit Boss grills are built with high-quality materials, improper care and constant exposure to water will make them start to rust.
Using the tips shared in this article will help protect your Pit Boss wood pellet grill from rust.
Where do store your grill?
Smoke On!

Charlie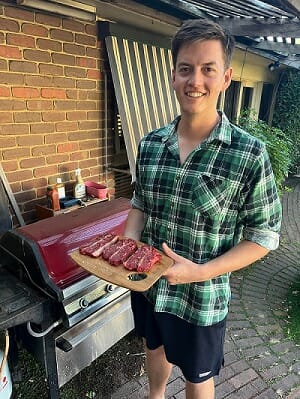 Author: Charlie Reeves
Hi, I'm Charlie, I am head taste tester at Simply Meat Smoking! I love it grilling, smoking, and getting out in the yard with the kids! The family also love to test all my recipes (especially my EXTRA CRISPY pulled pork, smoky pork loin, and ANY SEAFOOD I grill)
You will usually find me playing with the kids, perfecting my brisket bark, or sipping beers with boys around the fire. Can't wait to share all my delicious smoking and grilling adventures with you!

You can read more on our About Us page.
Hungry For More?