Thinking of buying, just purchased, or are already using a Pit Boss Grill?
Don't know the story behind the seasoning process?
Then I hope I can shed some light with my basic steps.
Pre-seasoning is essential for any backyard griller or pit master that wants to get the best out of their grill.
So, what are we waiting for?
Note: This applies to the vertical smoker range as well as the standard Pit Boss Pellet Grill range. Or any grill for that matter!
The Best Way To Season A Pit Boss Pellet Grill
What is the most efficient way to season a Pit Boss pellet grill?
Burning Off Step-By-Step Guide
Firstly, set your Pit Boss to the prime mode located on the user interface on the dial after adding in your pellets.
When priming the machine initiates the pellet auger and makes sure enough fuel is ready to be burned.
After you have primed, you just need to set your Pit Boss temperature to max.
Close the barrel lid and wait around 30 minutes the unit is brand new.
Or close the barrel lid and wait 10 minutes if already used and just cooked a meal.
Initiate the shutdown method and wait until it has cooled down and no more pellets are lit.
Clean the grill grates with hot water and leave to dry.
How Often Do I Have To Season A Pit Boss Grill?
You should season your Pit Boss with a burn-off when;
You first purchase it before cooking any food
Then after every time you use it.
You should season it with oil after it has been cleaned and before you want to cook on it.
How Long Does It Take?
The initial burn-off should take no more than 60 minutes before you can start cooking.
The burn-off after you have cooked should take around 20 minutes.
This will not only maintain your Pit Boss but also save you time when you start cooking next.
What Is A Pit Boss Pellet Grill?
So briefly, what is a Pit Boss pellet grill?
In this article, you'll see me refer to one of these as a grill and a smoker.
This is because it does both of these cooking methods and a lot more.
The Pit Boss is a brand that manufactures different ranges of grills that utilizes wood pellets as fuel by electrical power.
They are the perfect mix of good old-fashioned cooking styles made better with technology.
That gives you complete control over the cooking process that your tastebuds deserve.
Why Should You Buy A Pit Boss Pellet Grill?
Are you asking yourself why you should buy one in the first place?
I'm not a salesman but if your answer is yes to any of the below, then it's pretty obvious…
Quality-built machine with 8 different styles of cooking and a 575 square-inch cooking surface.
Complete control over the cooking process like the cooking time and internal temperature which can be monitored on your phone by a meat probe and on the user-friendly LCD interface.
Incorporate a natural smoke flavor into whatever you choose to cook.
A cost-effective pellet grill and fuel is also the ultimate easy clean no-nonsense machine.
More time to enjoy with the family while also providing a delicious and bespoke meal.
How A Pit Boss Pellet Grill Works
Let's quickly look at how one of these works to further understand the seasoning process.
Note: We have covered in great detail how a Pit Boss pellet grill works which can be found here <insert link>
The Barrel Frame
The frame, hopper, grill lid, and grill cover are made from cast iron with heat and waterproof cured primer paint.
The Hopper & Hardwood Pellets
The large hopper with wood pellets is mechanically fed by the auger motor into the ignition chamber at a speed you control.
Electrical Components
Plug into power at a 120v socket.
The digital control LCD panel gives you complete oversight of the thermostatic controls.
Electrical initial ignition of the hardwood pellets.
The fan & internal mechanisms are powered by electricity.
Various sensors feed information to you.
Ignition & Cooking Chamber
The pellets are fed into the ignition chamber and ignited via an electric rod.
The heated air or smoke is then moved up into the cooking chamber by a fan.
The cooking chamber consists of grill racks which are enclosed by the aforementioned grill lid and grill cover.
Grease Trap & Waste
An easy-to-access and clean overspill bin and grease trap to avoid fires and carcinogens getting into your food.
What Does It Mean To Season A New Pit Boss Grill?
Now that we understand the different and crucial components, it's easy to see how a neglectful user can stop it from functioning.
Seasoning is a way to ensure that you get maximum performance and duration from your Pit Boss.
Okay, so now we understand how a pellet grill works, what does it mean to 'season'?
It's not what you think as we aren't throwing a cajun spice mix over the cooking racks!
Seasoning or curing is a term used when first removing (burning) any excess dust, oils, and bacteria from the storage and manufacturing process.
Seasoning can also be removing excess moisture within the Pit Boss to help maintain the quality and mitigate rust.
The third example would be burning off previously cooked food like fatty residue or pellet ash.
The last example is coating your grill racks with a high-burn oil like coconut oil which will act as a non-stick and stop burned meat from sticking.
Note: You can also use olive oil or bacon grease which will also work and can impact the flavor of whatever you're cooking.
Why Should You Season Your Pit Boss Grill?
So now we understand how a pellet grill works and the seasoning, why should we do it?
Protection For Your Pit Boss Pellet Grill
We should always want to take the best care of our belongings.
Especially when we use them firsthand for consuming food.
Applying oil will save the grill grates in your Pit Boss from having leftover residue after cooking.
This will also make it easier to clean and stop any bacteria from multiplying which will make you sick.
Removing excess moisture within the Pit Boss will also stop any rust and erosion from the outside elements.
'Burn Off' Your Pit Boss Pellet Grill To Remove Impurities
A burn-off is when you set your pellet grill to heat after the cooking process for a small amount of time.
This will burn off any remaining food which then can easily be cleaned.
If your Pit Boss is brand new it will burn off the nasty bits from when it was made.
Trust me, you don't want chemicals on your food as it will make you very ill and ruin your hard work.
Self Maintenance For Your Pit Boss Pellet Grill
Oiling the cooking grates is a great way to maintain and prevent nasties from gathering which will damage the internal components
What Can Happen If You Don't Season Your New Pit Boss Pellet Smoker?
Lastly, what kind of things can happen if you don't follow this simple procedure and fail to season your Pit Boss pellet grill?
Well, the opposite of what we are trying to do!
You Can Expect The Following;
Inefficient cooking and performance of your Pit Boss
Deterioration of components in your Pit Boss
Excess debris, nasty chemical residues, and bacteria growth
External damage like rust
Smoke On!

Charlie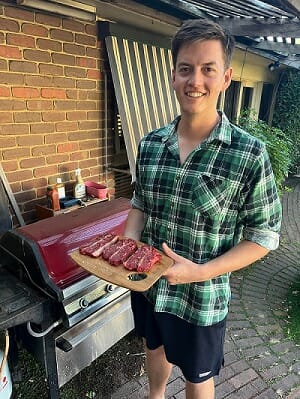 Hi, I'm Charlie, I have been meat-smoking and grilling for the past 15 years. I have an array of different smokers, thermometers, and have a love for finding the right wood and charcoal combo My favourite recipes are my EXTRA CRISPY smoked pork belly, juicy pulled pork, smoked brisket, duck poppers, and ANY SEAFOOD I grill).
I loves sharing his tips with beginners, helping them navigate the world of smoking. I find it's not just about cooking; it's a quest for that perfect smoky flavor.
You will usually find me playing with the kids, perfecting my brisket bark, or sipping beers with boys around the fire. Can't wait to share all my delicious smoking and grilling recipes with you!

You can read more about me on our About Us page.
Hungry For More?