Wondering how to do a burn off on your Pit Boss?
The burn-off is an important task to do after each cook you do.
So find out below why a burn-off is SO IMPORTANT to do!
Plus EXACTLY how to do it!
What Exactly Is A Burn Off?
A burn-off also referred to as a burn-in process is a natural cleaning process for a grill to get rid of leftover foods, grease, and other remnants in the grill.
The temperature control of the grill is increasing the temperatures to burn off excess food debris and other remnants from the cooking grates.
When Should You Do A Burn Off
You should do a burn-off whenever you cook. Doing this after cooking directly on your grill will help keep it clean.
Also, a burn-off procedure is essential when using your Pit Boss grill for the first time. It will help in the following ways:
To remove the machine packing oils, impurities, and any other thing the manufacturer left behind
To extend the life of your smoker
To protect it
To protect you and your family from consuming unwanted substances
Does The Burn-Off Replace Cleanings?
Well, the Pit Boss burn-off doesn't replace cleanings. 
A grill burn-off only helps keep your grill clean through cooking cycles, while regular cleanings will help keep your grill grates clean at all times.
The normal cleaning method or pattern of your Pit Boss pellet grill largely depends on how often you use it.
That is, if you use it often, then you have to clean it often.
Do All Pit Boss Grills Require A Burn-Off?
The Pit Boss burn-off is a part of the shutdown process.
All horizontal and vertical smokers by Pit Boss must undergo a burn-off process after each use to shut down properly.
As long as your grill uses 100% all-natural hardwood pellets, it has to undergo the burn-off process to shut down.
How To Do A Burn Off On Pit Boss
Like many other wood pellet grills, a Pit Boss burn-off is straightforward.
First of all, use the temperature dial to set the Pit Boss temperature to the highest level.
If you're using the 820 Pit Boss grill model, the highest setting for the temperature is 500°F.
Allow it to run at its highest temperature setting for 5-10 minutes. The grill lid should remain closed throughout this period.
After running it for the stated couple of minutes, use the temperature dial to reduce the cooking temperature range to around 200°F and let it run for another 3-5 minutes.
This will help get rid of any debris or remnants on the cooking grates and allow any leftover pellets to burn off.
After completing the burn-off procedure, the inside of the firepot should only contain broken-down pellets and ashes. Any pellet shouldn't be left inside it.
However, if there are still unburnt pellets inside the burn pot after the burn-off process, remove the wood pellets immediately.
Are There Any Dangers If I Do Not Shut It Down Properly?
The firepot may still contain leftover wood pellets if the grill is shut down without going through a burn-off process.
The leftover pellets in the burn pot could cause an explosion or fire.
Always make sure you check for unused pellets before switching on your grill after an incorrect or incomplete shut down cycle. You can also vacuum the grill out to get rid of any leftover pellets or ashes.
Although leftover ashes won't cause any problem for your grill, it's better to remove any leftovers after every cook.
So, to prevent a fire incident or an explosion, make sure you shut down your Pit Boss grill properly after every cook.
Whether you are using your Pit Boss grill for the first time or a seasoned pit master,
a burn-off process is always good as it will help protect your grill and make it last longer.
Smoke On!

Charlie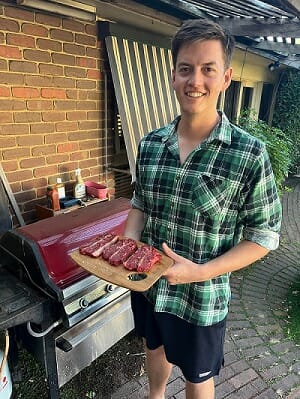 Author: Charlie Reeves
Hi, I'm Charlie, I am head taste tester at Simply Meat Smoking! I love it grilling, smoking, and getting out in the yard with the kids! The family also love to test all my recipes (especially my EXTRA CRISPY pulled pork, smoky pork loin, and ANY SEAFOOD I grill)
You will usually find me playing with the kids, perfecting my brisket bark, or sipping beers with boys around the fire. Can't wait to share all my delicious smoking and grilling adventures with you!

You can read more on our About Us page.
Hungry For More?