Are you looking for BBQ recipes to add to your menu for your Easter feast?
We have put together a list of fantastic barbecue recipes to make up your Easter meal.
You will want to set up your grill or smoker unit to recreate these mind-blowing dishes.
Smoked Carrots in Brown Butter
Do you want an innovative way to incorporate vegetables into your meal during Easter?
Smoked carrot is a perfect side dish!
You will need brown sugar, butter, and a pinch of salt for the glaze.
You can include more flavor elements like orange juice, cinnamon, or cayenne.
Smoked Easter Ham
Nothing is more classic than a ham for Easter! Below is the ham recipe I use every Easter!
Note: If you planning on cooking turkey and ham for your holiday meal, I would start with the largest cut first
Smoked Sweet Potatoes
Everyone loves sweet potatoes, but once you smoked them your guests will go crazy for them.
Plus I love that it is super simple and you can just throw them in with your meat.
Lamb Burgers
Does your family love lamb on Easter? But do you want to try something a little different?
Then try my famous lamb burgers. They have a delicious mint vinaigrette that you'll love.
Grilled Garlic Rosemary Smashed Potatoes
Grilled smashed potato is one of the perfect barbecue recipes for Easter.
The cooked red potatoes seasoned with rosemary, cloves of garlic, and a sprinkle of cheese will make you lick your plate.
You can have his meal alone or serve it as a barbecue side dish alongside your favorite entrees.
Perfectly Smoked Ham With Truffle Mustard
This smoked ham is perfect if you cooking for a crowd or like to have leftovers. Plus the truffle mustard really gives it an indulgent kick!
Find The Christmas Ham Recipe Here
Or if your looking for a bourbon pineapple ham you need to try this recipe.
Smoked Hot Cross Bun Ice Cream
This lightly smoked ice cream recipe is an absolute treat.
The dessert is packed with flavor variations from currants, caramel, and mixed spices.
Smoked hot bun ice cream is not just a simple dessert. It is hands down my favorite.
Smoked Tuna
Looking for a fish recipe for Good Friday? This smoked tuna recipe is a family favourite.
Smoked Pork Chops
Pork chops have never tasted better.
This delicious pork chop recipe is packed with yummy smoky flavors that everyone will love.
Smoked Salmon Devilled Eggs
Smoked eggs are tastier and flavourful compared to the boiled versions.
The minced smoked salmon took the side dish to another level.
Try this recipe instead of the regular hard-boiled egg. You will want to have it every day.
Smoked Leg Of Lamb
You can never go wrong with lamb on whatever occasion.
There are different ways to prepare the meat, but this recipe will marvel you.
The roasted moist skin is so tempting and inviting. You will enjoy every bite of the meat.
An outdoor snack on Easter evening is an excellent way to create a fun memory with your family.
This sweet and savory combo is a great alternative to burgers.
Everyone will love these smoky meatballs
Bacon Wrapped Chicken
This bacon-wrapped chicken with sticky barbecue sauce will have your guests asking for more.
You will need tender chicken breast, crisp bacon, and melted cheese for this delicacy.
If you plan to host a family gathering on Easter Sunday, this wrapped chicken with baked bacon will not disappoint.
Smoked Spiral Ham With Honey Glaze
This recipe is a crowd-pleaser, making it the best meal to serve at your Easter dinner.
We know you can enjoy packaged ham without any further cooking.
But have you tried smoking the already smoked spiral ham with herbal ingredients?
Try this recipe. You will never want to eat ham any other way.
Garlic And Herb Grilled Eggplant
This garlic and herb eggplant is my favorite recipe for grilled vegetables.
Look at the golden, brown slices of eggplant with their charred edges! They are tender in the middle and crisp on the outside.
The garlic and herb oil gave the veggie an additional flavor that was so pleasant.
Smoked Beef Kebabs
This brown, slightly charred beef took a total of 10 minutes, while the superb barbecue sauce took about 7 minutes over medium heat.
Just looking at this beef kebabs will leave your mouth watering.
Another pleasant vegetable to barbecue!
Asparagus is one of the few veggies that do well on the grill.
You can even try wrapping the asparagus in bacon!
This slowly smoked lamb is the perfect option for Easter barbeque.
The flavourful and tender lamb was spritzed with a mixture of vinegar and juice.
Use a slow cooking method to achieve this juicy barbecue that is super delicious.
Smoked Sweet Potatoes With Garlic Butter
This recipe is super simple to make!.
Pierce a few shallow holes on your washed potatoes and coat them in olive oil. After that, transfer them to your grill.
Cook for 45 minutes and top with chopped green onions and garlic butter.
Cookings with your family is the best way to create memories.
That is why we have compiled these Easter BBQ recipes
Go through the list and select your favorite dishes and enjoy!
Smoke On!

Charlie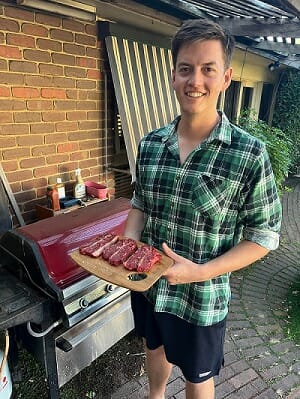 Author: Charlie Reeves
Hi, I'm Charlie, I am head taste tester at Simply Meat Smoking! I love it grilling, smoking, and getting out in the yard with the kids! The family also love to test all my recipes (especially my EXTRA CRISPY pulled pork, smoky pork loin, and ANY SEAFOOD I grill)
You will usually find me playing with the kids, perfecting my brisket bark, or sipping beers with boys around the fire. Can't wait to share all my delicious smoking and grilling adventures with you!

You can read more on our About Us page.
Hungry For More?