It's your turn to host the holiday feast. You're excited to cook so many delicious dishes!
But you don't know how you're going to get the meat done. Should you cook the turkey first? Or should you put the ham in the oven first?
Can you cook them both at the same time? What if there's no room for the ham and the turkey?
Fortunately, there's a solution to every problem. We've laid out all the information you need to find your answers.
Keep reading to figure out how to make turkey and ham on the same day!
Should I Cook Ham Or Turkey First?
You should cook the meat that will take longer first.
If you cook a turkey at 325°F, estimate about 13 minutes per pound. At 325°F, the ham will take about 23 minutes per pound.
A 15-pound turkey would take a little over 3 hours to cook. A 10-pound ham would take almost 4 hours. If you had a 15-pound bird and a 10-pound ham, you should put the ham in the oven first.
Can I Cook Turkey And Ham At The Same Time?
You can even cook your turkey and ham at the same time. This is only true if they both fit in your oven, though.
If you're not sure that they will fit, try fitting them in ahead of time. Put the wrapped frozen turkey in a roasting dish and pop it in the oven. Now do the same with the ham. If they fit together, cook them together!
You may want to buy a smaller ham or cook turkey breasts if cooking them together is your only option.
When cooking both a ham and turkey at the same time, you may need to increase the cooking time. The cook time shouldn't get much longer, though. The oven has to work a little harder to warm up that much food at one time.
How To Prepare Turkey
First, you will choose a turkey. You should get about 1 pound of turkey per person.
Thaw the turkey. Brine it or season it if you would like. 
Cook the turkey for about 13 minutes per pound at 325°F.
When it is almost done, check the internal temperature with a meat thermometer. If it is at least 160°F, then remove the turkey from the oven or smoker.
The breast meat should not get much hotter than 160°F or it will dry out. The thigh meat can get cooked to 180°F for best results.
Let the turkey rest for at least 30 minutes before carving.
Refrigerate leftovers within two hours. They will be good in the fridge for up to four days. Freeze the turkey leftovers for up to six months. 
How To Prepare Ham
First, you need to buy the ham. There are many types of ham to choose from.
Most hams are pre-cooked, we recommend buying one of these as they are easier to cook.
If you're buying a bone-in ham, estimate half a pound per person.
If it has been defrosted, you can put a seasoning rub or a glaze on the ham.
Now it's time to cook the ham. It should take about 23 minutes per pound at 325°F.
When it's about time to check the internal temperature, use a meat thermometer. If the internal temperature is 145°F, it is ready to eat.
Refrigerate or freeze leftovers. 
How To Plan Your Thanksgiving Cooking Strategy
You probably have a lot more to cook than just ham and turkey. But you only have one oven.
Fortunately, there are a lot of things you can bake the day before. Pies and desserts are easy to make in advance. Store them properly and serve them after dinner. You can even reheat them while everyone's eating the big meal.
Remember all the foods that don't even need to go into the oven. Green beans, mashed potatoes, and stuffing are all items you can easily cook on the stove.
Don't forget about options that come ready to eat. Buy canned cranberry sauce for convenience. Pick up some pre-cooked rolls that you can serve at room temperature.
Now it's time to figure out when dishes need to go in the oven. Plan to cook them at whatever oven temperature you landed on for the turkey. You may need to adjust the cooking time.
Decide how many trays will fit into your oven. Think about which dishes will taste better after they cool down a little.
Consider ditching the sweet potatoes so you have room for the green bean casserole. Contemplate making the slow cooker version of something if possible.
You'll have no problem having everything ready when your guests are hungry. You may be a little harried, but you'll forget all that as soon as you start eating the meal you worked so hard to prepare.
Smoke On!

Charlie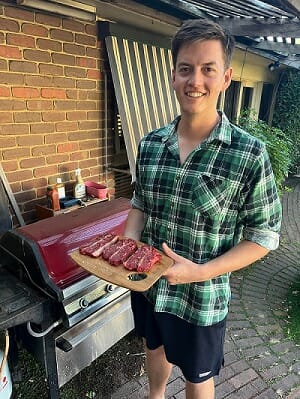 Author: Charlie Reeves
Hi, I'm Charlie, I am head taste tester at Simply Meat Smoking! I love it grilling, smoking, and getting out in the yard with the kids! The family also love to test all my recipes (especially my EXTRA CRISPY pulled pork, smoky pork loin, and ANY SEAFOOD I grill)
You will usually find me playing with the kids, perfecting my brisket bark, or sipping beers with boys around the fire. Can't wait to share all my delicious smoking and grilling adventures with you!

You can read more on our About Us page.
Hungry For More?