A barbecue smoker can set you back a couple of hundred (if not a thousand) dollars.
Not ONLY is a smoker expensive, but it also requires maintenance, and you might not use it often enough to justify the price.
If you're on a tight budget, or you just don't feel like buying a smoker yet. You can easily make your own homemade backyard smoker with a variety of items.
We've put together a helpful guide that includes ten BBQ smokers you can make at home plus Ive included what recipes work well with that unit.
Read on to find out what they are, what you'll need, some basic skills you may require, and how to build them all!
Old Fridge Smoker
A cold smoker, also known as a smoking cabinet, is an extremely useful appliance to have.

Unlike conventional smokers, cold smoking accomplishes a multitude of different tasks.

We have a simply DIY homemade cold smoker here or see below for the fridge cold smoker!

For example, not only can it be used to smoke ham, but you can use it to cold smoke cheese, jerky, and much more! On top of that, you can even utilize it as a warming rack to ensure that your food remains warm. We've even tried baking a cake in one of these, and it works!
Materials You Will Need
BBQ thermometer
Bolts (6 mm)
Iron rods
Nuts and washers
Old fridge
Paint
Silicone sealant
Steel sheet
Steep pipe (1 to 2 feet / 30 mm diameter)
Wine corks
Wooden slats
Tools needed
Bench vice
Circular cutter
Coping saw
Cordless drill
Hammer
Hacksaw
Metal filer
Screwdriver
Sealant gun
Tin snips
Utility knife
Basic Skills Needed
You'll need to know how to use a drill, saw, and metal filer.
Guide to Building It
Before you do anything, you'll want to make sure that the entire fridge is clean; both inside and out.

Next, you'll want to decide on the number and length of the shelves you'll be installing inside.

Then, you'll need to cut the metal rods to the appropriate size. Then you'll want to make and install the chimney pipe; this will let the stream of smoke escape. You'll need to cover up any unwanted openings with sealant, as well as ensure that the fridge is fireproof.

For your convenience, you might also want to attach a temperature gauge.

Click here to view the full step-by-step guide to building your own cold smoker out of an old fridge.
Ready to start smoking brisket and pork butts like a pitmaster?
See my guide to smoking meat for beginners. After you build your smoker you'll need it to become the best backyard cook in your city!
Build your An Ugly Drum Smoker (UDS)
A standard DIY item to make BBQ smokers out of is an old oil drum or barrel. A classic drum or barrel smoker you can buy is the Pit Barrel Cooker.

Why would you pay that much for one when you can easily make a DIY drum smoker at home for way less?

Drum smokers are fantastic because they're generally faster at smoking meat, and they're able to hold a lot.

People usually highly recommend smoking brisket, chicken, and ribs in BBQ drum smokers. Here's how you can make your own ugly drum smoker from scratch!
What to Cook On It?
Materials You Will Need
Baling wire
Ball valve
Bushing (½ inch)
Expanded steel
Grill lid
Handles
High-temperature paint
Nuts and bolts
Oil barrel or stainless steel drum
Shelf clips
Shelving rail
Smaller grill grate
Circular grill grate (preferably steel)
Washers (M20 and Fender)
Tools Needed
Basic Skills Needed
You will need to know how to use a drill.
Guide to Building It
Before you begin drilling any holes, you'll want to make sure that the inside of your 55-gallon drum is completely clean.

Next, cut out the top of your drum if there is no removable cover. You'll then want to strip off its existing paint. You can leave the barrel bare or give it a coat of heat-resistant paint.

After that, go ahead and drill a hole at the bottom of the drum and install the ball valve.

When you're done with that, you can begin on the shelving. Follow that up with creating and inserting a charcoal basket.

Install your temperature gauge — so you can read the internal temperature — cover the barrel with the lid, and that's it!
Here is the full guide on how to build your own UDS.
DIY Smokehouse Built from Pallets
A busted fridge or metal drum isn't the type of 'look' you want your DIY smoker to have. Which is perfectly understandable! Then how about constructing a rustic-looking BBQ smoker out of wood pallets? (Not to be confused with wood pellets!)

While you shouldn't use wood pallets to directly smoke your food. As it is treated with chemicals and will emit toxic fumes — it's perfectly safe to make a smoker out of this material.

Sure, this has been one of the trickier DIY projects that we've tried out! Especially when compared to the fridge cold smoker or the ugly drum smoker.

But it's so gratifying to turn an ordinary pile of wood pallets into something so much more!
Materials You Will Need
Aluminum flashing
Aluminum screen
Corrugated metal roofing (4 by 3 inches)
Deconstructed wooden pallets (30 pieces)
Door handle
Heavy-duty aluminum foil
Hinges (3 pieces)
Outdoor screws (1¼ and 2½ inches)
Tools Needed
Drill bits (⅛ bit and countersink)
Drill gun
Measuring tape
Reciprocating saw
Stanley knife
Staple Gun
Table saw
Tin snips
Basic Skills Needed
You will need to know how to use a drill, reciprocating saw, staple gun, and table saw.
Guide to Building It
You'll first need to cut the pallets into the desired sizes. Next, set up the foundation for your frame.

During this process, you'll want to keep in mind that there should be a door and an angled roof.

Once you've installed all of the panels, then you'll move on to inserting all of the racks inside. Before the BBQ smoker's complete, you'll need to line the smoke chamber with heavy-duty aluminum foil.

Then cut out vent holes on the side. The finishing touch will include attaching a tin roof on top. If you're looking to smoke large amounts of meat, this is the DIY smoker for you.

Visit this link for the complete step-by-step guide.
DIY Smoker on a Budget
If you're really on a budget, or if you want to make a makeshift BBQ smoker for camping trips, then we've got you covered.

While our other suggested guides are cheap, you might not want to spend $100 on materials. Or you might not have tools like an angle grinder or a welding torch.

Don't worry because this DIY BBQ smoker is an ingenious idea that only requires a handful of items to make.
Materials You Will Need
Aluminum foil
Aluminum trays (2)
Charcoal or cedar wood
Cooling rack
Tools Needed
Basic Skills Needed
As long as you know how to safely use a normal Stanley knife, you can definitely give this DIY a go!
Guide to Building It
Take one of the aluminum trays and cut out two flaps on the side of it. Place in the sizeable cooking rack inside and then poke through the metal skewers on the other side of that tray.

Next, you'll want to fold up a piece of aluminum foil to use as a divider between the skewers and the cooling rack.

Finally, you can move onto the other aluminum tray. Cut a flap into the bottom of the tray and then use it to cover your first tray. Then all you have to do is place it on a direct heat source, or have some sort of heating element beneath it, and voilà! That's it!


Click here to watch the entire process of how to make and use your cheap DIY BBQ smoker!
DIY Flowerpot Smoker
If you're on a tight budget and you don't want to handle any complicated tools, then we recommend that you try out this DIY idea.

All you need are a couple of large flower pots, as your basic materials, and you're now ready to make your simple smoker.

You won't need to drill any holes because most terracotta pots already come with a drainage hole at the bottom. This flower pot smoker works just as well as any other DIY smoker on this list, and the best part is that anyone can make it.

Feel free to use it to smoke pork, salmon, chicken, a beef brisket, and much more!
Materials You Will Need
Big terracotta pots (2)
Bricks (3)
Grill grate
Grill thermometer
Heavy-duty metal tin or circular ceramic dish
Hot plate or some other heat source
Tools Needed
You don't need any special tools for this project.
Basic Skills Needed
You don't require any special skills to make this DIY.
Guide to Building It
Start by situating the first pot onto the three bricks. You'll then want to set the hot plate or heat source inside the pot.

You can use the hole at the base to thread through the power cord — if you're using a hot plate.

Next, you'll want to place in your tin/ceramic dish filled with wood chips on top of the heat source.

After that, you need to balance the grill grate so that the pot walls can suspend it. Then you can cover the entire thing with the other terracotta pot. With that, you've made your own budget-friendly BBQ smoker!

Please click this link for a thorough step-by-step guide.
DIY Filing Cabinet Smoker
Every business office clears out their old items from time to time. And amongst the items that get thrown out, you are guaranteed to find an unwanted filing cabinet.

If you find yourself with an old filing cabinet, take the opportunity to try your hand at making this simple DIY filing cabinet smoker.

The pre-installed drawers mean that you won't have to worry about making any shelves for your smoker. Your only challenge will be searching for the perfect-sized grill grate to place inside.
Materials You Will Need
Grill thermometer
Metal filing cabinet (one that has multiple drawers)
Metal hinges
Propane burner
Rectangular grill grates
Water pan
Tools Needed
Drill
Drill bits
Sand paper or scouring pads
Basic Skills Needed
You need to know how to use a drill.
Guide to Building It
We think that this might simply be one of the easiest DIY smokers to put together. All you'll need to do is sand off any existing paint, as it'll be toxic to inhale once you introduce it to heat, and then drill in a few holes for ventilation.

With that said, we understand that you'll probably like to check out the detailed instructions behind building this smoker. Please click this link to read the in-depth guide.
Cinder Block Smokehouse
If you don't want to deal with any drills or pesky drill bits, but the flower pot smoker is a little too simple for your tastes, then check out this DIY cinder block smokehouse idea!

While it looks expensive, cinder blocks are reasonably cheap to buy. If you've got some basic bricklaying skills, then we'd recommend that you try making this DIY smoker.
Materials You Will Need
48-inch flat metal bars (4)
Bricks (25)
Cinder blocks (45)
Metal grates (2)
Metal sheet
Plywood
Tools Needed
No special tools are required.
Basic Skills Needed
You will need basic bricklaying skills.
Guide to Building It
Jirby BBQ has an excellent step-by-step video that walks you through the process of constructing your own cinderblock BBQ smoker.
Propane Tank Smoker
Empty propane tanks aren't the easiest to dispose of. So, why not breathe new life into the old thing by transforming it into your very own BBQ smoker?

If you're comfortable with using an angle grinder and a welding torch, then this is the DIY for you. Depending on the size and length of your propane tank, you can fit in quite a lot of cuts of meat in there to smoke.
Materials You Will Need
Empty propane tank
Steel box sections or smaller gas tank
Steel pipe
Steel sheets
Circular metal grate or clean grill grates
Tools Needed
Angle grinder
Metalworking lathe
Drill
Pivot drill bit
Steel bench vise
Welding torch
Basic Skills Needed
You will need to know how to use an angle grinder, bench vise, drill, metalworking lathe, and welding torch.
The most important thing to keep in mind when making this DIY is to ensure that the tank is empty before beginning anything.

After that, you'll want to be wearing work gloves through the entire process. You certainly do not want to cut yourself on the sharp metal edges.

Guide to Building It
Please watch this video for the complete step-by-step guide on how to turn an old propane tank into a BBQ smoker.
Trash Can Smoker
If you have about $50 or $60 to spare, how about creating a trash can smoker. Don't judge this DIY because it involves a trash can. It's really not gross.

Just make sure that you clean it before you begin with the process — or you could always opt for buying a new one, as they're so inexpensive.

One thing's for sure. It'll show how thrifty and creative you are!
Materials You Will Need
Aluminum foil tape
Aluminum foil pans
Charcoal grate
Grill thermometer
Latch and hinge
Metal washers
Nuts and bolts
Tin cans
Trash can (with the lid)
Tools Needed
Angle Grinder
Drill
Drill bits
Hacksaw
Hammer
Ruler
Screwdriver
Tin snips
Basic Skills Needed
You will need to know how to use a drill and a hacksaw.
Guide to Building It
Firstly, you should cut a rectangle near the bottom part of the metal trash can.

This opening will allow you to safely and easily access the heat source. You'll also use the latch and hinges to make it a functioning door. Using the six-inch hex bolts, you're going to have 4 of them poking through the trash cash.

These will help support the charcoal grate that'll hold and suspend your meats. For finishing touches, you'll want to install your temperature gauge and tin can vents.

For the complete comprehensive DIY trash can smoker guide, click here.
Have Fun DIY-ing a BBQ Smoker
As you can see, you don't have to break the bank to own a backyard BBQ smoker.

These DIY guides show that you can make your own smoker out of old or unwanted items! Such as filing cabinets, flower pots, or even a worn-out fridge.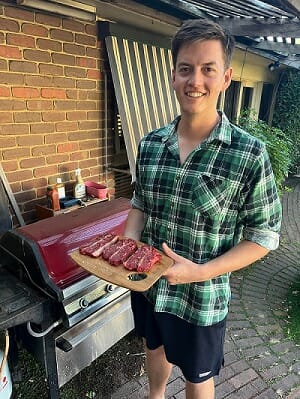 Author: Charlie Reeves
Hi, I'm Charlie, I am head taste tester at Simply Meat Smoking! I love it grilling, smoking, and getting out in the yard with the kids! The family also love to test all my recipes (especially my EXTRA CRISPY pulled pork, smoky pork loin, and ANY SEAFOOD I grill)
You will usually find me playing with the kids, perfecting my brisket bark, or sipping beers with boys around the fire. Can't wait to share all my delicious smoking and grilling adventures with you!

You can read more on our About Us page.
Still Hungry for More?