Turkey legs are full of succulent, smoky flavor.
In fact, we think they're so good they're one of the best types of meat available.
Not sure what to serve them with?
We have put together some incredible recipes so that your dinner is complete.
We've chosen a range of different dishes so that you can find the one that works for you.
Smoked turkey legs deserve the perfect side dish.
Have a read of the guide below to find out what sides go well with smoked turkey legs
Creamy Green Bean Casserole
This delicious casserole is made completely from scratch.
But don't let that put you off, it's absolutely worth the effort!
Perfect for Thanksgiving, this dish might even outshine the turkey.
Smoked Mac and Cheese
Smoked mac and cheese might not be a traditional dish, but don't disregard it yet.
This smoky version is a fantastic spin on classic comfort food.
Serve it for the holidays or for when you need something warm and hearty.
Looking for A Smoked Turkey Leg Recipe?
if your looking for a delicious recipe your in the right place!
We have perfected our smoked turkey leg recipe.
They come out super juicy every time!
Using precooked turkey legs? See to reheat them here.
Southern Style Collard Greens
It doesn't get much more classic than collard greens.
This hearty dish is slow-cooked with ham hocks to perfection.
Put this one in the slow cooker and let it do its thing.
Doro Wat Ethiopian Chicken Stew
This hearty stew will nicely round out your table.
Its flavors perfectly balance the smokiness of the turkey.
Serve it with some rice or bread to mop up the stew.
Smoked Cabbage
Take this humble vegetable and smoke it!
It will take on a delicious flavor and be a wonderful side for turkey legs
Sweet Potato Casserole With Butter Pecan Crumble Topping
You can never have enough casseroles at Thanksgiving.
This dish is tender and creamy with a buttery crunch on the top.
You can also use canned sweet potatoes for additional convivence.
Smoked Asparagus
Asparagus and turkey legs have completely different flavors and textures.
This means that they are a dream when you serve them alongside each other.
Give your asparagus an extra kick, by smoking it on your pellet grill.
Red Beans and Rice
This hearty dish is served with rice and smoky sausage.
It is also a great way to hide vegetables in a rich and creamy dish.
This recipe makes a large quantity, so you'll have plenty of leftovers.
Smoked Sweet Potatoes
Fire up the pellet grill and get smoking with these sweet potatoes!
The smoking process for this recipe is simple and perfect for beginners.
Finish your sweet potatoes with a light seasoning mix and serve.
Asian Crispy Fried Chicken
Looking for a solid appetizer?
This recipe is the perfect side dish or starter to go with turkey legs.
Make sure you grab some because this popcorn chicken will go quick!
Lemon Orzo Chickpea Salad
Vibrant, refreshing and full of goodness.
This orzo salad is easy to make and can be prepped in 5-10 minutes.
We recommend adding some asparagus to the salad to bulk it out.
Mashed Cauliflower
This dish has a mild flavor which perfectly compliments the rich flavor of the turkey.
We recommend using an electric pressure cooker to mash the cauliflower.
This recipe only uses 4 ingredients and is a low-carb dish.
Sticky Honey Soy Baked Chicken
This chicken is sticky, sweet, tangy and incredibly juicy.
It's fantastic for Thanksgiving but is also great for a weeknight dinner.
Pour the sauce over the chicken, chuck it in the oven and sit back and relax.
Homemade Mole Sauce
This chocolate and chili sauce is the perfect partner for smoked turkey legs.
It's also surprisingly simple to make.
Mole sauce is also amazing with chicken if you're serving other meats as well.
Loaded Bell Pepper Nachos
This is a healthier, low-carb alternative to classic nachos.
But that doesn't mean it's less tasty to eat.
Top it with sour cream and homemade guacamole to finish.
Roasted Beet and Arugula Salad With Maple Balsamic Vinaigrette
Feeling a bit fancy but don't want to put in a lot of effort?
We have the perfect recipe for you.
The prep time is only 10-15 minutes, which means it's super easy to whip up.
Cobb Salad
If you have leftover smoked turkey leg meat, chuck it in a salad.
Turkey meat is a fantastic swap for chicken breast or grilled chicken meat.
Use it to top off a salad or fill out other side dishes.
Garlic and Parmesan Roasted Brussel Sprouts With Garlic
This recipe is by far the easiest way to cook Brussel Sprouts.
Crispy, sweet and tender- they'll become your new favorite side dish.
Sprinkle your sprouts with some seasonings and you're ready to serve!
Smoked Turkey Split Pea Soup
If you're looking to serve your turkey in a dish, this is it!
However, you can also use ham hocks or smoked ham as a substitute.
For some added spice, chuck in some chipotle peppers with your soup.
Rosemary Roasted Potatoes
This recipe is a super simple way to serve baked potatoes.
This dish is really versatile and goes with pretty much any main course.
With a delicious blend of herbs and spices, these potatoes are a winner.
Taco Salad
This is not just any old salad.
This dish is healthy, flavorsome and maybe the best salad recipe ever.
This recipe also comes with two salad dressing options, so you can choose the one for you.
Marinated Slow Roasted Onions
Give your yellow onions a new lease of life with this recipe.
This dish goes well with lamb, beef, chicken and of course, turkey.
The flavor is mellow and sweet, so it won't overwhelm the smoky turkey legs.
Coleslaw
If you are after something simple to go with turkey, you can't beat coleslaw.
This colorful dish is excellent for dinners, barbecues and picnics.
If you end up with leftovers, chuck them on a sandwich for a nutritious lunch!
Turkey leg meat is a fantastic option when it comes to the Holiday season.
With its strong smoke flavor and juicy flesh, it's no wonder people love it.
Choosing what to serve with this great choice of meat doesn't have to be difficult.
In fact, there are so many options you might find it hard to choose!
We do not doubt that you'll find something to suit you and your guests.
What do you like to serve with smoked turkey legs?
Smoke On!

Charlie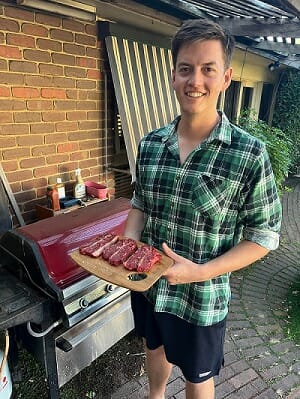 Author: Charlie Reeves
Hi, I'm Charlie, I am head taste tester at Simply Meat Smoking! I love it grilling, smoking, and getting out in the yard with the kids! The family also love to test all my recipes (especially my EXTRA CRISPY pulled pork, smoky pork loin, and ANY SEAFOOD I grill)
You will usually find me playing with the kids, perfecting my brisket bark, or sipping beers with boys around the fire. Can't wait to share all my delicious smoking and grilling adventures with you!

You can read more on our About Us page.
Hungry For More?