Are you looking for a delicious smoked and baked potato recipe? Your in the right place!
Smoked baked potatoes have become a regular dish in our household. Once you experience the incredible flavor they acquire on the pellet grill, you'll never want to prepare them any other way (plus it just so simple)
Elevate the, by loading up these smoked baked potatoes with an array of delicious toppings, making them a perfect accompaniment to your favorite main course or even a satisfying standalone dish
Why You'll Love This Traeger Baked Potato Recipe
Smoking potatoes is an easy way to make a delicious side to pair with your meat of choice. It doesn't matter if you smoking a whole brisket or just a few chicken wings its the perfect side. I mean who doesn't love potatoes.
I find that guests also love when you set up a toppings station, all you need is some crispy bacon, green onion and some sour cream, but feel free to sub or add in all your favorite toppings
With basically zero effort, you can prepare an entire meal at your next cookout!
What Temperature to Smoke a Potato
We recommend smoking a potato at 225°F, this is the ideal cooking temperature. However, if you're smoking meat at a different temperature, don't worry, you can still cook the potatoes at slightly lower and higher temperatures.
Just expect the cooking time to increase or decrease. Potatoes cook more quickly at higher temperatures.
What You'll Need for Smoked Baked Potato
Potatoes
Olive Oil
Black Pepper
Sea Salt
Barbeque Rub
What Type of Potatoes Work Best for Baked Potatoes?
When it comes to choosing the right potato for smoking and grilling, there is an abundance of options available. Here, I'll share my top five favorite varieties:
Russet: The classic Russet potato is a starchy type that reigns supreme for baking and smoking. Its thick skin holds up well to prolonged smoking, ensuring the toppings stay intact. Russets are also fantastic for salads and fries, as they maintain their shape during cooking.
Red: Red potatoes are known for their thin, easy-to-peel skins. These waxy potatoes are perfect for soups and potato salads. However, due to their thinner skin, they are not the ideal choice for baked potatoes that require a more robust exterior to hold the toppings together.
Yellow and White: Yellow and white potatoes are versatile all-purpose varieties and good for smoking and grilling. With their pale yellow or white flesh and rounded shape, they are suitable for a wide range of cooking methods such as soups, stews, roasting, and sautéing. In fact, gold potatoes can be an excellent substitute for Russets when it comes to baking.
Sweet Potato: Don't overlook sweet potatoes when it comes to smoking. They work wonderfully! You can enjoy the smoky goodness by following my recipe for smoked sweet potatoes.
How Long to Smoke Baked Potatos
A potato will take about 2 hours to cook at 225°F. It will take longer at lower temperatures and tt will be quicker at higher temperatures.
The cooking time depends on the cooking temperature.
If you're cooking meat at 225°F, add the potatoes to the pellet grill near the end. When the meat has 2 hours left, then you can put the potatoes on the grill grates.
Best Wood Chips for Baked Potato
Mild woods like fruit woods are good for potato's. my favorites are apple wood chips or cherry wood chips.
Mesquite and hickory are a bit stronger. They will add a strong smoky flavor to the potatoes. If this is your preference, then you can use them.
Why Should You Use Foil for Smoking Baked Potatoes?
Using foil for smoking baked potatoes will softer skins, if you prefer crispy potato skins, you may want to skip the foil or remove it during the final stages of cooking to allow the skins to crisp up. Ultimately, the choice of using foil or not depends on your personal preferences and desired outcome.
How to Make Perfect Smoked Baked Potatoes on The Traeger
Grilling and smoking potatoes is a straightforward process that yields delicious results. To ensure the best outcome, it's important to follow these simple steps below

Step 1: Prepare the Potatoes
Wash the potatoes thoroughly to remove any dirt. Let them air dry. Using a fork, pierce the potato skin in several places.
Slice the potato length ways and across without cutting to the bottom. Brush the potatoes with olive oil and place butter in the potatoe and then season with the spices.
Step 2: Smoke the Potatoes
Preheat the grill to 225°F and cook for 2 hours or until the potatoes are soft.
Top with your favorite toppings.
How Do You Know if a Potato Is Done?
A baked potato should be soft to the touch. Because it is hot, don't touch it with your fingers! Instead, use a fork or some tongs.
If you're still not sure, you can check the internal temperature. The internal temperature should be about 205°F.
Why Should You Pierce a Potato Before Baking?
Piercing a potato creates tiny holes. This allows steam to escape from the potato.
Without these holes, the potato could explode.
Should You Coat a Potato With Oil Before Baking?
Coating a potato with oil can result in crispy skin. If you like crispy potato skin, be sure to coat the potato in oil before baking.
If you don't tend to care about crispy skin, then this step is technically optional.
What Are Good Baked Potato Toppings?
Many delicious toppings go well on a baked potato. Be sure to try some of our favorite toppings:
Shredded cheddar cheese
Sour cream
Fresh chives
Green onions
Feta cheese
Bacon bits
Pulled pork
Chili
Kosher salt and pepper
Can You Bake Sweet Potatoes in the Traeger?
You can follow this recipe with sweet potatoes, too.
The end product will be a bit sweeter, but still delicious.
What to Serve With Baked Potato
Baked potatoes are the perfect side dish. It goes well with most meat. Pair it with one of our other smoker recipes:
How to Store and Reheat Leftover Baked Potatoes
Store leftover potatoes in an airtight container in the refrigerator for up to one week. You can freeze them for up to a month.
To reheat leftover baked potatoes, preheat your oven to 350°F (175°C). Remove any toppings or fillings. Place the potatoes on a baking sheet or directly on the oven rack. If you prefer, wrap them in foil. Reheat for about 15-20 minutes or until soft and heated through. Check doneness with a fork. Once reheated, add desired toppings and serve.
Traeger Baked Potato
You have to try these smoked baked potatoes with delicious toppings, just remember to stock up on al your favorite toppings. So next time your firing up your Traeger make sure you try smoked potatoes!
Ingredients
4

whole

potatoes

1

tbsp

olive oil

1

tbsp

black pepper to taste

1

tbsp

sea salt to taste

1

tbsp

barbeque rub seasoning
Instructions
Step 1: Prepare the Potatoes
Wash the potatoes thoroughly to remove any dirt. Let them air dry.

Using a fork, pierce the potato skin in several places.

Brush the potatoes with olive oil and then season with the spices.
Step 2: Smoke the Potatoes
Preheat the grill to 225°F. Wrap the potatoes in foil and cook for 2 hours.

Top with your favorite toppings.
Smoke On!

Charlie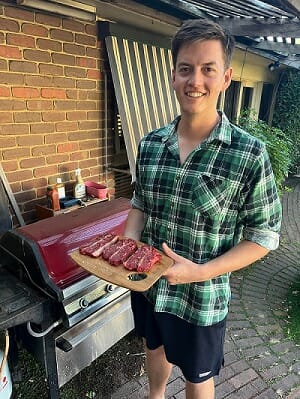 Author: Charlie Reeves
Hi, I'm Charlie, I am head taste tester at Simply Meat Smoking! I love it grilling, smoking, and getting out in the yard with the kids! The family also love to test all my recipes (especially my EXTRA CRISPY pulled pork, smoky pork loin, and ANY SEAFOOD I grill)
You will usually find me playing with the kids, perfecting my brisket bark, or sipping beers with boys around the fire. Can't wait to share all my delicious smoking and grilling adventures with you!

You can read more on our About Us page.
Hungry For More?