A beef roast is usually done in an oven.
But I am here to change that.

Using a meat smoker adds flavor to this smoked beef roast recipe with minimal effort.

Cooking low and slow allows the connective tissue in the beef to break down to juicy gelatin (plus you get a delicious smoky flavor).
This recipe uses several tricks to keep the meat tender.

One trick is, injecting the meat with wagyu tallow, wrapping it partway through the cook, and letting it sit for 6 hours in a cooler.
Hungry Now? Jump straight to my smoked beef roast
This smoked beef recipe takes upwards of 14 hours! It is a great recipe for a weekend or the holidays with the family
Want to Know How to Smoke Roast Beef?
There is nothing like smoking a roast. It really brings out the flavor in beef!
Plus I love the delicious smell of BBQ as it fills my yard.
Our recipe works well with any type of beef. I've tried round, top, sirloin, and rump. But my favorite?
It has to be chuck. It has a good amount of fat but also holds its shape well for slicing.
Below we have pitmaster Robbies steps and pictures of an EPIC smoked chuck roast.
What is The Good Cut of Beef to Smoke?

Chuck roast is our favorite beef for smoking.
Everyone has their own personal preference for beef. You can use beef shoulder, beef chuck roast, beef tenderloin, beef brisket.. the list goes on and on.
Chuck Roast:
The chuck roast is a fantastic cut for smoking. Chuck roast is often known as chuck eye roast, chuck pot roast or chuck roll roast.

It is a cheaper cut that is typically cooked in liquid or injected to keep it moist. I like using this cut for roasts because it is cheap and full of flavor. While smoking you do have to keep an eye that it does not dry out.


Fillet:
This a is a lean cut of beef and its also quite pricey. It is a classic cut for a beef wellington, but also good for roasting smoking, or grilling.


Topside, Silverside and Rump:
I group these cuts because they are all great for smoking and roasting. They are tougher cuts that typically need to be cooked for longer to break down the connective tissue.


Sirloin:
Also known as 'top sirloin'. This is a great roasting cut, however, it does have less fat than others. This means you do need to bring your A game to smoke it. This a good alternative for chuck roast as it is widely availble and similar price.


Fore Ribs:
The fore rib is the perfect cut for roasting or smoking because it has a beautiful marbling of fat. It also has a layer of fat on the outside which helps keep the roast moist and juicy. When I feel like getting a little fancier than chuck roast this is my go to.
How To Tell When Your Smoked Beef Roast Is Done?
For a juicy and tender beef roast, you are looking for an internal temperature of 203F-208°F.
The temperature does depend on your own personal preference.
Always keep in mind your meat will continue to cook once it has been taken off the heat source.
The best way to keep an eye on your internal temperature is to use a digital meat thermometer.
Hungry Now? Jump straight to my smoked beef roast
Smoked Beef Doneness Chart
| Doneness Level | Desired Temperature (F) | Take Out Of Smoker (F) |
| --- | --- | --- |
| Rare | 140 | 130 – 135 |
| Medium Rare | 145 | 135 – 140 |
| Medium | 160 | 150 |
| Medium Well | 165 | 155 – 160 |
| Well Done | 170 | 160 – 165 |
| Fork Tender | 200-208 | 200-208 |
Cooking for someone who doesn't like red meat? Why not try my smoked leg of lamb? it is super lean but still has they indulgent smoky flavour!
10 Steps to a Delicious Smoked Roast Beef
Below we have outlined the 10 steps to juicy and tender cook! It will take around 8 hours to cook, including once you have wrapped it.
1. Trim Your Chuck Roast
Robbie gave his 8-pound chuck roast a trim
2. Inject The Roast
Then the roast was injected with wagyu beef tallow
3. Give it A Rub
The chuck roast is given a rub with a homemade beef rub
4. Truss Your Chuck Roast
Truss your chuck roast. This will help it retain its shape.
5. Place in the Smoker
Preheat your smoker to 250°F. Place your chuck roast on the smoker and insert the temp probe.

You want it to reach an internal temperature of 165°F before you move to the next step
6. When to Pull Your Beef
Once the fat has rendered, you have a mahogany color and it has reached an internal temp of 165 pull from the smoker.

Note: Just make sure the fat has rendered and you have a good bark and color before wrapping it.
7. Wrap Your Beef
Wrap your beef along with a smear of wagyu tallow on the butcher paper
8. Return it to the Smoker
Return it to the smoker after wrapping. Smoke the roast until you reach an internal temp 203F-208°F. Test it by seeing if you can easily slide the probe in and out.
9. Let it Rest, Rewrap and Leave the Cooler
Rest the roast at room temp until you have an internal temperature of 180°F.

Wrap again in pink butcher paper smeared with wagyu tallow and leave your cooler to rest for 6 hours
10. Slice and Serve
Slice the roast against the grain and served with some mashed potatoes
Side Dishs For Smoked Roast Beef
Deciding what to have with your smoked roast beef can make or break your meal. Often having one dish from each group below is a good choice.
Vegetables
Spicy grilled broccoli
Brussels sprouts
Beans, Grains, and Legumes
Three bean salad
Black bean salad with couscous
Potato-Based Sides
Pasta Based Sides
Pasta salad
Macaroni cheese
Salads
Watermelon, tomato and feta salad
Grilled corn salad
How To Cook Smoked Beef Roast
Smoked Roast Beef
Beef roast is a family classic. Using your smoker is a great way to add flavour without adding anymore ingredients to overpower the true star of the show, the beef. 
Ingredients
Large foil pan

Meat injector

Salt & black pepper to taste

olive oil

1

beef roast

6 pounds is ideal

1

can of your favorite beer

and one for drinking

1

litre

beef broth

2

tablespoons

garlic roughly chopped

(or garlic powder)

2

tablespoons

onion powder

2

tablespoons

cayenne pepper

optional, less if you don't like spice
Instructions
Preheat your smoker to 235°F following your smokers manufacturers instructions, using your favorite wood chips or pellets.

Fill your meat injector with the beef broth. You want to thoroughly jab the roast to get as much broth inside as possible. This will add salt and liquid to the roast and help lock in as much moisture as possible while inside the smoker. 

Lightly coat the chuck roast with olive oil. In a bowl mix together the beef rub – onion powder, cayenne pepper, garlic, and salt & pepper to taste and coat the roast.

Place your roast in the foil pan fat side up. This will help keep your roast moist, tender, and flavorsome. This is done by the fat melting down through the meat throughout the cook.

Fill your foil pan with 1 can of your favorite beer (cider or juice) and the remaining beef broth. Again this will help your roast stay moist, tender, and flavorsome. The leftovers also make a fantastic gravy.

Place in your smoker uncovered once your smoker has preheated to 235°F and is burning a clean smoke. 

Throughout the cook, you want to check your roast at least once every hour, making sure to baste with the liquid inside the foil. 

At the three hour mark, you want to check the internal temperature of the roast and again every hour after thereafter. Check below for your desired cooking temperature. Always remember to get your meat out 5 – 10 degrees under temperature as your smoked chuck roast will keep cooking while resting. 

Once at your desired temperature remove the chuck roast from the smoker and wrap in foil. Let rest for 20 minutes. You never want to cut into a piece of meat fresh off the grill. You need to give the meat at least 15 minutes to relax after you remove the roast from the smoker and let the juices rest. This will make the meat far easier to cut, more tender, and well worth the wait. 

Once rested slice against the grain and serve! 
Get Leftovers?
In the unlikely event that you have leftovers here are a couple of my favorite ways to use them!
Fajitas
Smoked sliced beef sandwich
Beef Stroganoff
Pulled beef tacos
Beef noodle soup
Chuck Roast Burgers
Some BBQuestions
I get sent a lot of questions about smoked chuck!

So I have put them all below. Let me know if you have any more and I'll add them.

How Long Does it Take to Smoke a Chuck Beef Roast?
Smoking beef roasts is a low and slow process, it can take anywhere from 8 – 24 hours. Typically, the lower temperature and longer you smoke your beef roast for the more tender and juicy your roast will be.
Cooking times will differ slightly depending on what cut of beef, size, thickness, and your specific smoker. In saying that you can use the below table as a general guide for smoking different types of beef.
What Temperature Do You Smoke a Beef Roast at?
You smoke roast beef at 230°F – 250°F. See the table below to see the temperature at which you smoke different cuts of at beef.
| Cut | Time (hours) | Smoker Temperature | Finished Internal Meat Temperature |
| --- | --- | --- | --- |
| Ribs | 3 – 4 | 225 – 250°F | 190 – 205 °F |
| Beef brisket | 12 – 20 | 225 – 250°F | 190 – 205 °F |
| Short Ribs | 6 – 8 | 225 – 250°F | 190 – 200 °F |
| Prime Rib | 1 | 225 – 250°F | 140 – 145 °F |
| Smoked Roast Beef | 8 | 230- 250°F | 203°F – 207°F |
| Tenderloin | 2.5 – 3 | 225 – 250°F | 190 – 200 °F |
This simple recipe allows for the flavor of the meat really stand out.

It is juicy, tender full of smoke flavor, and truly melts in your mouth. This recipe uses a very basic spice rub but feel free to put your own personal touches on it.
Happy Smoking 🙂
Charlie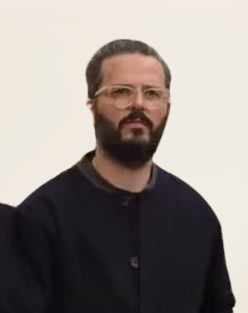 Author: Charlie Reeves
Hi, I'm Charlie, I am head taste tester at Simply Meat Smoking! I love it grilling, smoking, and getting out in the yard with the kids! The family also love to test all my recipes (especially my EXTRA CRISPY pulled pork, folk tender brisket, and ANY SEAFOOD I grill)
You will usually find me playing with the kids, perfecting my brisket bark, or sipping beers with boys around the fire. Can't wait to share all my delicious smoking and grilling adventures with you!

You can read more on our About Us page.
Hungry For More Grilling Recipes?