Are you looking for an alternative for chuck steak?
Sometimes your favorite cuts of beef with a hefty price tag.
Beef chuck roast has a delicious flavor and is an exceptionally tasty piece of meat.
But, unfortunately, it can often be expensive. 
Depending upon what you're cooking, there are plenty of cheaper substitutes for chuck roast out there. 
We've put together some of the best bargain cuts of meat you can buy. 
Bottom Round Roast
The bottom round roast is also known as a rump roast.
It's perfect for slow-cooking dishes like stews where it breaks down in pot roast juices.
 Be sure to baste the surface of the cut to keep the meat moist and retain its cooking juices. 
Chuck Arm Steak
Chuck arm steak comes from the bottom half of the beef chuck steak. 
It is small and lean but very similar to chuck roast. 
Chuck arm steak is ideal for feeding couples or singles. 
Beef Arm Roast
This juicy roast is great for feeding large groups of people. 
So you'll certainly get bang for your buck with beef arm roast.
It is a bit tougher than chuck roast, but slow cooking helps break it down.
Bottom Round Steak
Looking for a lean, tasty, and boneless cut?
Well, the bottom round steak may just be the cut for you. This steak is affordable and is best broiled or grilled. 
Top Round Roast
Top Round Roast is a fantastic slow cooker pot roast.
It's a very lean cut of meat but can easily become tender through rubs and cooking.
This is an affordable cut of meat and a great substitute for tri-tip as well.
Top Round Steak
Top round steak is also known as the London Broil.
It's a thick cut of meat and can be slow-cooked or broiled. This cheap roast is one of the most inexpensive alternatives you can get. 
Sirloin Tip Steak
Sirloin steak can sometimes be more expensive than chuck roast. 
But if you purchase it on special, it is a fantastic alternative.
Tender, lean, and full of beefy flavor, sirloin steak is always a great choice. 
Flat Iron Steak
Flat iron steak doesn't require slow cooking, saving you plenty of time.
It also has more marbling than chuck roast.
When cooking flat iron steak, aim for grilling on high heat.
Eye Of Round Steak
This is a lean and boneless cut of meat.
To get the most out of your meat always marinate the eye of round steak for flavor.
This cut is cheap, tasty, and can feed a family!
Top Blade Steak
Top blade steak has an incredibly tender texture which makes it a delicious cut of meat.
There are plenty of cooking methods when it comes to this steak. You can grill, roast, or broil it in the oven.
Tri-Tip Roast
It's cheap and it's got great beef flavor; it's the tri-tip roast!
Tri-tip roast is very lean and has less than 10 grams of fat per serving. For a healthy, yummy option try this meat for your next pot roast.
The best way to cook your tri-tip is to smoke it. See our favorite smoked tri tip recipe here.
Brisket Flat
Brisket flat is also known as the 'first cut' of the packed beef brisket.
It's lean, but full-flavored and can be sliced or shredded.
The half flat is also a cheaper alternative to brisket if you're looking to cook more brisket in the future.
Corned Beef
This is not necessarily a cheaper option but it is different in terms of flavor.
Corned beef is a cut that's been cured or pickled over some time. This is still flavorful meat, it's just another alternative to your traditional pot roast.
Have you ever tried smoked corned beef? It's delicious!
Finding a cheaper alternative to chuck roast doesn't have to be difficult.
There are plenty of options out there that you can find in your local grocery store.
Ultimately it will depend upon your recipe and cooking process as to what substitute is best.
Prices will also change depending upon where you live and seasonally. Regardless, we're certain that you'll find a great alternative full of rich flavor on this list.
What do you like to substitute for chuck roast?
Smoke On!

Charlie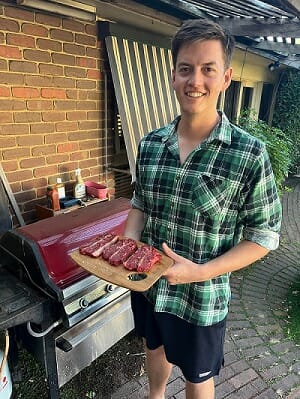 Author: Charlie Reeves
Hi, I'm Charlie, I am head taste tester at Simply Meat Smoking! I love it grilling, smoking, and getting out in the yard with the kids! The family also love to test all my recipes (especially my EXTRA CRISPY pulled pork, smoky pork loin, and ANY SEAFOOD I grill)
You will usually find me playing with the kids, perfecting my brisket bark, or sipping beers with boys around the fire. Can't wait to share all my delicious smoking and grilling adventures with you!

You can read more on our About Us page.
Hungry For More?