A well-cooked pork chop should be tender, juicy, and even have a tiny bit of pink at the center.
However, without properly tenderizing your meat, you can be left with chewy and dry pork chops. 
There are 3 ways to tenderize pork chops. There are
Let's find out how to do it
1. Tenderizing Your Pork With a Meat Mallet
Pork tends to be tough meat that can be difficult to cook evenly.
So pounding the meat with a commercial meat tenderizer will help breakdown down the connective tissue and muscle fibres as well as create a uniform size.
Evening out tough meat avoids the chewy texture and decreases the cooking time in the kitchen.
2. Make A Simple Marinade For Your Pork Chops.
Creating a marinade is an excellent way to make the piece of meat more tender and add more flavor.
However, the pork chop marinade must contain either a tenderizing enzyme or acid.
Fortunately, we'll provide you with the marinade recipe and instructions, so you end up with a flavorful pork chop. 
Before you make your pork chop marinade, pick up pork chops that are at least 1-inch thick.
Then, pierce it using a fork or artificial meat tenderizer.
Here are the marinade ingredients:
1/4 cup apple cider vinegar:
1/3 cup soy sauce
2 tablespoons olive oil:
2 cloves minced garlic or 2 cloves garlic
2 tablespoons brown sugar:
2 tablespoons ketchup:
1 tablespoon of lemon juice
1/4 teaspoon black pepper and kosher salt:
Steps to Making a Delcious Marinade
1. Use a medium-sized shallow bowl mix together the apple cider vinegar, olive oil, garlic, soy sauce, lemon juice, ketchup, and brown sugar. Then whisk until thoroughly blended.
2. Use a fork or commercial meat tenderizer to pierce the pork chops. Then place the cold meat into a large resealable plastic bag.
3. Pour the marinade sauce over the pork chops, squeeze the bag to get rid of the excess air, and seal it tight.
4. Leave the pork chops in the fridge for at least two to four hours or overnight. However, we don't recommend leaving it over 8 hours since it'll absorb more sodium unless you decide to use less kosher salt. 
5. In another shallow bowl, whisk together your seasoning ingredients. We recommend using garlic powder, black pepper, cayenne pepper, cinnamon, onion powder, paprika, and cumin.
6. Take out the pork chops from the fridge and let it sit in room temperature for about 15 to 20 minutes before cooking.
7. Dab both sides of the meat with a paper towel. Sprinkle the seasoning onto the pork chop. Massage the spice mixture over both sides.
3.Using a Brine
You can brine your pork in a saltwater solution to make your pork more tender.
A brine always contains water and salt, you can also add other flavors like rosemary, thyme, and sugar.
You want to brine your pork chop for at least 12 hours before you cook then
Cooking Your Pork (So it Comes Out Tender)
Below are the steps to cooking pork so it comes out juicy and tender not tough!
I use a pellet grill, so these pit boss pork chops always come out perfect. You can also try searing your pork chops on a salt block.
1. Turn on the grill to medium-high heat (400°F). Spray the cooking grates with oil to prevent sticking during the cooking process. If you're on a low-calorie diet, consider using canola oil since it contains less fat.
2. Place the chops onto the grill and sear for 4 to 5 minutes. Keep in mind that anything thicker than 1-inch pork chops may take five to six minutes per side.
3. Grill the other side for 4 more minutes. Use an instant-read thermometer or meat thermometer to get an accurate reading and wait until it reaches an internal temperature of 140°F.
4. Remove the chops off the grill and onto the plate—tent with foil for five minutes before serving.
5. Serve them with your favorite sides. We recommend serving it with boiled corn, steamed broccoli, roasted parsnips, and potatoes or steamed rice. This complements the pork chops and gets the most out of the natural flavors.
Should You Use Bone-In Or Bone-Out Pork Chops?
Although boneless chops save you some cooking time, you won't get the same savory flavor.
When comparing bone-in and boneless pork chops, bone-in pork chops provide much more flavor and are less likely to overcook.
That's because the bone offers some protection against overcooking, and the fatty meat keeps it juicy and flavorful. 
Want to Reheat Your Pork Chops?
Pork chops can end up dry and tasteless if they are not reheated right.
So follow my steps on how to reheat smoked pork chops. So you can have succulent chops as leftovers!
Smoke On!

Charlie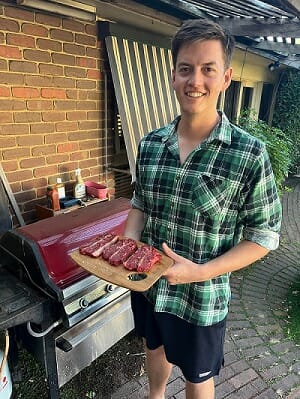 Author: Charlie Reeves
Hi, I'm Charlie, I am head taste tester at Simply Meat Smoking! I love it grilling, smoking, and getting out in the yard with the kids! The family also love to test all my recipes (especially my EXTRA CRISPY pulled pork, smoky pork loin, and ANY SEAFOOD I grill)
You will usually find me playing with the kids, perfecting my brisket bark, or sipping beers with boys around the fire. Can't wait to share all my delicious smoking and grilling adventures with you!

You can read more on our About Us page.
Hungry For More?