If you're looking to do some smoking, wrapping the meat is an important step (it helps combat the stall)
And if you've got some butcher paper lying around, it can often seem like the best choice to use.
But is butcher paper ideal for smoking? And should we use waxed or unwaxed paper?
Don't worry, we've got you covered!
We've broken down if you can put butcher paper in a smoker so you don't have to.
Have a read of the guide below to find out whether butcher paper is right for you.
So Can You Put Butcher Paper In A Smoker?
Yes, you can put unwaxed butchers paper in a smoker. You shouldn't put waxed butcher's paper in a smoker though.
What Type Of Butcher Paper?
There are two types of butcher paper that you can buy.
Waxed paper and unwaxed paper.
Let's have a look at the differences so that you know which one to smoke with.
Waxed Butcher Paper
Waxed butcher paper is FDA-approved, food-safe, and has a thin coating of wax coating.
It is non-toxic, but, when it is exposed to high temperatures the wax can melt and affect the flavor of food.
Because the wax is not heat resistant, the food-grade wax paper can catch fire even when exposed to indirect heat.
If I Can't Smoke With It, What Can I Use Waxed Butcher Paper For?
Waxed butcher paper is popular for wrapping raw meat and other food products.
If you are looking for freezer paper, waxed butcher paper is safe to have direct contact with food.
It's not ideal for the cooking process but waxed butcher paper is perfect for keeping food moist.
Unwaxed Butcher Paper
Unwaxed butcher paper is uncoated butcher paper that is great for the smoking process.
The most common type is pink butcher paper (or peach butcher paper).
But you can also get white butcher paper, Gardenia paper, or brown butcher paper.
However, in the battle between white and brown butcher's paper, experts suggest you use brown paper.
Pros of Using Unwaxed Butcher Paper For Smoking
Butcher paper is easy to handle.
It is very breathable and smoke can easily pass through.
It's cost-effective and widely accessible to purchase.
Cons of Using Unwaxed Butcher Paper For Smoking
It doesn't have a non-stick silicone coating.
It is more suited to low and slow smoking temperatures.
Unwaxed butcher paper is not waterproof.
How To Use Unwaxed Butcher Paper In A Smoker
Method
Step 1: Cut a large sheet of paper.
Step 2: Turn the piece of butcher paper on an angle so it is in a diamond shape (with the point closest to you).
Step 3: Place the meat two-thirds of the way down the sheet (it should be close to you) and keep it centered.
Step 4: Take the corner closest to you and fold it in.
Step 5: Fold the other two edges in and roll the remainder of the meat.
Step 6: Seal the package with a piece of tape. By tightly wrapping the meat it will create a moisture barrier.
Step 7: Check the cooking time and get smoking!
Here's a great video if you're looking for a visual guide for wrapping your meat in butcher paper.
Video Link: https://www.youtube.com/watch?v=dOpuuNoVUpI&t=60s
What Can I Smoke With Unwaxed Butcher Paper?
There are plenty of great dishes out there that unwaxed butcher paper is perfect for. We recommend using it to smoke brisket, beef short ribs, whole chickens, or pork butts!
Wrapping Pork Shoulder
If you want to know how to wrap pork shoulder in butcher paper you can see my tutorial here
Wrapping Brisket
Wrapping brisket can help combat the dreaded stall, this usually occurs around 140°F. I usually leave the brisket wrapped until it hits an internal temperature of 180°F, then I unwrap it and put it back in the smoker until it reaches 204°F. However, you can finish the brisket in the oven using butcher paper.

This can be helpful if you don't have time to wait for the smoker to finish the job.
Brisket is particularly good with butcher paper because it loves a slow and low cooking process.
Alternatives To Unwaxed Butcher Paper
If you don't have any unwaxed butcher paper there's no need to worry. There are several different types of paper, some of which you may already have in your kitchen cabinet.
Aluminum foil and parchment paper are both great alternatives, let's have a look at what they can do.
Aluminum Foil
Aluminum foil is a classic and is great for smoking meat.
The foil acts as an insulator so that the heat is retained and the meat gets a smokey flavor. Make sure to use non-stick heavy-duty foil so that it doesn't rip.
How To Use Aluminium Foil In A Smoker
Method.
Step 1: Cut a piece of foil that is larger than your meat.
Step 2: Wrap your meat in the foil.
Step 3: Fold the edges of the foil over like an envelope.
Step 4: Make sure all of the foil is sealed tightly.
Step 5: Get smoking!
Parchment Paper
Parchment paper is often used in baking and cooking food in the oven.
However, it also works as an alternative to aluminum foil or butcher paper for smoking. Parchment paper is less durable than foil, but it still holds up well with hot foods.
How To Use Parchment Paper In A Smoker
Method.
Step 1: Cut a large piece of paper.
Step 2: Place the meat in parchment paper in the center.
Step 3: Fold over all the sides.
Step 4: Make sure the meat is fully sealed up.
Step 5: Secure with a piece of tape if necessary.
Step 5: Find your heat source and stick it in the smoker!
Cooking Tip:
For a gas grill, simply put it at the lowest temperature and close the lid.
For offset smokers, surround the paper with charcoal and smoke wood.
Will The Color of My Paper Effect The Food?
Because many of the options come from recycled paper they are often quite colorful. Whether this will affect food is often a concern when using green or pink paper. However, you can rest assured that none of these options will change the color or taste of your meat.
Finding the best paper to smoke with doesn't have to be difficult.
Whilst waxed butcher paper is not ideal for smoking, unwaxed paper is a perfect choice! Alternatively, you can always use waxed butcher paper for storing and packaging meat.
There are plenty of alternatives like aluminum foil or parchment paper that can also be used.
What type of paper do you smoke your meat with?
Smoke On!

Charlie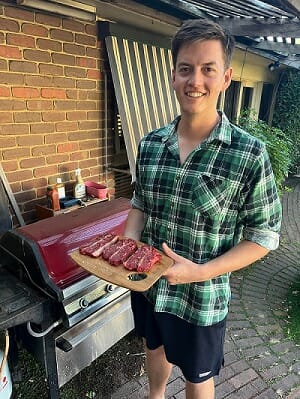 Hi, I'm Charlie, I have been meat-smoking and grilling for the past 15 years. I have an array of different smokers, thermometers, and have a love for finding the right wood and charcoal combo My favourite recipes are my EXTRA CRISPY smoked pork belly, juicy pulled pork, smoked brisket, duck poppers, and ANY SEAFOOD I grill).
I loves sharing his tips with beginners, helping them navigate the world of smoking. I find it's not just about cooking; it's a quest for that perfect smoky flavor.
You will usually find me playing with the kids, perfecting my brisket bark, or sipping beers with boys around the fire. Can't wait to share all my delicious smoking and grilling recipes with you!

You can read more about me on our About Us page.
Hungry For More?