Sous vide brisket is here to change your barbecue game.

When my wife added a sous vide to the kitchen collection, I did a bit of research and realized it could add some delicious flavors to my BBQing.
stall
I used to think it was for fancy-smancy Michelin star restaurants.

But this contraption helped produced one of the BEST brisket I've ever cooked.

It turned out bloody delicious! Just tender barbecue that melts in your mouth.

Convinced yet? I didn't think so.

Let's see how we created smoked and sous vide brisket. But first lets start with the basics, what is sous vide, and how does it work?
How Does The Sous Vide Work?
Sous vide is a French technique where food is vacuum packed into a bag and then cooked to a precise temperature in a water bath.

Sous vide has been around since the 1960's. But it used to be an exclusive method practiced by chefs because the equipment was far too expensive. It all changed now, with entry level devices avail. Home cooks can now have their go at sous vide!

Typically when you cook on a grill you need a really high temperature (usually around 400 °F) in order to be able to cook your meat.

At this temperature, you can encounter the dreaded stall. This is a period of time when the temperature doesn't increase. If you're wondering what temp does the brisket stall? It is usually around 140°F. This leads to people having to wrap their meat in tin foil to speed up the process and avoid meat from getting dry.

Enter the magic of the sous vide!

By submerging the meat into a water bath, with the help of heater known as an immersion circulator, the water is heated to an exact temperature. This is precisely the reason why sous vide became popular, as the device won't go over 132°F. So your food is always near perfect.
But How Do You Get The Smoky Flavor in Sous Vide Beef Brisket?
Sous vide can outperform your BBQ ten-fold. It has a slow and low approach that makes grilled and smoked meat recipes so appealing. 
You can leave the meat for hours in the water bath and let the uniform temperature loosen up the fibers and muscles in the meat, without removing the moisture. The result? juicy, tender beef.
But what about the smoky flavor of barbecue?
The sous vide won't give your food the taste you get when setting the meat on a charcoal grill, or a wood smoker.
If you leave that same brisket 12 hours in the sous vide, the constant temperature will only tenderize the brisket because there is no risk for the temperature to suddenly rise. 
So follow my guide to below to for the best sous vide brisket. If you enjoy this recipe you should also try my sous vide London broil.
Unsure of how to smoke a brisket?
We have a guide on how to smoke meat here!
It will take you on your journey to becoming a pitmaster!
The Tools You Need For Sous Vide Beef Brisket
You have plenty of options for a sous vide.
From water ovens with digital timers and internal heaters, to models that include the immersion circulation, and even ones that can be used with wifi. 
You will also need bags to seal your food. While sous vide is typically used with a vacuum sealer.
It isn't essential for cooking at home, as you can use freeze safe zipper bags.
If you want to, you can also buy vacuum sealed bags, that come with a hand pump to get it sealed just like if you had an at home vacuum sealer.
Sous Vide Brisket Recipe: My 8 Step Guide
Pick Your Rub – Pick your rub, I like to use something simple to really let the brisket flavour shine. I usually go for 1/3 cup of crushed black pepper and a few teaspoons of sea salt.


Give Your Brisket a Rub – Give the whole brisket a good rub down. Don't just do the top, give the whole piece some loving!


Cut it in Half – Cut your brisket in half at this point and seal them separately in vacuum bags.


Preheat The Sous Vide – Preheat your sous vide. You have two choices at this point. If you like your brisket moist and tender go for 155°F or if your looking for a meatier, more steak-like texture try 135°F.


Sous Vide Brisket Times & Temperatures – If your cooking at 155°F, set your time to 24 to 36 hoursIf your cooking at 135°F, set your time to 36 to 72 hoursWhen your doing a long cook, it's good to cover the top of the sous vide.


All Cooked – Once your brisket is cooked you can either leave it in the fridge for up to 7 days or start smoking it!


Smoke it Up! – To finish up your brisket, light your smoker and get it up to 300°F (149°C). If your using an electric smoker try adding some hickory chips to your box.Once up to temperature, place the brisket in the smoker or on the grill. Make sure it is away from any direct heat. You want to get it to an internal temperature of 195°F, I find this usually takes around 1 – 1.5 hours.


Time to Slice and Serve! – Allow your brisket to rest for 15 minutes under foil. Then slice it thinly with a carving knife. Tent the brisket with foil and allow it to rest for 15 minutes, then slice it thinly with a carving knife. Make sure you have some sides for your brisket, you dont want anything to heavy.

Got some leftovers? Try one of these recipes for leftover brisket or my family favorite recipe is brisket pie, my mom makes it after a big cookout!


Note: If you need to add that smoky flavor, but don't have the time to build up hot coals and throw the meat on a traditional smoker, you can always use an electric smoker.
Reheating Brisket Using a Sous Vide
Using a sous vide is also one of the best ways to reheat brisket. It ensures you it stays juicy and moist. Many other meothds dry out the brisket.
Looking for a tasty sauce for your sous vide brisket? Take the juices that come out of the meat to turn them into a sauce! Just put the liquid into a pan, with a bit of butter and herbs, or use a bit of flour to thicken it and turn it into a gravy. Bloody delicious!
Safety When Using a Sous Vide
If you are worried about bacteria and other microbes, you can use sous vide at around 131°F, just to be safe.
In a sous vide the temperatures are significantly lower than, let's say, using a grill. This is the ideal temperature to cook low and slow and get rid of bacteria.
Most sous vide is done between 120 °F and 130°F, but while that will kill most bacteria, there are some that are resistant to warm water, so the best way to kill them is to cook meat, poultry and pork over 131°F.
Don't use raw onions, garlic and herbs on your sous vide, the bacteria spores they have are resistant to the sous vide temperature, so you are better off using them, in a cooking pan or before you take the meat to the grill.
If you are concerned about the use of plastic bags and heat, just make sure that your bag is made out of polyethene. Polyethene doesn't contain BPA or bisphenol A, an industrial chemical that is used in some plastics, and that is believed to be carcinogenic.
Other Delicious Sous Vide Brisket Ideas!
Don't get me wrong I looooove smoked brisket however they many more ways to use the sous vide!
Like the sous vide ribeye steaks, tri tip, or salmon, it's actually easing then grilling them and more tasty!
You can also try sous vide beef shanks, it's way better than braising them I promise!
If you're wondering if you can sous vide frozen steak, you can, you can need to follow these steps.
Not only do I love good ole American BBQ but I love French cooking! When I came across this Beef Bourguignon, I had to try it. It was incredible and took me back to my younger years traveling around France trying all the local food!
So… Does The Sous Vide Have a Future?
Sous vide is already popular in the restaurant scene, as it allows for massive amounts of food to be cooked ahead of time.


Will it be a hit at your home? Give it a try, it definitely won't become another gadget hidden away in your cabinets.

Sous vide is an amazing technique that will tenderize even the toughest cuts of meat. Just like using smoker, you need to think ahead and give yourself plenty of time for it to cook.

But if you take the time to learn the technique and use it right, you can do magic in the kitchen.
Wrapping It Up
Sous vide gives us the ability to have best of both worlds. Using it we have created the most tender meat and the incredible flavors that can come out of our smoker and grill.

While sous vide is as fancy as I get, what I enjoy even more is making bacon jerky, check out our my recipe here/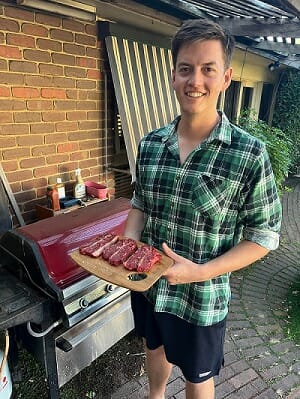 Author: Charlie Reeves
Hi, I'm Charlie, I am head taste tester at Simply Meat Smoking! I love it grilling, smoking, and getting out in the yard with the kids! The family also love to test all my recipes (especially my EXTRA CRISPY pulled pork, smoky pork loin, and ANY SEAFOOD I grill)
You will usually find me playing with the kids, perfecting my brisket bark, or sipping beers with boys around the fire. Can't wait to share all my delicious smoking and grilling adventures with you!

You can read more on our About Us page.
Still Hungry For More?