Lighting the barbecue and having a cookout is something we all love to do.

We forget that we are using some dangerous gear. 

We need to be vigilant around our grills, smokers, and fire pits. .
Think grill safety
Every year thousands of people worldwide are the victims of slips, trips, falls, burns, and food poisoning from being careless around the grill. According to NFPA, July is the peak for grill fires.
So follow our 12 simple steps to stay safe around the grill.
The last thing you want while you are having a great barbecue is a trip to the emergency room.
How to Keep Safe When You Are Grilling, Smoking or BBQ-ing
Below is the ultimate guide to ensuring your friends and families' safety while working your magic. 
The following 10 steps on gas safety should be taken very carefully. The last thing you want is a backyard accident.
If you're new to grilling smoking meat, I have put together a meat smokers guide. Just one more thing to ensure you stay safe around the grill!
Always be sure to have someone to guard the fire and a designated person to call the fire department in an emergency.
1. Brush Up On Your Fire Knowledge & Safety
Obviously when you are grilling, smoking, and barbecuing there is some sort of fire involved.

Fire is one of the most destructive forces, & you're inviting it into your backyard for a little get-together.

The number one thing you need to have handy is a fire extinguisher.

Secondly, you need to know about the different types of fire and how each fire behaves. Each fire type needs a different method of extinguishing.

Every summer smokers & grills cause hundreds of injuries, thousands of fires, dozens of deaths, and millions of dollars in damages

You need to know how to quickly disable the fuel supply, extinguish any fire and call the fire department.
2. Read Your Instruction Manual
The good old instruction manual. 

There are many dangerous elements to the grill and safety should be your number one concern – not just your delicious brisket!

Had a few BBQs or grills in your time? You need to remember not all smokers, grills, or propane bottles work the same.

When you get something new read up about it, you might just prevent an accident. I always kept the instruction manual for my Weber Genesis e-330 close just in case!!
3. The Location of Your Grill or Smoker
The location of your grill is something that is quite often overlooked.

We normally get excited and just set up where is convenient.

Somewhere in your instruction manual, it will give you some really helpful information regarding the minimum distances your grill or smoker should be from buildings, trees, other grills etc.

Be sure to adhere to these instructions you never know when that little bit of extra space might save the day!
4. Keep Your Food Safe
Before cooking you should have a basic understanding of how to smoke meat or grill it.
Just because we are out of the traditional kitchen doesn't mean that we should forget everything about food safety and hygiene.

You might be relaxing and having a good time but bacteria doesn't. Bacteria lives in everything, even your delicious potato salad.

Bacteria like to grow in temperatures above freezing all the way up to 165°F. Every second that your food is in this very wide temperature range bacteria is multiplying, growing, and causing disease in your food.

Make sure you know the optimal internal temps for the meat your cooking, its varies between each cut of meat.

We need to remember to keep our food cool at all times. As soon as we are ready to cook take it out of the fridge, and as soon as we are done service put it back in the fridge. This is the best way to limit bacterial growth.
Don't leave anything up to chance. Here's a BBQing rule to live by;"Suspect everything, keep everything covered and cooled, when it gets hot".
5. Be Aware of Smoke & The Harm it Can Cause
When you have a fire, you have smoke and smoke gets everywhere!

On your clothes, In your hair, eyes, and lungs. Smoke is a huge part of having a cookout, however, it is something that is often overlooked.

Smoke from your grill or smoker contains Polycyclic Aromatic Hydrocarbons (PAH), carbon monoxide and several other dangerous substances.

PAH is a substance that is formed when grease burns, it even has links to forming cancer in the human body.

We all love the smell of the smoke from our favorite woods & meats, however, do keep in mind it can actually cause you harm. So do try and limit the amount of smoke you produce and inhale.
6. Lighting Your Charcoal & Grill Safety
Some people use lighter fuel on charcoal smoker grills, this method can be dangerous to. When lighter fluid burns the evaporated fluid explodes. So be extremely careful when using this fluid.

If possible stay away from this all together and use a safer method such as the charcoal chimney
7. Regularly Check Your Gas Lines
By a country mile, the number one cause of gas grill fires is an obstruction in the gas line.

The gas lines usually run out of sight under, behind or next to your grill where quite often it sits 'out of sight. I find that I need to clean the gas lines of my smoker every 2-3 months.

The number one obstruction in the gas line is bugs. Bugs can climb into little places causing gas to flow where it shouldn't.

You need to regularly go out of your way to inspect your gas grill for problems. Try and check your lines before every backyard session, that way you know your grill/smoker is always in tip-top shape.
The first sign that something is not right will be the smell of gas. If you ever smell gas, do not hesitate to turn off the master valve of your bottle. This will stop the gas at the source and stop any gas from escaping and causing any problems.
8. Beware of Grease Build Up
Remember propane and natural gas burn at temperatures over 300ºC. So it is dangerous enough that you are using flammable materials to cook with, but the food itself is also flammable.

Flare-ups are much more than just a nuisance they are potentially very lethal. Your grill collects grease that builds up over time from grilling/ smoking.

After only a few cookouts, it's not unheard of to have accumulated up to a few pounds of grease.

This is one of the most important reasons to keep on top of your grill's cleanliness. Remember, a clean grill/smoker is a safe grill/ smoker, no matter what kind. Always use a safe grill brush!

We all have those smoked meat recipes. This one makes me a hero among the kids and a food god to my wife. It's my smoked pork loin recipe. It also works well if you want to make pulled pork from the loin!

Due to pork high fat content, you might find that this cooking this bad boy a lot may lead to a grease build up. So don't be lazy, first eat your delicious pork, then get your smoker a good clean!
9. Eliminate Cancer-Causing Char
We all love a good char on our chicken or a really nice crust on our brisket, but be careful.

Charring your meat (or veggies for that matter) at very high temperatures can cause surface charring. The char can cause cancer-causing substances called Heterocyclic Amines (HCA) to form.
To Minimize The Risk of This You Can:
Avoid overcooking (charring) any food type.


Use a thin cut of meat that does not require such long cooking times, thus minimizing the risk of char.


Use a marinade.


Grill at a lower temperature.
10. Avoid Excessive Alcohol
In the backyard, it's really great to kick back with a beer and watch the meat cook.

However, as you can tell from the above being the master of your grill/ smoker does require some clear thinking.

Alcohol and clear thinking do not go hand in hand together.

Try to stay away from opening too many cold ones while you are in charge of the grill.

Let everyone else kick back and have one while you are cooking, then once the food is done enjoy your well-earned drink and have a good time.

Even better if you did the cooking you can kick back and have a cold one while everyone else cleans up!
11. Safe Tools
We all know we need to keep our equipment in top condition. Not only does it prolong its life but makes it safer to use.

Now many forget about this piece of equipment because it usually lives in the kitchen. However, when you're barbecuing you might have some knives outside.

Not only do you want to keep these out of reach of children but you want to ensure there are safe for you to use.
12. Remove Mold and Keep Clean
Starting up your grill or smoker at the start of summer is exciting.

But remember when your unit has been sitting under its cover all winter there is a high chance moisture has got in, which could turn to mold.

Removing grill mold before firing it up for the time can prevent flare-ups, burns, or simply bad-tasting food!
Final Thoughts
Grill safety is something I stress to everyone.

Being safe around the grill is not hard and keeping these rules in the back of your mind at all times might just save your guests, family members or your own life one day.

Before using your grill always be sure to inspect it, make sure everything is still in good working order, especially if it has been hidden away all winter.

Now get out there and check our gas lines and dig out those instruction manuals!

How often do you check your gas lines?

Happy smoking

Charlie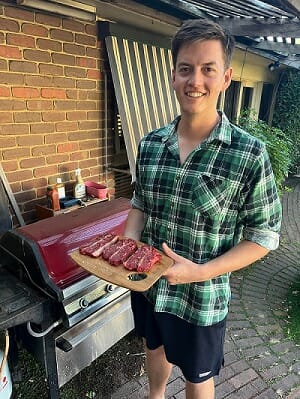 Author: Charlie Reeves
Hi, I'm Charlie, I am head taste tester at Simply Meat Smoking! I love it grilling, smoking, and getting out in the yard with the kids! The family also love to test all my recipes (especially my EXTRA CRISPY pulled pork, smoky pork loin, and ANY SEAFOOD I grill)
You will usually find me playing with the kids, perfecting my brisket bark, or sipping beers with boys around the fire. Can't wait to share all my delicious smoking and grilling adventures with you!

You can read more on our About Us page.
Still Hungry For More?