Do you love smoked meat but don't want to tend to a fire all day?

Electric smokers are a great set it and forget it, smoker!! They are perfect for smoked brisket, ribs, or heck any meat!

No need for me to tend to a fire all day. Meaning I have more time with my family and friends.

I think the Masterbuilt Electric Smoker 30 is the a good option, it hits the sweet spot of high quality and low price.

But our needs are all different, whether that be cheapest, biggest, or easiest to use, I've got you covered Read on and you will be cooking delicious barbecue before you know it!
Don't have time to read the whole article? Below I have summarized my top picks!
Smoker Image
Name
Price
Masterbuilt 30 inch Electric Smoker
Cooking Space: 730 Square Inches
Dimensions: 18 x 19 x 34 inches
Check Masterbuilt Price
Char Broil Digital Deluxe Electric Smoker
Cooking Space: 725 Square Inches
Dimensions: 16 x 18 x 32 In
Check Char Broil Price
Masterbuilt 20075315 Electric Smoker
Cooking Space: 975 Square Inches
Dimensions: 18 x 24 x 42 Inches
Check Masterbuilt Price
Smoke Hollow 30162E Electric Smoker
Cooking Space: 1.7 Cubic Feet
Dimensions: 18 x 18 x 33 Inches
Check Smoke Hollow Price
Electric smokers excel at smoking beef fish, peppers, sausage, nuts, bacon, and cheese.

Meathead Goldwyn – Amazing Ribs
Our Favorite Electric Smokers
We don't all have the same budget or needs, so we have picked our favorite electric smoker for you. Let's find out what model will suit you.
1. Masterbuilt 30 Inch – Overall Top Electric Smoker
I think the Masterbuilt digital smoker is simple to use for any level of cook. It doesn't matter if you are just getting started or have experience smoking meat, you will be able to create delicious food.

It also allows you to cook without the hassle of charcoal, pellets or building a wood fire.

This smoker allows for true 'set & forget' cooking, switch it on using the digital control panel and set the temperature anywhere between 100 – 275°F


I found it kept constant temperature thanks to the 100% insulated stainless steel casting and strong heating element.

The main cabinet of the smoker is made from stainless steel and the interior of the smoker is built from aluminum. I felt really sturdy when we were setting it up as well as cooking with it. t It also includes 4 removable chrome-coated racks, a smart wood chip loading system, and a huge cooking space. We used this for a 40th birthday party and managed to feed 14 hungry adults!

Why Masterbuilt?
Masterbuilt is one of the most well-known and respected names in the barbecue, grilling, and smoking industry. If you have read our other guides you will see we are big fans of Masterbuilt electric digital smokers

You will find the Masterbuilt electric smoker comes in a few different variations, you can see them below
It is a toss-up between the 30″ and 40″ for this guide. The 30″ gives 730 square inches of cooking surface was more than enough to feed 12+ people! The 4 racks are all removable which is really great if you are planning to smoke a turkey, pork shoulder, or other large cuts.

Other than that there isn't much between them, so we suggest going with the most affordable windowless less option

Enough about that, let's dive in to the specs and what we liked and didn't.
Specifications
Height: 19.9 inches
Width: 20.4 inches
Depth: 33.3 inches
Weight: 45 lbs
730 Square Inches of Cooking Space
Temperature Range: 100 to 275 degrees Fahrenheit
800 Watt Heating Element
What We Liked
Generous cooking space this is enough to hold around 30 lbs of meat all up, or if you would rather smoke a bigger cut of meat such as a turkey or a pork butt, you can remove 3 of the trays to make more room. This is a feature that I really love, you can even buy more racks and customize your interior to hold more racks if you are into smoking sausage, bacon or fish.
Genius drip pan / grease cup combination. The water pan allows you to add a special flavour to your cook. You can add in juice, stock, vinegar or even your favorite beer. It is fully removable and holds enough liquid for a long smoke.
Really accurate internal thermostat and great insulation. This thermostat seems to be very accurate when tested against my ambient temperature thermometer meaning superb insulation. Unfortunately, the internal thermostat is only to monitor and maintain the internal temperature of the smoker, not the food you are cooking.
Super simple digital control panel. Almost didn't even need the manual it was so simple to operate this panel
Great community of owners. We found that there is a huge community of other Masterbuilt owners. Joining the forums and group have been invaluable and a great resource for us to keep learning.
What We Didn't Like
Short electric lead. If you do not have an outdoor extension cord and you are planning to have the smoker far away from an outlet you are best to get yourself an extension when purchasing. Not a big problem but something to be aware of before purchasing.
Need to refill the chip tray. Due to it smaller size we needed to refill the chip tray during the cook.
As mentioned above it is very hard to go past this electric smoker at this price point. We would like it more if it had a built-in meat probe. Other than the probe, it comes loaded up with all the features you would expect from a more expensive smoker. So if you want a smoker that ticks all the boxes but at a low price, this is the one!
2. Char Broil Deluxe Digital – Runner Up for Top Smoker
If you like to hot and cold smoke we think the Char Broil is a great option.
I like to cold smoke and it is easy to do it with the Char Broil. This is because the temperature can be adjusted between 100°F for cold smoking pork bellies for bacon and salmon, the upper range goes up to 275°F.

I also like that the internal temperature can easily be adjusted from the digital control on the unit, or from a remote control
This smoker uses an electric heat element to smolder the wood chips so there is no mastery of fire management. It is perfect for anyone who wants to smoke food at home but doesn't want to dedicate the whole weekend to the process.
There are two different models of the Char Broil, the standard and the deluxe. When I tested them they felt essentially the same. However, the deluxe model has two really great additional features:

A glass window for viewing my food. I like to see what happening inside the smoker without interrupting the cooking process.

A remote control. This works the same as the digital control. I managed to ge tit to work up to 100 feet away from the smoker. This is a very welcome addition and means I could also control the temperature at the comfort of my couch.
Specifications
Height: 18 inches
Width: 32 inches
Depth: 32 inches
Weight: 50 lbs
750 Square Inches of Cooking Area
1500 Watt Heating Element
What We Like
Glass Window: The deluxe model includes a front glass window. I like to see how my meat is going. This way I can check my food letting out precious heat and smoke. The key to a good cook is having an even cooking environment.

Having a built in meat probe: We used the built-in meat probe to check the internal temperature and ensure our meat was cooked to perfection every time.

Strong double walled stainless steel interior: The double walled stainless steel interior make sure that no heat or smoke escapes throughout the cook.

Big wood chip box: The large wood chip box can had enough room to fit in up to 8 hours worth of chips in it. This is great for overnight cooks or when we were busy watching the game!

Solid construction: It was built using the top quality 304 stainless which gives it superb insulation and it felt really air tight to me. .

Remote Control: The remote control is my favourite thing about this smoker. It works just like the digital controls on the unit itself, but you get all the same functionality from up to 100 feet away from the smoker. This feature is perfect for those of us out there who are entertainers and don't like to get distracted from your entertaining.
What We Didn't Like
The cooking space isn't as large as similar products on the markets.
In my opinion, it is worth going for the deluxe model. I like to be able to keep a physical eye on how my cook is going and the glass window provides just that. I would recommend this smoker (especially the deluxe model) for anyone out there who likes cold smoking and doesn't want to break the bank.
3. Smoke Hollow 30162E – Budget Electric Smoker
If you really want to maximize your money, the Smoke Hollow 30″ I think is the a good budget smoker.
You get 3 cooking racks with enough space to feed a large family (I've fed up to 12 people with mine), a basic temperature gauge with 3 different temperature settings, and a large wood chip tray.
I don't think that this smoker won't win any awards for being the most innovative, however, I'm never disappointed with the delicious BBQ it produces!

This smoker is perfect for someone who is new to smoking and isn't quite ready to invest a lot of money into a unit.
Not everyone has the disposable income to splash out on a smoker. I know we all dream of buying the latest and greatest unit with all the bells & whistles.. but unfortunately, our bank accounts don't quite understand.
Never fear! The Smoke Hollow is a smoker that understands your struggles. It is a basic electric smoker that fits into nearly everyone's budget.
Specifications of the Smoke Hollow
Height: 30 inches
Width: 14 inches
Depth: 16 inches
Weight: 48 lbs
Square Inches of Cooking Space: 730
1500 Watt Heating Element
What We Liked
Good size to transport: The size of the Smoke Hollow allows it to be transportable at 16 by 14 by 30 inches.

Have enough room to cook for a group: I managed to easily feed 12 adults and 3 kids at our midsummer party.

It was quick and extremely easy to assemble everything. We managed to have it ready to go in about 15 minutes.

Really quick to heat up: The Smoke Hollow heats up quickly, when we put the wood chip tray on the same side as the electric element we managed to get the chips smoking very quick.

Insulated double steel walls: It maintained internal temperatures really well, it doesn't matter if it is freezing outside or the middle of summer,. Providing you do not open the door throughout the cook a consistent temperature will be maintained throughout the whole cook.

Strong and tight seal: It had a tight seal, which meant it was keeping in as much heat and smoke as possible. This helped to ensure I had a consistent cooking environment.
What We Didn't Like
The size of the water pan was a bit small. We found that the water from the water pan was evaporating quickly, so we replaced this with a bigger one, which worked perfectly afterwards
No digital control panel.
Basic Temperature gauge

The Bottom Line: It will not cost you an arm or a leg and provides a good smoking experience. Not to mention it produces a lovely smoky flavour. It is an extremely basic unit to set up right out of the box, so it is perfect for first-timers. I would recommend this smoker for anyone who doesn't quite have the money to go all out on a smoker.
Masterbuilt Bluetooth Smart Digital 40 Inch Our Pick For: Bluetooth Smoker
Electric smokers are perfect for me when I want to set and forget my cook

This model not only allows you to cook for a crowd, but I could control the whole cook via my phone! I just connected via Bluetooth, set my temperature, and got to sit back and relax and monitor the internal temperature from the app.

The capacity is the other main feature of this smoker. Available in both 30 inch and 40-inch models, go for the 40″ if you like cookouts with family and friends. The last time I used it was for my brother's 40th birthday and I managed to feed 18 hungry adults!

I found it was fully insulated so no smoke or heat got out. This gave me a nice even cook.

You already know that I am a massive fan of Masterbuilt and they high quality construction, and this smoker is no exception.


It's got some unique, new and useful features never seen before on Masterbuilt electric smokers. The Bluetooth, blue LED display for easy viewing (even in direct sunlight), an internal light with a viewing door for monitoring what's going on inside, and an incredibly smooth automatic wood chip tray.

It came with 4 removable chrome-coated racks, a built-in radio frequency (RF) remote control, built-in meat probe that works very accurately (means you always know the internal meat temperature without opening the door).
Specifications
Height: 40 inches
Width: 20 inches
Depth: 25 inches
Weight: 73 lbs
Cooking Area: 975 square inches
Construction: Stainless Steel
1500 Watt Heating Element
What We Liked
Fully insulated: I found that is smoker worked well in all conditions due to its insulation. I used it mid-winter when it was snowing and again in summer. It managed to hold the temp well and I got the same results each time.
Came with a Meat Probe: This is my favorite part of this smoker. It comes standard with a meat probe. This allows you to keep a constant check on the internal temperature of your meat without having to the opening door. This helps keep a constant temperature and cooking environment inside the smoker.
Push Start: You can't beat a push to start button. Often you will find that these are not as 'one time push to start' as one may think. However, the guys at Masterbuilt really have mastered this feature. As far as I have tested this bad boy starts up first time, every time.
Remote Control: The remote control is pure genius. It has a range of up to 100 feet and allows you to control everything from the temperature, cooking time, checking the internal temperature, and even make adjustments to your cook. This is great for when you are entertaining or watching the game, you can very easily make any changes you need to from right there in your hand.
This smoker comes pretty much ready to go out of the box. Within a half-hour, you will be ready to cook! Thanks to the assembly and included instructions.
Easy to access water bowl: One of the things I love most about this smoker is the water and drip pan systems. Masterbuilt has designed this unit with convenience in mind. The pan is easily accessed from the front door of the smoker, this is incredibly easy to take out to clean after you have finished your cook.
We We Didn't Like
Towards the end of the cook, the moisture from the the meat makes the door hard to see through.
The controller is not waterproof.
We have some trouble with the range of the Bluetooth
The main difference between the 30-inch model and 40 inch is the cooking space. I found in the 40 inches you get 975 square inches whereas in the 30 inches you get 721 square inches. I usually get this smoker out if I cooking for 12-20 people.
While the Bluetooth and app feature is a great idea, we did have some trouble with the range, it was only about 10 -15 feet. If you can keep your phone closer to the unit it works well.
Other Great Meat Smokers
Meco Southern Country Smokers 2 in 1 – Our Pick for Water Smoker
After trying it out, we found that the Meco Southern County Smoker produced great food and is a good quality electric water smoker.

I liked its chimney-like design, it allowed the smoke to flow within the unit evenly and efficiently. It delivered a strong smoky flavor with a small amount of effort.
Specifications
Height: 37 inches
Width: 21 inches
Depth: 25 inches
Weight: 23 lbs
1500 Watt Heating Element
Construction: Stainless Steel
Cooking Area: 351 square inches
What We Liked
The entire bottom section is removable so you can use it as a grill.
The external thermostats and settings are perfectly calibrated, the first thing we did was fire it up and throw in a thermometer
We found this smoker to be very portable. It weighs only 23 pounds, and it has two side handles on the sides to allow easy transportation.
The Southern County Smoker has 351 square inches of cooking space which is more than enough space to cook for 10-15 people.
What We Didn't Like
We found that this is a simple to use smoker that was easy to transport to my friend's cookout. Considering the quality, I think that the price is quite reasonable
Cookshack SM009-2 Smokette
If you prefer a smoker which is easy to use to operate but can produce a lot of food then this is perfect for you.
Essentially, this is a smaller version of what a commercial kitchen uses. I used this for my sister's small wedding. We catered for 25 adults and 5 kids. So what they are using at your favorite smokehouse will be very similar to this.
Specifications
Height: 32 inches
Width: 20.5 inches
Depth: 18 inches
Weight: 93 lbs
Construction: Stainless Steel
Cooking Area: 588 square inches
What We Like
Has the ability to both hot and cold smoke. Perfect for smoking salmon.
The door creates a very tight seal. This is important because it prevents smoke and heat loss and allows the smoker to keep a constant cooking temperature.
It seemed to have a really powerful and 800-watt heating element
Easy of use – perfect for a novice smoker
Probe Included: The commercial quality meat probe is very reliable and when it reaches your preset temperature automatically switches to its 140-degree hold cycle.
LED Display: The bright LED display is super easy to read and understand.
Compact enough to take away into the woods for the weekend in the back of the pickup or camper.
What We Didn't like
No timer setting. This is not such a big deal if you use a digital thermometer though.
The Old Smokey
The Old Smokey Electric Smoker is a simple and effective design. I like that it is essentially just a round can with a heating element, a drip pan, and several racks for the food to sit on.

The ease of the design is what makes this a good electric smoker for the money. The heating element in this unit can produce enough heat to do some high-temperature roasting and grilling however I use it to smoke low and slow.
Specifications
Height: 29 inches
Width: 17.5 inches
Depth: 17.5 inches
Weight: 23 lbs
Cooking Area: 200 square inches
What We Liked
Durable to be left outside in all the elements, we had one that left outside on the porch during freezing winters and scorching summers and lasted over 10 years.
We got a tight seal on it. The unit seals very tightly to ensure the unit performs optimally.
It had a powerful heating element that can reach levels of 165 degrees Fahrenheit
No Water Required: The tightly sealing lid keeps in all the juices so you don't need any additional water.
Wood chip tray: The wood chip tray seals very tightly so you don't have any smoke or heat loss.
The simple design makes it easy to use and lets you produce great barbecue without much fuel, space or effort with a price point that is just over $100 USD this is one of the least expensive smokers on the market.
The Top Electric Smoker Brands
Find out a little more about some of the top companies you will be purchasing from.
1. Char-Broil
Known for making affordable and popular gas grills Char-Broil have moved into the smoker scene in the last decade. Char-Broil originally manufactured their grills in the USA however they are now owned by W.C Bradley and produced in China.
2. Masterbuilt
Masterbuilt has been around for 45 years and manufactures a variety of different types of grills including pellet, charcoal, and gas.

There are prominent figures in the electric smoker industry. Most of the grills are manufactured in China, however, Masterbuilt is known to produce a high-quality product at a low price point. With the rate they bring out new models, you can pick up a good deal on older ones.
3. Bradley Smoker
Bradley Tech produces the Bradley Smokers range. They are a Canadian company that produces high-quality electric smokers as well as their own brand of pellets.
What To Look For When Purchasing An Electric Smoker
The relatively low price of electric smokers does not mean that you will be taking a hit in quality. But, like anything in life, you have to be conscious of what you are buying. When it comes to buying grills and smokes, I will admit, it sometimes gets hard to tell the difference between competing products.

That is why you have to have an idea of what you want before going looking. knowledge is power.
Temperature Control
Ensure that the smokers have temperature control that you feel comfortable with. You find that most electric smokers on the market should come with the temperature control features rheostat.

If you are seriously looking to buy an electric smoker then this feature is a must! A rheostat usually comes in the form of a digital control or a knob, it lets you control the internal temperature of the smoker. When also recommend picking one on wheels if it heavy. This will ensure you get maximum value out of it, as it will always be convenient to pull out rather than a pain.


Ventilation System
High-quality caveats are an important part of your electric smoker. This is the ventilation system which allows the inner chamber to release smoke and heat. It is vital to maintaining a stable internal temperature. Subsequently, you will be left with a tender and more succulent products.

Can You Add Wood Chips or Charcoal?
When you're buying your electric smoker you want to ensure that it has a tray or compartment that allows you to burn coal or wood chips as well. It might seem unusual but having the option to use wood chips or charcoal can help you get a more traditional and more smokey BBQ flavour.


Layer Structure and Size: You will hear the word layer structure got tossed around when browsing. This refers to the shape of the smoker and setup of the grill racks. The two most common types are vertical and horizontal.

You will also find some smokers have chrome-plated racks while other have stainless stain racks while the shape of your smoker can have little affect however what is important is to think about the shape of the meat you plan to cook. If you plan on smoking long racks of ribs or huge slabs of pork ribs you might want to look at a horizontal smoker.


Ease of Cleaning
An important factor in picking the right smoker is seeing how easy it is too clean and maintains. If cleaning your smoker is effortless it will more than likely get more usage and last longer. Make sure you look for removable cooking grates and grease cup or tray.


Ease of Use
Ensure that the smokers have temperature control that you feel comfortable with. The digital control panel placement is important so that you can reach it without difficulty. It a great idea to choose one with wheels, it will ensure you get maximum value, as it will always be convenient to use not a hard task.

Insulation
Look for a unit with double-walled insulation, high-grade powder-coated metal, and a seal-tight, this helps regulate temperatures and holds the precious heat and smoke

Construction
Look for heavy-duty construction that is enhanced by the rust-resistant stainless steel
How to Use an Electric Smoker
Below we have outlined the basic premise of using an electric smoker. Keep in mind each electric smoker is different and you need to have a thorough read of your manufacturer's instructions before using it.
Getting Your Electric Smoker Smoking
Electric smokers are pretty simple by design. Whether it's a vertical or cabinet electric smokers, the process involves heat produced by a convection heating element which smoulders wood chips and produces hot smoke.



Adding Smoke to Your Electric Smoker Using Wood Chips
Most electric smokers will have an easy access port or tray in you can add your wood chips even when the smoker is hot.Add your favorite wood chips you to get the flavor you are after.



Keeping Your Meat Moist While In The Electric Smoker
Most smokers come with a water pan or water tray so you can maintain moisture in your electric smokers. As your smoker begins to heat up, the water will turn to steam, which will keep your meat from drying out.
Pros and Cons of Buying an Electric Smoker
Electric Smoker Pros
Easy to Use: One of the electric smoker traits is they are incredibly easy to master. You just fire it up, load in your wood chips, set your temperature and you're good to go. You can leave the smoker unattended produce delicious high quality smoked meat.


Safety: Electric smokers are recognized as being safer than your regular smokers. You aren't creating a fire to smoke your meat. If you have pets or children electric smokers may be a great choice for you.


Low Cost: Using an electric smoker eliminate the need to purchase wood or charcoal, the cost of buying this fuel can add up. Electric smokers don't use a lot of power, therefore, reducing your cost to operate.


Easy to Maintain: Electric smokers are a breeze to clean, as long as you keep your electric smoker out of the element. Simply wipe down the exterior and interior after each use.


Convenience: Indoor electric smokers are becoming more common in this category. Therefore you can rest ensure that in the darkness and freezing temperature of winter you have the ability to smoke meat.


The control panel, remote control and Bluetooth technology found standard in most electric smokers will allow you to control the smoker from your anywhere in your house.It also gives you the opportunity smoke food without hovering outside all day.


The more well-known methods for smoking is with charcoal or pellet smokers. However these types of smokers do produce harmful emissions like carbon monoxide and carbon dioxide. However, electric smokers can produce the same delicious food and without the CO & CO2 emissions.


Finally, it will also alert you when your food has reached your desired temperature. All the electric smoker requires you to do is put in the meat, add the wood chips (if you please), set the temperature and cook time and you're ready to go. Whether you are looking to smoke ribs, fish, chicken, vegetables, turkey, salmon, steak or even dessert, electric smokers can do it all.

Electric Smoker Cons
Traditional: Some people believe that building the fire and tending to it, is all part of the process. However, an electric smoker provides an alternative if you don't want to spend all day outside.

Lower Temperature: Electric smokers don't quite reach the very high temperatures of other smokers. Its might mean waiting a little bit longer for your meal to finish.
Looking After Your Unit
After the time and effort dedicated to researching and picking the electric smoker for your needs, you want to ensure you take care it of it. Below are our top tips to caring for your smoker.
Preheat Your Smoker Before Use
To increase the lifespan of your smoker you should be preheating it. If you place your food in the smoker without warming it up, you find that the thermostat will recognize that the internal temperate has not met what has been set and then it will take much longer for the smoker to reach the desired temperature, which in turn makes the smoker work that much harder.

Clean Your Smoker Regularly
 Keeping your electric smoker thoroughly clean has many benefits. Cleaning and drying the components of the smoker after each use will ensure that the smoker is functioning efficiently and will help reduce rust. It will also guarantee that your BBQ come be free of old, leftover or carbonised food. We have dropped our electric smoker cleaning tips below. If the unit has any viewing windows, we suggest cleaning the glass after each and every use.

Scrub and wipe the interior of the smoker cabinet with heavy duty cleaner or bleach. Note ensure you check with your manufacturer instructions before using any chemicals.

Clean The Meat Probe
If your electric smoker comes with a meat probe to check internal temperature, this will need to be cleaned after each use. This is especially important as it will be in contact with raw meat.

Ensure they are no leftover wood chips in the tray from previous smoking sessions.

Using detergent and a cloth wipe out the drip tray after each use, this can eliminate the risk of flare-ups.

Remove and scrub the grill racks. Most of the electric smokers have dish-washable grill racks. If you cant put these in the dishwasher, scrub them to ensure you remove any remnants.
Why You Might Consider One
You Are Thinking About Upgrading: If you find that more often than not your meat and vegetables end up looking charred and black it time for an upgrade.It will be a relief when you can plug your electric smoker in toss in the meat, set your temperature and let it go. You can head off and play with the kids or get a start on mowing the lawn without fear of another ruined dinner.

You Don't Have Much Space: Electric smokers are perfect for those who haven't got much storage space. Most smokers come with the need for extras such as bags of wood pellets or charcoal. All you need for fuel is the power cord and you are good to go. It could be tough storing gas, charcoal or pellets in an apartment. In this case, an electric smoker can be the best choice for you.

You Don't Have A Big Budget: We have found that the cheaper prices for electric smoker don't sacrifice quality. We have also seen that electric smokers are comparatively cheap to higher-end grills and units on the market.

You Want an Easy to Use 'Cook it all Unit': The large interior allows you to get stuck into cooking any type of meat, whole turkeys, racks of ribs or beef briskets.


What is an Indoor Electric Meat Smoker?
Now when I say 'indoor meat smoking', I don't mean bringing your electric smoker inside on a cold winter's day. Not only will you quickly turn everything in your home into a smelling shrine to your food (may not be such a bad thing), but it's actually very dangerous.

When I am talking about an indoor meat smoker I am talking about smoking on the stovetop or in an indoor electric smoker.

Using an indoor electric smoker is a great option for those who are only cooking for one or two, and really don't have the space for a normal-sized unit.

You will find that they look very similar to a slow cooker and actually work very similarly to. When using an indoor electric smoker it is very important to run our extractor fan to limit the smoke that is left in the house.
Smoke On!

Charlie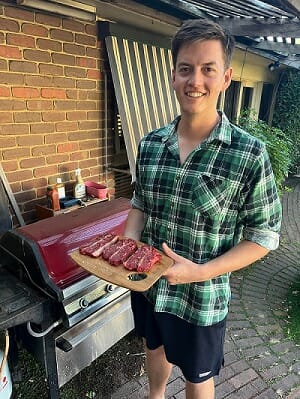 Author: Charlie Reeves
Hi, I'm Charlie, I have been meat-smoking and grilling for the past 15 years. I have an array of different smokers, thermometers, and have a love for finding the right wood and charcoal combo My favourite recipes are my EXTRA CRISPY smoked pork belly, juicy pulled pork, smoked brisket, duck poppers, and ANY SEAFOOD I grill).
I loves sharing his tips with beginners, helping them navigate the world of smoking. I find it's not just about cooking; it's a quest for that perfect smoky flavor.
You will usually find me playing with the kids, perfecting my brisket bark, or sipping beers with boys around the fire. Can't wait to share all my delicious smoking and grilling recipes with you!

You can read more about me on our About Us page.
Hungry For More?