Buying a smoker is a big commitment. It can turn into a big financial commitment too.
When starting out on your meat smoking journey it is easy to go out and buy the most expensive unit. You might assume is going to be the best smoker. That is not always the case.
A lot of us do not have the big budget for a smoker! But that is ok. We can still get quality. This guide is going to cover my picks for electric smoker under 200 dollars.
Each of these electric smokers has its own pros and cons. But they all have the price in common. They come in under $200. I have designed this guide to help those that are new to smoking. Or those who are smoker-curious.
Hopefully I canhelp you make the best decision. And of course to save a little bit of money in the process.
Electric Smokers Under 200 Dollars – Comparison Table
Don't Have Time to Read Whole Post Now? (See My Quick Picks Then!)
Charlie's Top Choice: Masterbuilt MB200711170 – See it here
"I like that you don't need to baby this smoker, I just set the temperature I wanted, and off it went. Also, I had a really good experience with their customer service team who helped me right away. I recommend this one to all my friends who are at the start of their pitmaster journey!


Runner-up: Masterbuilt MB20070210 – See it here
"I found this one super easy to use I like to cold smoke (mainly salmon) as well as hot smoke, and this unit is best for that. I also like the space in it this one, I've managed to a whole bird, a small leg of lamb and a pork butt

User's Pick: Cuisinart COS-330 – See it here
I've had a lot of readers tell me about this model. I managed to borrow it from a friend to try it. I was impressed. It held a high temp (300 Fahrenheit) well and didn't appear to leak much smoke. I managed to fit a pork butt, pork loin, and whole chicken in one go

Ease of Use: Dyna-Glo DGU505BAE-D – See it here
I was impressed with the temp accuracy of this model. I didn't get much fluctuation on either side of my target temperature for the cook. Using a smoker that holds a steady temperature makes cooking a lot easier.


Budget Pick: Old Smokey – See it here
The Old Smokey is a classic. When I went to take my smoker somewhere this is the one I go for. It's easy to throw it in the back of my pickup. Plus it comes up to temp and starts producing smoke quickly.
Electric Smoker Under 200 Dollars
---
1. Masterbuilt 20071117 30″ Digital Electric Smoker – My Top Choice!
Coming in my top spot and slightly under $200 is the Masterbuilt 30 inch!
I think this is a fantastic unit if you don't have a huge budget but want a generously sized smoker. Especially if you like hosting cookouts or parties!
I found it always easy to get to temperature and makes super succulent juicy BBQ! We have had big cookouts and I managed to feed 13 adults and 5 kids with this smoker. We got in two pork butts, wings, and 3 sides in it!
So if you want a large entry-level smoker without paying the big bucks this is what I think you should look at.
Specifications
Height: 33.2 inches

Width: 20.4 inches

Depth: 19.8 inches

Weight: 39.3 lbs

Cooking Area: 730 sq inches

Cooking Racks: 4
What I Liked About it
Built-In thermometer was simple to use: I find the built-in digital thermometer easy to read. Plus I found that it was accurate throughout the entire cook after testing it against my own thermometer.
Felt well Insulation: It felt extremely well insulated and held the temperature constant. Even when I was using it during winter on really cold days (Plus I didn't get any smoke leakage)
Depending on how you cook, you can add this on: One cool thing about is you can buy the base model and add on any extras that you would you need. This is great because it keeps the cost down For example, some people don't mind having a window, but I find it helpful to monitor my meat. So you if don't think you'll use it you could just go for the cheaper model without the window. I have some mates who say its just an extra thing to clean
Heaps of rooms when I cooked for a group: The 30 inch model gave me lots of cooking space, as I mentioned before I got two pork butts, wings, and 3 sides in it.

Side door for easily adding in wood chips: I could add wood chips without opening the smoker door, and losing keeping all my precious heat ans smoke
What we Did'nt Like
It was hard to move by myself. The unit is a little heavier than others making it hard to move around. I had to get my neighbor to help me.
An Overview From Masterbuilt
Wrapping it Up
I think this great smoker for those who are after a quality smoker at an affordable price point. This unit is my top pick for the electric smoker under $200. The base model is a good model for those who don't want to spend a tonne of money but are after a quality unit that you can build on in the future.
Overall Rating: 4.7 / 5 Stars
Not sure if you would use an electric smoker enough? You could also try an electric grill. They are easy to use and you can even grill a steak in a Geroge Foreman. I mean who has time to fire up the grill midweek?
---
2. Smoke Hollow 3016DEW 30″ Digital Electric Smoker
Do you enjoy watching your meat being smoked like me? If so, then I think Smoke Hollow 30 inch is a great option! Coming in at slightly under $200, I liked that it had a good-sized window, plenty of room felt well constructed (no wobbling at or smoke leakage).
For me, the digital controller was straightforward to use. I think it will have you smoking in no time. I liked that it felt sturdy and didn't have any smoke leakage. Plus I was able to change the configuration of racks, that mean I could fit in a large brisket and pork butt.
Specifications
Height: 41.5 inches

Width: 20.6 inches

Depth: 22.3 inches

Weight: 51 lbs

Cooking Area: 540 sq in

Cooking Racks: 4
What I Like About it
Has a good external wood chip try: I could add more wood chips without opening the door and disturbing my smoking chamber.
I could change the rack layout The three cooking grids are fully adjustable and I was able to get in large brisket and pork butt.
Viewing Window: This is one of my favorite features. I like to see what happening with my meat without opening the cooking chamber.
Super simple digital controller: I found the digital control panel super easy to use. I could easily get the unit started and change the temperature with the press of a button.
It felt like it was a sturdy construction: Everything from the legs to the handles and cooking chamber on this bad boy felt strong.
What I Didn't Like
The unit sometimes has trouble with drainage. That meant my main chamber with getting clogged with drippings
Wrapping it Up
I think this is a really durable smoker that is truly made for year-round smoking. It is also well insulated so I could smoke in the middle of winter without worrying about temps fluctuating. It doesn't matter if it's 10 degrees out of 80. I think with this unit you get great value for money plus delicious BBQ!
Overall Rating: 4.5 / 5 Stars
---
3. Dyna-Glo DGU505BAE-D 30 Inch Electric Smoker
I think the Dyna Glo electric smoker is best suited to those who want an affordable and consistent smoker. I think if it had a front viewing window it would be higher on my list
I liked the adjustable cooking grates, I was able to change them to fit in my rack of ribs. Plus I liked the side wood chip entry, it meant I didn't lose any smoke or heat mid cook.
Specifications
Height: 35.9 inches

Width: 23.5 inches

Depth: 18.4 inches

Weight: 46.3 lbs

Cooking Area: 505 sq in

Cooking Racks: 4
What I Liked About It
Wood Chip Loader: The conveniently placed side access wood chip loader reduces heat and smoke loss when I added more wood chips.
No fuss manual temperature dial: The manual temperature dial allowed me to for fine-tuning my cooking temperature.
Strong burners: The powerful 1,650-Watt burner helped maintain my temps when I was cooking in freezing weather

Easily adjustable racks: I liked that I could adjust the grates to what I was cooking. I managed to get a fairly large rack of ribs in.
Temperature gauge: Easily read stainless steel temperature gauge with handy "Smoke Zone" feature which helped me find the perfect temperature.
Really good insulation: The double-walled firebox retains heat really well. I didn't notice any fluctuations in temperature throughout the cooking process.
What I Did'nt Liked About It
The pan can doesn't catch all the drippings. About 1/3 ended up on the floor and the rest dripping down the unit.
An Overview from Dyna-Glo
Wrapping it Up
The Dyna-Glo is a fantastic little smoker for those who are looking for an inexpensive alternative to charcoal smokers. I found that was it easy to assemble and had it going in under an hour.
I think the overall construction was great and it is a sturdy unit perfect for any beginner or professional looking to save a little bit of money.
Overall Rating: 4.4 / 5 Stars
---
4. Old Smokey Electric Smoker
I found the Old Smokey is the most solid, useful tin can you will ever set your eyes on. This little beauty is a very solid unit that delivered me great-tasting food. This is the perfect set and forget electric smoker for those who don't have a huge amount of space.

Essentially you just load up your food and let the Old Smokey get to work
Old Smokey Electric Smoker Specifications
Height: 29 inches

Width: 15.5 inches

Depth: 15.5 inches

Cooking Space: 280 sq inches

Weight: 23 lbs
What I Liked About The Old Smokey
The thermostat had an auto feature: it had an advanced heat thermostat, this helped me when I was cooking all different cuts. Once you set the temperature on this kit, you no longer have to worry about the heating. This kit will digitally control the inside temperature of the grill using its advanced sensors and heat regulator.

Simplicity: The Old Smokey's greatest feature is simplicity. We think it is perfect for anyone starting or the advanced cook who just likes to work with the best yet simple product.

Tightly fitting lid: One of the most important features of a smoker is the seals and tightly fitting lid. If your smoker isn't sealing then you are losing precious heat or smoke. This unit seals tight which means it also creates condensation, this then falls back on the meat, keeping it juicy and enhancing flavor even more. We also found that no leaks made cleaning the smoker much easier. You don't have grease dripping don't the sides to scrub off later making the cleaning much easier.

Easy to move around: The Old Smokey is one of the easy smokers to move. It only weighs about 25 pounds, and it features two side handles. So, you have to worry about having a friend handy to move it. I was able to do it with almost no effort at all. This makes it a great option to take camping, tailgating, or just around to a neighbor's place.

Safe and sturdy fireproof handles: The safety of this unit is top-notch. The handles are made of heat-resistant materials. No matter how long we cooked, we could always lift the lid.

Easy inserting or removing Grills: The grills of this unit were extremely easy to rearrange. It has two grills, upper and lower, with diameters of 14.5" and 12.5" respectively. Each of these has handles to make inserting and removing them an easier task.
An Overview of the Old Smokey
Wrapping it Up
Overall, I think the Old Smokey is a quality product worth buying if you're after something simple yet durable. Those looking to make succulent and juicy smoked meat with minimal effort will get the most out of their money with this little tin can.

One of my favorite features is the ease of assembly. You can pull it out of the box and start using it.

You'll become a master of the smoker after two or three times of using this little guy.
Overall Rating: 4.2 / 5 Stars
5. Masterbuilt 20073716 Portable Electric Smoker
If you are looking for a smoker that you can take everywhere with you, look no further than the Masterbuilt 20073716. This little beauty is a fantastic unit that is still big enough for me to cook a 15lb turkey in an electric smoker. But it was small enough to slip in with my camping gear or to throw in the back of my pickup

Coming in at just under $100 it is a must-have for any smoker on the move.
Specifications
Height: 15.9 inches

Width: 23.6 inches

Depth: 23.4 inches

Weight: 21.6 lbs

Cooking Area: 730 sq in

Cooking Racks: 2
What We Liked
Easy to move around: It's not just a name. Its amazingly portable. The unit is a 20-inch cubes box which makes it extremely easy to store, transport, and maneuver. I could even fold up the legs! This makes it a perfect companion for our RV, packing it in the car to take to the campground or even to throw it in the car for the kids' Saturday sports events.

Lightweight: The total unit weight is just shy of 22 lbs. This is light enough to carry anywhere. For those of you who are adventurous, I highly recommend also buying the Masterbuilt Smoker Carrying Bag. It made taking this bad boy anywhere a real breeze. Plus I found the bag is super heavy duty and has lots of pockets for storage.

Simple dial temperature control: I liked the simple temperature settings on this smoker. Low, medium, and high. You can easily change between these settings with the simple dial. The dial is simply placed on the front door where I could easily keep an eye on the temperature and make changes accordingly.

Constant heat: Having 1400 watts of heating power, I think it has enough power to smoke a range of foods, we managed to do a large chicken in it with some sides.

Easy for us to remove the pans: The removable wood and water pan made refilling a breeze. Removing the tray can be done while the smoker is running without disturbing the cooking process. Perfect!

Foldable Legs: The feature that I loved the most was the foldable legs. These legs are surprisingly sturdy and very convenient. They can be folded flat under the unit for easy storage anywhere and they have enough height to keep the unit safe from dirt, mud, sand, and grass.
An Overview From Masterbuilt
Pros and Cons
20073716 Pros
Large capacity for a transportable unit.
Removable water and chip trays.
Lightweight and very portable.
One of the easiest units to transport.
Ready to use right out of the box.
Easy to clean with the removable internal rack system.
Lightweight at slightly under 22 pounds.
20073716 Cons
Warranty period is short, only ninety days.
The grease catching system can get clogged quickly.
Wrapping it Up
For me, there are no two ways around it. This is a must-have for anyone who likes taking their great-tasting food with them.

If this unit had a bigger capacity it would without a doubt be my top pick.   For a small unit, it delivers a great-tasting smokey flavor and is even big enough to fit a 15lb turkey inside.
Overall Rating: 4.8 / 5 Stars
---
There you have it, my picks for the electric smokers under $200. I hope this get your started on your journey to becoming a pit master!


Smoke On!

Charlie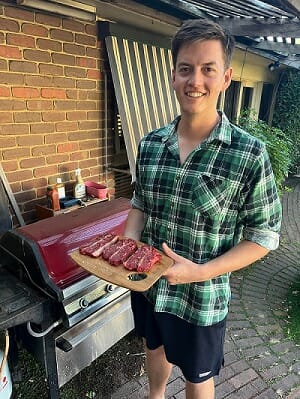 Author: Charlie Reeves
Hi, I'm Charlie, I am head taste tester at Simply Meat Smoking! I love it grilling, smoking, and getting out in the yard with the kids! The family also love to test all my recipes (especially my EXTRA CRISPY pulled pork, smoky pork loin, and ANY SEAFOOD I grill)
You will usually find me playing with the kids, perfecting my brisket bark, or sipping beers with boys around the fire. Can't wait to share all my delicious smoking and grilling adventures with you!

You can read more on our About Us page.
Hungry For More?