So you've finally decided to get your own George Foreman grill — you couldn't have made a better choice!
It can cook a whole range of different recipes. Plus it is one of the fastest cooking grills around.
But before whipping up a meal using your George Foreman grill you need to times and temps
This is because cooking on this grill is different from your regular gas grill!
But you don't need to worry.

See the George Foreman grill cooking times below, so you can out DELIOCUS meals!
Why Cooking on A George Foreman is Different
So, you might be wondering why foods cook a little quicker in one of these grills.

After all, what makes this grill different from a normal outdoor BBQ grill or charcoal grills?
Well, the key difference is that the two grill plates of this dual-sided grill will cook your cuts of meat on both sides.

However, a normal BBQ grill or gas grill will only cook your meats on one side.
Cooking Times When Using a George Foreman Grill
Below are the grilling times that are recommended when using George Foreman grills
Just remember that grilling time can vary depending on the thickness and size of your food. It's best to start with the minimum amount of time and keep checking on it.
Just remember to preheat the George Foreman for 5-10 minutes before cooking

We've condensed all of the important grilling temperature information into this comprehensive table.

Note: the times below are for defrosted food.
The different types of foods
Suggested Cooking Times
Lamb chops
Between 6 to 8 minutes
Pork chops
Between 6 to 8 minutes
Skinless chicken breast
Between 4 to 6 minutes
Fish fillets
For every 1/2 an inch of thickness, allocate approximately 2 to 3 minutes.
t-bone steak
– Make sure that it's around 1 to 1/2 inch in thickness
Between 4 to 7 minutes for medium-rare steak Between 6 to 9 minutes for medium cooked steak
Frozen Hamburger
– Make sure that it's around 1/2 to 3/4 in thickness
Between 10 to 12 minutes
Hamburger
– Make sure that it's around 1/2 to 3/4 in thickness
Between 5 to 8 minutes
Shrimp
Between 2 1/2 to 4 minutes
Raw sausages
Between 4 to 6 minutes
Precooked sausages
Between 2 to 3 minutes
Eggplant slices
– Cut them so that they are 1/2 to 1 inch in thickness
Between 4 to 5 minutes
Of course, this table doesn't include all of the different kinds of foods that you can cook with a George Foreman grill.

So, we would also like to share with you this great in-depth George Foreman grill time and temperature chart we found on Pinterest.

It even includes the target temperatures for each food. This is very important for health and safety reasons.

You should also invest in a digital meat thermometer so that you can check to see if your meats have been cooked through properly.
Quick Guide to Cleaning Your George Foreman Grill
The best thing you can do is to prevent things from sticking to the grill plates is wrapping the surfaces. This will help when you go to clean your George Foreman.

However, there are alternatives to wrapping your grill plates with aluminum foil
Just don't leave the food bits to harden in the first place.

One of the worst things you can do is turn off the grill after you're done with it. This allows the food debris and grease to harden and cool.
If your grill has detachable plates, remove them and soak them right away. If you have non-removable plates, simply wipe them clean while the surface is still warm.
However, if you allow the grill plates to cool by mistake, all is not lost. You can always use baking soda powder to loosen up any tough food particles.
Simply sprinkle a small amount on, dribble a few droplets of water over it, and let it work its magic. (For very tough instances, combine it with a little white vinegar!) Just do this and you'll be left with a clean grill every time!
We hope this chart for George Foreman grill cooking times to be helpful.

We can't stress how useful we find these little indoor grills.
They're compact, easy to clean, and they cook a whole range of different types of foods! you can need to know your timings!
Smoke On!

Charlie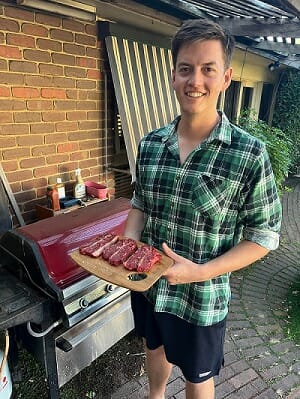 Hi, I'm Charlie, I have been meat-smoking and grilling for the past 15 years. I have an array of different smokers, thermometers, and have a love for finding the right wood and charcoal combo My favourite recipes are my EXTRA CRISPY smoked pork belly, juicy pulled pork, smoked brisket, duck poppers, and ANY SEAFOOD I grill).
I loves sharing his tips with beginners, helping them navigate the world of smoking. I find it's not just about cooking; it's a quest for that perfect smoky flavor.
You will usually find me playing with the kids, perfecting my brisket bark, or sipping beers with boys around the fire. Can't wait to share all my delicious smoking and grilling recipes with you!

You can read more about me on our About Us page.
Hungry For More?