Most people think that the George Foreman Grill is just for toasted sandwiches!
But we have done waffles, t-bone steak and even choc chip cookies in ours!!
From cookies to PANCAKES, you can cook almost anything on The George.
We all hate having dozens of appliances taking up space on the bench, so we love this handy dandy grill so much!
Below are some of the best things to cook on a George Foreman Grill.
1. Chocolate Cookie Squares
If you love desserts, cookies are something you can grill using the George Foreman Grill.
Before placing the dough balls on the grill, ensure you place an aluminum foil or use the baking plate.
It takes around 10 to 12 minutes to grill the cookies.

See the recipe here!
2. Cheesy Quesadillas
Mexican food lovers will find the George Foreman Grill to be a great option for making quesadillas.
You can preheat the grill and cover one side of the tortilla with butter. On the other side, you can use cheese slices or grated cheese.
It will take around four minutes to cook the quesadillas properly.

See the full recipe here
Hot Tip: You don't want to leave the cheese on the grill to harden. So make sure you clean your George Foreman as soon as it has cooled, otherwise, the cheese will be REALLY hard to remove!
3. Perfectly Grilled Steak
I bet you didn't think you could grill a GREAT steak in the George! But it has proved me wrong!
We did a tenderloin in it and it came out beautiful!

A good sear and a nice medium rare inside!
See how to grill a steak to perfection on the George Foreman
4. Eggs in No Time
You can use the grill as a griddle for frying eggs.

Before you fry the eggs, ensure that the grill is preheated and has a nonstick coating.

This will prevent the eggs from sticking to the griddle so you can remove them properly.
Hot Tip: Grilling in a George Foreman is different from your regular gas grill. Get the George Foreman cook times.

Its outlines the timings for all different types of food from steak to chicken and even waffles.
5. Perfectly Crispy Bacon
When cooking bacon, you will not require any cooking spray.
Ensure you use thicker cuts for your bacon since thinner ones will stick to your grill. Place each of the strips evenly with a distance between them.
The slices of bacon will take around five to eight minutes, depending on whether you want it tender or crisp. You can keep checking on them to see if they are cooked properly.

See the recipe here
6. Healthy But Delicious Friess
The George Foreman Grill can EVEN MAKE low-fat fries!

Ensure that you cut the potatoes into thin rounds. Cover the potato chips with pepper, olive oil, and salt.

Preheat the grill and then place the chips separately from each other.
You will get your low-fat fries within 20 to 22 minutes.

See the full recipe here
7. Tater Tots Hashbrown
If you love crispy tater tots, you can use the George Foreman Grill to make an EPIC tater tot hashbrown.
You just need 8 tatter tots, form a square on the grill off them, then press the lid down for 2 minutes.
Once done, you will get tater tots that are soft inside and crispy outside.

See the full recipe here

8. Easy Peasy Waffles
Whether or not you have a waffle iron, you can use the George Foreman Grill to make your waffles.

You gotta preheat the grill before placing the waffle batter in. Let them cook on the grill for about 5- 7 minutes or until they are crispy.
Keep checking the crispiness and take them out before they overcook.

Get the full recipe here
We love that we don't have to have multiple things on your kitchen bench if you have the George Foreman.

it means the kitchen is away less crowded and we make a waffle or fries in no time!
Smoke On!

Charlie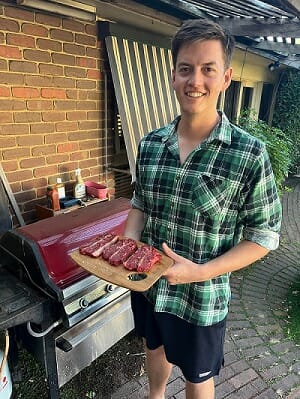 Author: Charlie Reeves
Hi, I'm Charlie, I am head taste tester at Simply Meat Smoking! I love it grilling, smoking, and getting out in the yard with the kids! The family also love to test all my recipes (especially my EXTRA CRISPY pulled pork, smoky pork loin, and ANY SEAFOOD I grill)
You will usually find me playing with the kids, perfecting my brisket bark, or sipping beers with boys around the fire. Can't wait to share all my delicious smoking and grilling adventures with you!

You can read more on our About Us page.
Hungry For More?