London Broil is a classic beef dish that won't leave you disappointed.
It is one of the tastiest types of steak one can buy. From weeknight dinners to special occasions, you can't go wrong with London broil.
If you're looking for some side dishes for London Broil you have come to the right place.
Have a read of the guide below to find yourself some delicious side dishes!
Smoked Mash Potatoes With Bacon and Cheese
What could be better than smoked mashed potatoes?
Only one thing! Topping them with cheese and bacon!
Your guests will be drooling over this side!
See the smoked mash potatoes recipe here.
Smoked Baked Beans
This dish will give your basic baked beans an intoxicating flavor.
It is perfect for serving large groups of people, alongside a juicy steak.
We love the smoky flavor of this recipe and how it elevates this simple baking dish.
Smoked Garlic Bread
Who doesn't love garlic bread?
But imagine how much better it is when smoked!
Not only do people go wild when I serve this on game day it has to be one of the simplest recipes you'll ever find.
See the smoked garlic bread recipe here.
Ways to Cook London Broil
Are looking for delicious ways to cook your London broil? Check out our tried and tested recipe below
Below of the methods turn out delicious each and every time!
Smoked Mac and Cheese
Looking for a delicious side dish?
Mac and cheese is perfect! Kids love it as much as the adults!
Plus it's super simple to put together, then you just throw it in the smoker!
Grilled Brussel Sprouts
Take a classic and easily elevate it by throwing them in the smoker. Want to impress your guests more? Throw some crispy bacon on top.
Find the recipe here: Smoked Brussel Sprouts
Smoked Sweet Potatoes
Who needs baked potatoes when you could have smoked ones?
This recipe is healthy and features TONS of flavor.
Interchange the potatoes for other root vegetables if desired.
Buttery Crab Imperial
After a simple seafood recipe?
This creamy crab imperial will do the work for you.
Serve this dish fresh out of the oven alongside your steak.
Smoked Baked Potato With All The Toppings
These smoked potatoes are perfect for a crowd!
Just smoke your potatoes then set up a bar with all the toppings
Sautéed Spinach
Serving spinach doesn't have to be boring.
In fact, this healthy side is just as yummy as it is nutritious.
With a bit of garlic and some olive oil, you'll want to make it every night.
Smoked Carrots in Brown Butter
This healthy side dish is a fantastic way to serve carrots.
Tender, crispy and we an amazing sweet and savory flavor.
It only takes 10 minutes to prep, so get cooking!
Roasted Mushrooms in Brown Butter Sauce
These mushrooms are a quick side dish for a weeknight dinner.
They can be served with most cuts of meat and are extremely versatile.
Top your mushrooms with fresh herbs like garlic and thyme for optimal flavor.
Apple Walnut Salad
This fruit salad will beautifully compliment your flavorful steak.
The sweet flavors of the apples nicely balance the nuttiness of the walnuts.
This dish can be served all year round and made in a matter of minutes.
Garlic Butter Rolls
Garlic butter rolls are one of our favorite side dishes.
Super easy to make, they can be whipped up in a 12-inch cast iron skillet.
These homemade rolls go with all cuts of beef, but are just as tasty on their own!
Roasted Tomato Basil Orzo With Feta
Tomato basil orzo is full of flavor, protein and nutrients.
A staple of Italian cooking, orzo is full of complex flavors that will make your taste buds sing.
You will love making this healthy, filling dish and serving it with your London broil.
Classic Green Salad
To complete your delicious meal, go for something light and refreshing.
This classic recipe will make you fall in love with green salad all over again.
Serve it with an apple cider vinegar dressing for an amazing tangy flavor.
Green Bean Casserole
Green bean casserole is classic comfort food that will please everyone.
It features only simple ingredients and is ideal for using up spare green beans.
Top your casserole with a layer of crispy fried onions to finish it off.
Cranberry Sauce With Orange Juice
This cranberry sauce is awesome alongside any and all steak recipes.
It only takes 5 ingredients and can be made in under 30 minutes.
Make this sauce ahead of time and refrigerate until it's time to serve.
Teriyaki Rice Pilaf
This hearty dish is made up of leftover rice, mushrooms and peas.
If you don't have any teriyaki sauce on hand, soy sauce is a good substitute.
Make this teriyaki rice pilaf in advance, for additional convenience.
Garlic Parmesan Roasted Broccoli and Green Beans
This healthy dish will give you crunchy, tasty greens.
Sprinkle some parmesan and lemon juice before you roast the vegetables.
This will give your broccoli and green beans a little extra flavor without it being overwhelming.
French Onion Soup
This cozy soup is a delicious appetizer or tasty side dish to your broil steak.
Make sure you add the bay leaves, they are instrumental for lots of flavor.
This dish is a classic pairing with steak and even better during Winter.
Crunchy Asian Salad
Looking to add some color to your meal?
This refreshing salad features edamame, radish and purple cabbage.
We recommend serving it with sesame dressing and almonds.
Cilantro Lime Cauliflower Rice
You can make this perfect side dish in under 25 minutes.
This recipe is low-carb and gluten-free as well for those with dietary requirements.
The rice has a mild flavor so feel free to add more cilantro and lime to suit your tastes.
Bacon Cornbread
This cornbread is sweet, salty and far too delicious.
An easy crowd-pleaser, the balance of flavor in this recipe goes really well with steak.
Serve it as a starter, as a side or on its own- you really can't go wrong with bacon cornbread.
Double Smoked Potatoes
If you need some more classic potato dishes in your life, try this recipe!
For an extra hit serve your double smoked potatoes with herb butter and sour cream.
This is one of the most delicious recipes you can make and definitely worth it.
Pineapple Mango Salsa
This recipe is so good you'll want to make it again and again!
This is an ideal Summer recipe, but we'd happily have it all year round.
Light, quick, tangy and sweet, this is an incredible addition to any meat.
London Broil is a fantastic type of meat that will please even the fussiest of eaters.
This piece of meat deserves a delicious side dish.
And, there are plenty of options to choose from!
Whether you're after a filling dish or just something small on the side.
There is a recipe out there to suit everyone, so you can serve up the perfect dinner.
What do you like to serve with London broil?
Smoke On!

Charlie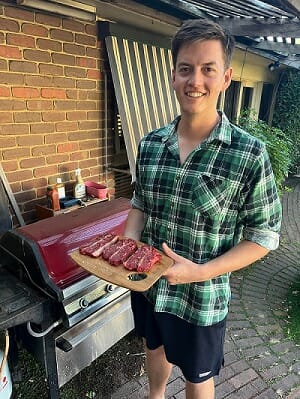 Author: Charlie Reeves
Hi, I'm Charlie, I am head taste tester at Simply Meat Smoking! I love it grilling, smoking, and getting out in the yard with the kids! The family also love to test all my recipes (especially my EXTRA CRISPY pulled pork, smoky pork loin, and ANY SEAFOOD I grill)
You will usually find me playing with the kids, perfecting my brisket bark, or sipping beers with boys around the fire. Can't wait to share all my delicious smoking and grilling adventures with you!

You can read more on our About Us page.
Hungry For More?