Are you planning to smoke a ham sometime soon? Maybe it's for a holiday meal or maybe it's just an excuse to use your smoker.
Either way, it's important to find the right rub.
While you can season a ham with any ingredients, it's helpful to have some guidelines.
Below are my six favorite dry rub recipes to use on smoked ham.
Brown Sugar and Spice Rub for Ham
People love adding sweet flavors to their ham.
For some reason, sugar is an excellent component of a dry rub for smoked ham.
However, it is important to find the right balance.
This rub uses a cup of brown sugar.
Mix in 2 teaspoons pumpkin pie spice.
Then add ½ teaspoon mustard powder and ¼ teaspoon onion powder.
Add black pepper until the flavor is just right.
Mix the dry rub ingredients and rub them all over the ham.
Savory Brown Sugar Rub for Ham
We have another rub that depends on brown sugar for its amazing flavor. This rub is what I use when smoking a ham on my Pit Boss, its seems to work well with chips that I use in that pellet smoker.
Add some savory elements to keep the sweetness from overpowering the meat.
Start with a cup of brown sugar.
Mix in 2 tablespoons paprika, 2 teaspoons chili powder, and 1 teaspoon garlic powder.
Then add 1 teaspoon onion powder and 1/2 teaspoon cayenne pepper.
These flavors make for a complex rub.
When you rub this on your ham, you know your taste buds will be delighted with the final product.
Garlic and Rosemary Rub for Ham
Let's move on to some of the more savory recipes. Not everyone has a sweet tooth after all!
If you want to skip out on sugar, this is a great recipe for you.
Mix 3 tablespoons rosemary, 3 tablespoons minced garlic, and 2 tablespoons kosher salt.
Use fresh rosemary and fresh garlic for optimal results!
Do not use table salt.
Coarse kosher salt is better suited for this recipe because it won't be quite as salty as table salt.
Onion and Garlic Rub for Ham
Garlic and onion belong on all things smoked meat!
To counteract the bold flavors of these foods, we will use some sugar.
Mix 3 tablespoons of minced garlic and 3 tablespoons of minced onion.
Add 2 tablespoons brown sugar and a little bit of mustard powder and kosher salt to taste.
This savory rub will be amazing on smoked ham.
Cajun Dry Rub for Ham
For all the spice lovers out there, this one is for you. Spicy dry rubs are amazing so try your hand at this Cajun dry rub.
Mix 1 teaspoon white pepper, 1 teaspoon onion powder, and 1 teaspoon black pepper.
Add 1/2 teaspoon garlic powder, 1/2 teaspoon thyme, 1/2 teaspoon celery seed, and 1/2 teaspoon cayenne pepper.
Add salt to taste.
If you want to use fresh thyme leaves that have been dried, you can use one teaspoon.
The fresher the ingredients, the better!
Remember that fresh ingredients are often weaker than the ones on your spice shelf.
BBQ Coffee Rub for Ham
This dry rub is a bit unique. Not everybody will love it, but it's worth trying!
Start with 1/4 cup of ground coffee and 1/4 cup of brown sugar.
Add 2 tablespoons chili powder, 1 tablespoon paprika, and 1 tablespoon black pepper.
Mix in 1 tablespoon onion powder and 1 tablespoon garlic powder. Add kosher salt to taste.
When preparing this dry rub, it is important to consider the type of coffee you use.
There are so many types of coffee and each one will yield slightly different results.
We recommend using something strong and simple.
How Do I Use a Dry Rub on a Ham?
Apply the dry rub to the outside of the ham.
The more generous you are with the seasoning, the stronger the flavors will be.
You will notice a crispy bark on the outside of the ham if you apply a dry rub.
You can use a dry rub on uncooked ham or pre-cooked ham.
You can apply the rub whether you plan on smoking the ham or cooking it in the oven.
After rubbing the seasoning on the ham, cook it as normal.
In a smoker, you will place the ham on the grill grates so it cooks by indirect heat.
We recommend using medium heat, such as 325°F for ham and cook until the internal temperature reaches 145°F.
Use a digital meat thermometer without touching the bone for accurate results.
Plan on 30 minutes per pound at 325°F. That's about how long it should take for the internal temperature to reach 145°F.
Let the ham rest for a short while before carving and serving.
You can wrap it in disposable aluminum foil to keep it warm until it's time to eat it.
Do You Recommend Using An Injection?
I don't often use an injection to flavor my ham but I have had good results trying it. If you want my recipe for ham injected with bourbon you can see it here.
Do I Need to Use a Glaze on My Ham?
There are so many glaze recipes out there. Whether or not you use one is a personal preference.
Mix the glaze ingredients and pour them over the cooked ham for some delicious flavors.
However, many people enjoy the crusty bark without any glaze.
If you want to add a brown sugar glaze or pineapple glaze, you can do it after the ham is done cooking.
After you choose which dry rub ingredients are best for you, go ahead and start cooking!
You might even find a new family favorite!
Smoke On!

Charlie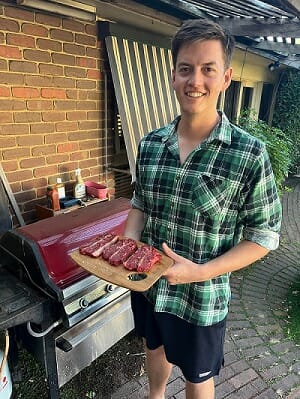 Author: Charlie Reeves
Hi, I'm Charlie, I am head taste tester at Simply Meat Smoking! I love it grilling, smoking, and getting out in the yard with the kids! The family also love to test all my recipes (especially my EXTRA CRISPY pulled pork, smoky pork loin, and ANY SEAFOOD I grill)
You will usually find me playing with the kids, perfecting my brisket bark, or sipping beers with boys around the fire. Can't wait to share all my delicious smoking and grilling adventures with you!

You can read more on our About Us page.
Hungry For More?