I have loved smoked ham ever since I was a young boy.
I have always been drawn to the delicious smoky smoked ham flavor.
Growing up, we always had a homemade smoked ham at Christmas time.
That would lead to leftover ham sandwiches for weeks on end (yum!!)
For those of you who have never cured ham before, this recipe will also serve as a guide on how to cure a ham. Let's get started.

Already know how to brine? Then you can jump straight to my smoked ham recipe here!
12 hours of hot smoking is a long one! You need something that can stand up to the test & hold the temperature for this duration!!
Two Techniques to Smoking Ham
This guide includes two different techniques, each offering a different layer of flavor to the ham.


Technique 1 for Smoking Ham
First off curing in brine then injected with brine, cold smoking, and finished off with hot smoke. It sounds tricky, but it's not.

You can also try injecting your ham with bourbon. This can give the ham a deep earthy flavor

According to Steve from Barbecue Bible, the cold smoking process gives the ham a deeper, more flavorsome smoke flavor.

This is because the cold smoke drives deeper into the meat than hot smoke. The main job of the hot smoke is to finish off the cooking process.

Technique 2 for Smoking Ham
Second, you can inject the meat. Injecting doesn't so much add flavor but helps keep the ham moist and helps speed up the curing process. I Usually follow this method when I am cooking ham for Easter.
Then I follow the same process above, of cold smoking then hot smoking.
The kids love it when I make this one, they always take leftover sandwiches to school.

I hope your family enjoys this smoked ham as much as we do!
Related Posts
Have a read of some of our articles below. They will help you become a better pitmaster!
Read: Smoked Crispy Pork Belly
Learn: What is a Pork Cushion?
What Type of Wood to Use for Smoking Ham?
I like to use a light fruitwood when smoking ham. These include applewood and cherrywood. If you prefer a stronger flavor go for oak. You can see the rest of the types of wood I recommend for ham here.
How To Serve My Smoked Ham
This ham can be served hot straight out of the smoker.

I think it's delicious with a side of;
Smoked And Mashed Sweet Potato.
Using a Pellet Smoker to Cook Your Ham?
If you're using a pellet smoker to smoke your ham, follow my instructions here.
Have Some Leftovers?
Of course, you do! I think thinly sliced is perfect for sandwiches (with that leftover potato salad and some mustard!!).
My favorite way to have this ham is cold between two pieces of fresh buttery bread!
If you are storing the ham make sure to let it rest until it's at room temperature, then cover and refrigerate. You can refrigerate it for up to 1 week.
Smoked Ham Recipe
Print Recipe
The Smokehouse Shoulder Ham Recipe
This recipe makes 1 large ham shoulder. This is enough to serve 6 to 8 hungry humans for a main course or a family of 4 with plenty of leftovers! This recipe does take time, planning and a little bit of self-control. I normally get this started on a Saturday and eat the following Sunday.
Ingredients
1

tablespoon

pink curing salt

1

8-10 pound (4-5 kg) bone-in fully cooked ham




1

pound

of coarse salt

kosher or sea

2

tablespoons

pickling spice

2

quarts

ice water

3

quarts

hot water

8

ounces

packed dark brown sugar
Equipment
1

Meat injector

1

Jumbo heavy-duty resalable plastic bag

1

Wire rack

1

Large stockpot or plastic bucket

1

Instant-read or remote digital thermometer

Hickory or apple wood, Ideally you want a mix of both (enough for 24 hours of smoking)

1

Roll

If hanging a roll of sturdy butcher's string

Optional
Instructions
In your large stockpot or plastic bucket mix together the coarse salt, curing salt, pickling spice, sugar and 3 quarts of hot water. At this point stir in any additional flavouring. Over a high heat bring to a boil and continue to boil until the sugar and salts have dissolved. Stirring several times. This should take around 3 minutes. Once dissolved remove from the heat and add in the ice water. Let cool then place in refrigerator until cold.

Once the brine has cooled strain two cups into a measuring cup. Inject the full 2 cups of brine deep into the ham using a meat injector. You want to inject a 1 – 1 ½ inch intervals along the bone. Inject all 2 cups of the brine.

Place the ham in a large resealable heavy-duty bag, and then place safely inside a large stockpot or large food-safe bucket. Once the ham is resting safely in the bag and bucket, add the brine to the bag. You are looking to submerge the whole ham. Once submerged, squeeze out any excess air and seal tightly. Place in the refrigerator for 7 days. Once a day turn the ham over to ensure an even cure. Midway through the 7-day process, repeat the injecting process with another 2 cups of brine.

Once the 7 days is up (finally) drain the ham and give it a very thorough rinse with cold water. Once thoroughly rinsed pat dry with paper towel. At this stage, if you plan to hang your ham during the process, securely tie your butcher's string around the narrow end of the ham. To be safe give it a test hang to make sure the string is going to hold. If you plan to use your smoking rack there is no need to tie.

Prepare your smoker for cold smoking by following your specific brands instructions. You should set your temperature no higher than 100°F. Add your preferred woods. I like a mix of hickory & apple for this recipe. Hang or place your ham in the smoker and cold smoke at 100°F for no longer than 12 hours.

After 12 hours, set up your smoker for hot smoking. Preheat your smoker to between 225 & 250°F and add your preferred woods. I like a mix of hickory & apple for this recipe.

Once your smoker is up to temperature, place or hang your meat and let cook for 10 – 12 hours or until cooked. You are looking for an internal meat temperature of 160°F. When checking the internal temperature you want to get the probe in the middle of the meat, but not touching the bone.

Eating time! I like to serve the heat hot out of the smoker with some fresh green beans and a big helping of creamy mash sweet potato! Delicious!



Wrapping It Up
Making smoked ham takes a little bit of prep time and planning. But I guarantee you that the end result is totally worth it.

I like to get the ham brining on a Saturday and eat the following Sunday. It's a great Sunday evening meal in summer. Not to mention the leftover sandwiches at work and for the kids at school on Monday and Tuesday!

If you have your own smoked ham, cured ham or double smoked ham recipes I would love to hear about it!

Charlie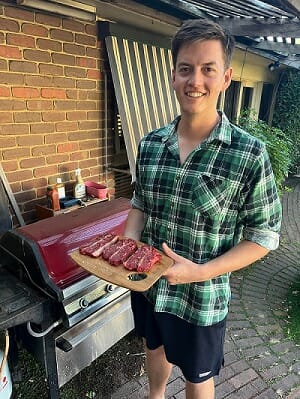 Author: Charlie Reeves
Hi, I'm Charlie, I am head taste tester at Simply Meat Smoking! I love it grilling, smoking, and getting out in the yard with the kids! The family also love to test all my recipes (especially my EXTRA CRISPY pulled pork, smoky pork loin, and ANY SEAFOOD I grill)
You will usually find me playing with the kids, perfecting my brisket bark, or sipping beers with boys around the fire. Can't wait to share all my delicious smoking and grilling adventures with you!

You can read more on our About Us page.
Still Hungry for More?