Are you wondering what to serve with smoked trout?
Maybe you have guests around for a mid-summer lunch but can't figure out what will go with the star of the show?
Let me help with that!
Tip: Remember to always buy fresh trout from your local fish market to kick off a perfect recipe.
A Glass Of Sauvignon Blanc
I'll start early with this beautifully fresh white wine. Because it has to be 5 pm somewhere!
Sauvignon Blanc wines lean towards the acidic side of the taste spectrum and tend to be drier.
Fresh fruit tasting notes will compliment your rainbow trout fillets as they have high-fat content!
It will also cut through the rich smoke flavor and leave your taste buds with balance.
I enjoy this wine produced from the Marlborough region in New Zealand.
Mediterranean Salad
Kicking off our first edible side dish we have smoked trout with a Mediterranean salad.
Simple side dishes are sometimes the best choice. If you want to keep it light then this is the way to go! The crisp veggies will enhance every bite of trout.
Think about adding fresh herbs like chopped parsley or fresh dill.
Do not forget to generously season with kosher salt just before serving. Add a squeeze of fresh lemon juice and it will be a match made in Atlantis.
Tip: Fresh veggies straight from your local market are always best! Wash them before eating!
Smoked Asparagus
Keeping up with the smoke theme, the next side dish I recommend is asparagus.
This classy vegetable has always been my go-to tasty side dish for dinner parties.
Throw on your smoker with applewood and then garnish with olive oil and lemon zest.
The garnishes will cut through the rich smoked flavor on the fish fillets and asparagus.
Why not even save some of the thicker smoked stems and make an asparagus sauce with cream cheese?
Smoked Fish Platter
It might seem a bit bizarre to recommend more fish but hear me out!
Why just settle for trout when you can have the likes of smoked salmon or prawns?
Creating a fish platter is a catch. The different varieties will l wow your guests.
While also providing a contrasting experience. Not to mention talking points!
Take time to build up a platter to remember with crème fraîche and dill weed.
Contrast the texture with cold smoked salmon fillets and hot-smoked trout flakes.
Get creative and have some fun!
Sour Cream Topped Bread Or Canape
If you want to save some time and spend more time laughing with friends then this is for you.
A creamy spread like a simple sour cream with green onion on rustic bread.
I like a hearty sourdough lightly toasted. Or a thick-cut brown bread farmhouse baked with olives.
You're looking at around 5 minutes of prep time. Just build up a canape and enjoy. Simple.
Tip: Additional ingredients like fresh chives or a pinch of your secret spices.
Need a Smoked Trout Recipe?
This super simple smoked trout recipe is delicious. You can use freshly caught trout or one you purchased from the market or supermarket.
Smoked Beef Kabobs
Ying to the yang or meat with fish.
Having both options are a safe bet, especially when entertaining a younger audience.
Some people just really don't like fish! Place a safe bet with these easy beef kabobs.
They still act as an easy appetizer and fit well with your smoked trout recipe.
Dip them in sour cream. You can always use a charcoal grill if you do not have a pellet smoker.
Creamy Potato Salad With Bacon
A big bowl of wholesome potatoes with a creamy sauce and salty bacon.
A dish was worthy in itself. You could even substitute the bacon for grilled trout skin if you wanted to go the extra mile.
I sometimes top it with a bit of truffle salt to take it to the next level! I add a few drops of fermented vinegar hot sauce for the back of the throat kick.
Plus those potatoes might be gone to line the stomach after those glasses of Sauvignon Blanc!
Homemade Horseradish Cream Sauce
That slight nasal tingle from horseradish hiding amongst cream and Dijon mustard!
Horseradish with a sour cream mixture is paired with trout platter mostly in nordic countries.
Of course for good reasons!
Try blending to a smoother consistency in a food processor. I add a blend of spices like black pepper and paprika for a smoky hit before the heat from the horseradish.
Have some cucumber slices ready to counteract the effects.
Smoked Oysters
This is an amazing recipe for smoked oysters to be used as an appetizer.
Shellfish and fish are a delicacy worth celebrating together.
Oysters on the pate are always a memorable dish so why not try it for a special occasion?
The bold flavor in oysters is mellowed with a wood-fired flavor.
You can almost create the perfect picture while arranging the beautiful shells.
Use strong hardwood like mesquite to smoke the oysters. Especially do this if you smoked the trout with a lighter hardwood.
The contrasting levels of smoke flavor in both kinds of seafood make it great for tasting.
Sweet Smoked Root Vegetables
When catering to vegetarians, provide something more hearty than a salad.
So to ensure you accommodate all dietary requirements, serve these rustic root veggies.
Handcut beetroot and sweet potatoes with plenty of garlic salt. This is one of my ultimate finger foods.
Sustain yourself but still keep it casual. Rough pieces of potato wedges and beetroot fries make a lunch favorite without the hassle.
What spices will you add?
I like to crumble dried oregano and add onion salt.
The smoked roasted veg can be dipped in my horseradish cream. Combine both recipes to serve alongside the smoked trout.
Smoked Trout Platter
The last recommendation is to apply some of the previous recipes into 1 dish!
The trout platter.
A terrific and tasty layering of flavors.
We start with a humble salad at the bottom. The salad will bring freshness to the smoky trout and act as a pallet cleanser.
The flaking trout meat and crispy skin are next.
Resting on the salad greens and the star of the show. Fatty, rich and delicious.
Will you remove the fillet or serve it whole?
And lastly, the horseradish sauce is then latticed on top of the fish. We are adding heat and creaminess to finish off a perfect lunch treat.
Tip: Serve the platter with boiled quails eggs and wet brine pickles!
What will you have to accompany smoked trout?
The possibilities are endless!
Smoke On!

Charlie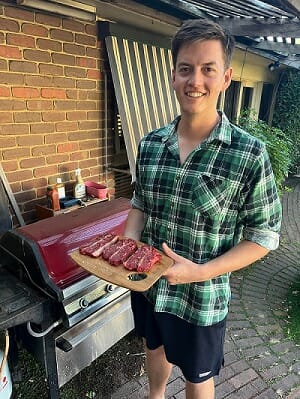 Author: Charlie Reeves
Hi, I'm Charlie, I am head taste tester at Simply Meat Smoking! I love it grilling, smoking, and getting out in the yard with the kids! The family also love to test all my recipes (especially my EXTRA CRISPY pulled pork, smoky pork loin, and ANY SEAFOOD I grill)
You will usually find me playing with the kids, perfecting my brisket bark, or sipping beers with boys around the fire. Can't wait to share all my delicious smoking and grilling adventures with you!

You can read more on our About Us page.
Hungry For More?