Skirt steaks are one of the tastiest cuts of beef, especially if done on the grill.
So it makes sense that you want to pair your steak dinner with a tasty side dish.
If you're stuck for ideas, we are here to help!
Gone are the basic lettuce and tomato salads and roast potatoes.
These sides are flavor-packed and guaranteed to tickle your taste buds.
Even better they are simple to throw together with simple fresh ingredients.
Smoked Sweet Potatoes
Want an ideal side dish that's low-carb?
These smoked sweet potatoes have the substance of potatoes, without the high carbs.
Sweet potatoes have a lower GI and are full of vitamins and antioxidants.
You won't believe how easy it is!
Tailor your seasonings to match your sauces and smoke the whole lot on the grill at the same time.
You can even add toppings, as you would with a baked potato.
Find the recipe here: Smoked Sweet Potatoes
Balsamic Skirt Steak With Bell Pepper Relish
For a side dish that packs an amazing flavor punch, give this one a try.
Marinating the steak in balsamic vinegar will give you a juicy, tender flavor-packed base.
Top with the spicy, tangy red pepper relish to layer the flavors. A winning combination!
Serve with a fresh, raw zucchini salad topped with fresh chopped green onions to balance out the flavors.
Find the recipe here: Skirt Steak with Bell Pepper Relish
Taco Stuffed Bell Peppers
Continuing the delicious bell pepper theme.
These stuffed bell peppers are simple, tasty, and quick to throw together, and perfect for smoked skirt steak.
Anything goes with the stuffing, so tailor it to whatever you have on hand, or to the flavor you want.
Ground beef, rice, chopped vegetables, sour cream, rich cheese. The options are limitless!
This recipe is keto friendly and gluten-free – perfect for a delicious and healthy meal.
It's also a great side to make ahead of time.
Premix the filling and spoon it into pre-cooked peppers when you're ready to eat.
Or put them together and store them in a covered container in the refrigerator.
Then it's just a matter of cooking with the steak grills.
Quick and easy for a weeknight dinner or BBQ catch-up!
Find the recipe here: Taco Stuffed Bell Peppers
Avocado Pesto and Grilled Corn Relish
This is the perfect side for a summer get-together!
The freshness of avocado and grilled corn is the perfect balance to the meatiness of the steak.
The relish may take some time to make but make it in bulk and store it. Trust me, it's well worth the effort.
The fresh flavors will bring your steak to life. It also goes well with grilled fish or juicy chicken breasts.
Super tasty and versatile!
Spoon over the steak and pair it with a fresh garden salad, and dinner is ready to impress.
Find the recipe here: Avocado Pesto and Grilled Corn Relish
Smoked Asparagus Spears
Asparagus. Just a boring vegetable, right? Think again!
Smoking this simple vegetable will take it from ho-hum to absolutely delicious.
The simple earthy flavors work beautifully with the smokiness of grilled meat.
Season with some salt, black pepper and garlic powder and let the smoker do all the work.
Throw a few spears on beside your meat for your next barbecue side dish.
Keep them crisp and fresh with a hint of smoky goodness.
Find the recipe here: Smoked Asparagus Spears
Orzo Pasta Salad
Orzo pasta has the appearance of risotto, with the ease of pasta.
This creamy dish is the perfect base for a crispy seared sliced steak.
Cook the orzo chicken stock, garlic cloves and fresh basil.
Mix though cherry tomatoes and chopped roasted vegetables. Use any vegetables in season.
Try some zucchini, broccoli florets or fresh green beans.
Marinate the steak before grilling to achieve a gorgeous crunchy bark.
Then slice and layer it over the orzo pasta salad. Top with some chopped green onions to finish.
Find the recipe here: Orzo Pasta Salad and Marinated Flank Steak
Super Creamy Coleslaw
No collection of favorite side dishes is complete without a creamy coleslaw recipe!
Crisp coleslaw is the ultimate side dish for any barbecue meal.
Sweet and tangy with a fresh crunch, this dish will bring out the best beefy flavor of your juicy skirt steak.
Make it from scratch, or use a pre-shredded mix for a time saver.
And it's perfect to make ahead of time, so do some prep the day before and make steak night even easier!
Find the recipe here: Easy Creamy Coleslaw Recipe
Arugula Salad With Caramelized Pears and Pecans
Healthy doesn't have to mean boring and tasteless.
For a green salad with a twist, look no further than this side dish.
The leafy green arugula gives it peppery base to layer on the sweet caramelized pears.
Top the salad with pecans and big chunks of gorgonzola cheese.
The flavor combination is out of this world, and the whole thing comes together in no time.
Find the recipe here: Arugula, Caramelized Pear and Pecan Salad
Zucchini Gratin
This side dish is a great alternative to the carb heavy potato version.
Not only is it healthy, it's also incredibly tasty!
The whole family will be zucchini fans after tasting this one.
Whip it together ahead of time and reheat before serving.
Pair it with the steak and a fresh garden salad and you have a filling meal.
Mix it up a little between the green and yellow zuccini to inject the classic side dish with a splash of color.
Try mascarpone or cream cheese in place of the heavier traditional cream.
Find the recipe here: Delicious Zucchini Gratin
A steak dinner doesn't always need to be meat and three veg.
Think outside the box and spice up dinner with a variety of delicious side dishes.
Whether it's a quick and easy week night meal, or to impress at your next barbecue – these recipes will please!
Smoke On!

Charlie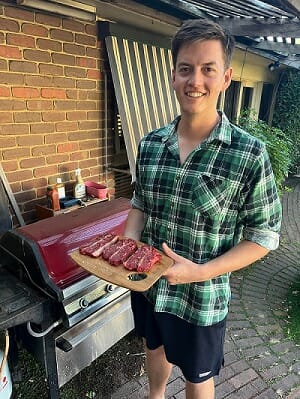 Author: Charlie Reeves
Hi, I'm Charlie, I am head taste tester at Simply Meat Smoking! I love it grilling, smoking, and getting out in the yard with the kids! The family also love to test all my recipes (especially my EXTRA CRISPY pulled pork, smoky pork loin, and ANY SEAFOOD I grill)
You will usually find me playing with the kids, perfecting my brisket bark, or sipping beers with boys around the fire. Can't wait to share all my delicious smoking and grilling adventures with you!

You can read more on our About Us page.
Hungry For More?