Beef tenderloin is a classic dish.
Whether it be for a weeknight dinner, special occasion, or dinner party.
Beef tenderloin is a guaranteed crowd-pleaser.
Unsure what to serve it with?
There are so many options when it comes to sides and sauces for this meat.
Not only will they compliment the main, but they'll also keep your guests full and happy.
Have a read below to discover the perfect side dish to go with beef tenderloin.
Roasted Potatoes
This classic side dish is perfect for a holiday feast!
It not only goes well with beef tenderloin, but it's also simple and easy to make.
For seasoning, use a basic herb mixture or the garlic butter parmesan one listed.
Grilled And Smoked Zucchini
Easy, cheap, and healthy.
This is a great way to cook zucchini while giving it a fantastic smoke flavor.
Fire up your Pit Boss and get cooking, this is one of the simplest side dishes you can make.
Air Fryer Green Beans
Looking for something fresh and easy to cook?
Green beans are super quick to make and one of our favorite side dishes.
Coat them with a bit of salt to finish them off!
Need A Beef Tenderloin Recipe?
Got a piece of beef tenderloin but not sure how to cook it?
Grilled beef tenderloin recipe
Both these beef tenderloin recipes will ensure you end up with a juicy and tender piece of meat.
Horseradish Cream Sauce
This creamy side dish has a mild flavor, but will beautifully compliment the beef.
You can also have it with potatoes, on sandwiches or as a dip.
Make sure to let your sauce rest before serving- the flavors will be much stronger!
Smoked Baked Beans
Sure, not everyone loves baked beans…
But with this recipe, you're about to gain some new fans.
This hearty dish is given new life with an irresistible smoky flavor.
Mashed Potatoes
If you want to get the kids involved, mashing potatoes will certainly do it.
Use this recipe or create your garlic-parsley butter recipe.
Feel free to add a dollop of sour cream on top to finish.
Grilled Brie With Gin Infused Caramelized Onions
This is the perfect appetizer for beef tenderloin.
Creamy, smoky, and bursting with rich flavor, it has that melt-in-your-mouth factor.
For a decadent dinner, this is the recipe for you.
Caramelized Onions
This recipe is the perfect accompaniment to beef tenderloin.
These caramelized onions are warm, buttery, and only use 4 ingredients!
Use up those old onions in your pantry and get cooking.
Oven Roasted Butternut Squash
This side dish is super versatile and fuss-free.
If your squash needs more flavor add fresh thyme or onion and garlic powder.
This same recipe can also be used with sweet potatoes.
Garden Salad
For a simple recipe, that's also healthy, whip up a garden salad.
This is a perfect dish for beef tenderloin or a weeknight dinner.
For a variation add a hard-boiled egg or top with goat cheese.
Herb-Roasted Root Vegetables
This herb-roasted root vegetable recipe is ideal for the Holiday season.
It's fresh, vibrant, and requires minimal effort.
This dish can be served alongside any roast for a delicious dinner.
Homemade Dinner Rolls
If you're feeling particularly creative (or in the mood for some baking), give this recipe a try.
These dinner rolls are light, fluffy, and much tastier than store-bought.
It is also a relatively quick bread recipe, that won't have you waiting around for hours.
French Onion Soup
If you're looking for an appetizer for your beef tenderloin, consider soup.
Not only is this recipe delicious, but it also creates generous portions.
Serve the soup with the meat or have it on its own!
Roasted Carrots With Thyme
This recipe is packed full of flavor and is an amazing side dish.
We love the flavor combination of orange juice, brown sugar butter, and ginger.
This recipe is a great alternative to classic roasted vegetables.
Yorkshire Pudding
This recipe will have you making perfect Yorkshire puddings in no time.
An amazing savory pastry dish, these puddings are fantastic with beef tenderloin.
Consistent temperature is key, so keep an eye on your oven temperature.
Broccoli Gratin
Not sure what to do with your broccoli?
With cheddar cheese and white sauce, this gratin will make broccoli your new favorite vegetable.
It also only takes 20 minutes to cook in the oven.
Garlic Butter Mushrooms
Add these creamy, buttery mushrooms to your weeknight dinners.
The earthy flavor of the mushrooms beautifully compliments any cut of meat.
Did we mention they only take 10 minutes to cook?
Crispy Sunchokes With Garlic Aioli
Who wants a boring old side dish when you could be serving sunchokes?
They have a fantastic nutty flavor with a subtle sweetness.
Prepare these sunchokes like potatoes and serve with garlic aioli.
Braised Swiss Chard With Bacon And Hot Sauce
For those looking for something, a bit different try this delightful dish.
We recommend cooking the bacon and stems ahead.
Add them to the rest of the salad at the end, and serve immediately.
Sautéed Pears With Bacon And Mustard Dressing
We love the combination of pears, bacon, and walnuts with this dish.
You can make this recipe several hours ahead, and add the chives at the end.
This is also a great dish alongside pork.
Herby Black Rice Salad With Radishes And Ricotta Salata
This dish is amazing for all seasons.
It is full of herbs, salty cheese, and fresh radishes.
Make the rice ahead and take the vignette in a small jar.
Sticky Onion Tart
Similar to French onion soup, this tart is just as delicious.
It has hints of garlic, and caramelized onions and looks very impressive.
Serve it with goat's cheese and your beef tenderloin.
Salt And Vinegar Rösti
Instead of making this dish in a skillet, try this oven variation.
It is fuss-free, hand's off, and super simple.
If you've got time on your hands, the rösti and the potatoes can both be made ahead.
Oven-Baked Fries
These irresistible oven fries will have your dinner guests coming back for more!
Perfectly golden brown and crispy, they can also be made in the air fryer.
We recommend using russet potatoes for best results.
Classic beef tenderloin is a favorite meal among many households.
And, when it comes to delicious side dishes there are plenty to choose from!
Many of these recipes require only a few ingredients and are beginner-friendly.
There are also plenty of ideas out there for those that want a challenge.
We're certain you'll find something amazing to serve with your next meal.
What do you like to serve with beef tenderloin?
Smoke On!

Charlie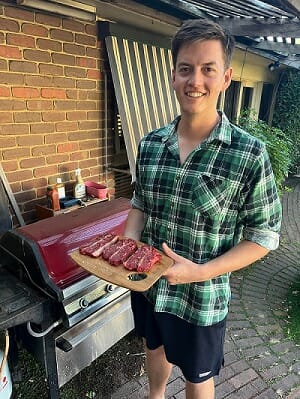 Author: Charlie Reeves
Hi, I'm Charlie, I am head taste tester at Simply Meat Smoking! I love it grilling, smoking, and getting out in the yard with the kids! The family also love to test all my recipes (especially my EXTRA CRISPY pulled pork, smoky pork loin, and ANY SEAFOOD I grill)
You will usually find me playing with the kids, perfecting my brisket bark, or sipping beers with boys around the fire. Can't wait to share all my delicious smoking and grilling adventures with you!

You can read more on our About Us page.
Hungry For More?