What memories do you have of Easter time?
An egg hunt followed by a giant feast with family and friends?
Did you have deliciously glazed ham as the centrepiece of table or your grandpa cooking up a juicy lamb roast?
You might be in charge of cooking these days but not to sure what to should be on the menu.
Below are my favorites types of meat to smoke for Easter along with the recipes.
Happy Easter!
Slow Smoked Lamb Shoulder
The natural flavor and fat content of lamb are perfect for absorbing smoky flavor.
Choose complementary flavors for boneless meat like oregano and plenty of garlic!
I like to layer cherry wood chips over on the glowing coals in the charcoal grill.
Smoked Pork Belly
The tender meat from smoked pork belly is one of our favorites for Easter!
I like to use applewood chips for pork belly. I find the sweet and light flavor infuses during the slow smoking.
Salmon Burnt Ends
What is a better combo than salmon and burnt ends?
Everyone loves the juicy salmon encrusted in caramel like outer! Just make sure you serve these with a fresh side like shredded cabbage
 Tip: I like to use a mild wood like pecan with salmon.
Smoked Ham
Smoking ham should be on any holiday recipe post!
Ham s a cult classic recipe worthy of your smoker this Easter.
I like to buy a precured ham and smoked it with oak or cherrywood. I find ham works best with those two types of wood.
Smoked Turkey Drumsticks
These turkey drumsticks are perfect for Easter!
They smoke quickly compared to larger cuts but stick pack a punch. In 2-3 hours the tender meat will be juicy with perfectly crispy skin.
You can have them as a delicious appetizer or as part of a bigger spread.
A few hot tips for cookng them include; rubbing them with cayenne pepper for a kick of heat and sugar for caramelization.  Spritzing them apple juice while smoking. This will help them keep moist and help form crispy skin.
Tip: The dark turkey leg meat works will with stronger wood like mesquite and oak
Smoked Tuna Steaks
Proper tuna steaks are meaty in texture and delicious without being 'fishy'.
This is another recipe that doesn't take long and can carry whatever flavors you are feeling. 
Why not try an Asian twist with soy sauce and spring onion this Easter? Or a brown sugar-citrus glaze to enhance the smoky flavor.
Tuna is perfect for replicating the meaty texture you would expect from red meat steaks.
It's also full of healthy omega-3 fatty acids which the smoke will bind to.
Making tuna steak meat a top contender to smoke this easter!
Smoked Beef Short Ribs 
Who doesn't love smoked short ribs?
With juicy tender meat falling off the bone….drooooool
All you need to do is give your ribs a good rub then place in your smoker and enjoy the delcious smell wafting into your kitchen!
I like to serve them with a sweet plum sauce or spicy honey.
Smoked Beef Brisket
Do you have multiple mouths to feed this Easter? Then brisket is perfect!
A packer brisket (which is the flat and the point) is a huge cut and will feed a big crowd.
Plus you'll hopefully have some leftovers (which is perfect as brisket is even better the next day)
Why Smoke Meat This Easter?
I hope you enjoyed my recommendations for the best meat to smoke this holiday.
Smoking meat for a holiday meal is great because:
– It easy to load up the smoker and go, giving you more time to spend Easter with family & friends.
– A delicious way to infuse flavor and tenderize meat.
– A variety of different methods leave options open for desired recipes.
Smoke On!

Charlie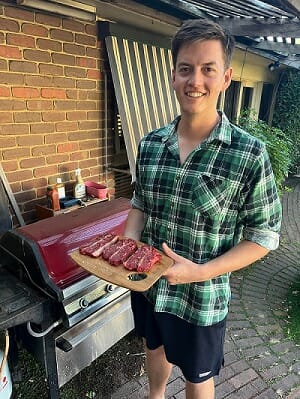 Author: Charlie Reeves
Hi, I'm Charlie, I am head taste tester at Simply Meat Smoking! I love it grilling, smoking, and getting out in the yard with the kids! The family also love to test all my recipes (especially my EXTRA CRISPY pulled pork, smoky pork loin, and ANY SEAFOOD I grill)
You will usually find me playing with the kids, perfecting my brisket bark, or sipping beers with boys around the fire. Can't wait to share all my delicious smoking and grilling adventures with you!

You can read more on our About Us page.
Hungry For More?