In Texas and California, grilled tri-tips are extremely popular.
However, they're not as widely enjoyed everywhere else.
In fact, they're a little underrated.
While this sort of steak isn't as popular as rib eye or strip steak, it's still a delicious cut that's tender and flavorful.
However, It's crucial to marinate your beef tri-tip correctly.
Not only does how you season it affect how it tastes, but it also aids in tenderizing it
So follow my steps below and you'll turn out pitmaster-worthy tri-tip!
What Is Tri Tip?
This is a triangular piece of meat that comes from the bottom of a beef sirloin cut.
The cut of beef has a tapered end that resembles a triangle, which is why it's known as the 'tri-tip.'
While there are no fat caps on this cut, it still has a lot of marbling running through it.
This is what makes it lean, yet substantially tender.
Of course, like most other beef cuts, a tri-tip cut of meat can get rather tough if it has not been cooked properly.
In terms of flavoring, we've discovered that this cut pairs well with garlic and red wine. As these kinds of strong flavors really help to give the beef more depth.
While tri-tip is delicious as a steak on its own, many people prefer to cut it up and use it in tacos or sandwiches.
And it works so well!
Some people like to grill their tri tip. However, I think smoking tri tip gives the best results.
Learn How to Marinate Tri-Tip Steak
In this article, we'll be teaching you two different ways to marinate your tri-tip steak.
The first recipe is for a scrumptious Santa Maria marinade that's actually quite simple to make.
And we also have a great sesame and ginger marinade that incorporates a bit more of an Asian twist to this cut of meat.
How Long to Marinate a Tri Tip
You should marinate your tri-tip for at least 6 hours and overnight if possible.
However, you don't want to marinate for more than 14 hours as the connective tissue can start to break down and the meat can end up a little soft.
I usually try to cook the meat for 8 hours or more but not for more than 12 hours.
Try This Santa Maria Marinade Recipe
For this particular Santa Maria recipe, you will need ..
Half a teaspoon of dried sage
A tablespoon of kosher salt
A tablespoon of ground black pepper
A tablespoon of onion powder
A tablespoon of garlic powder
A teaspoon of dried rosemary — you can also always use fresh rosemary and simply finely chop them with a knife
A teaspoon of cayenne pepper — but you can substitute this with chili powder or Chipotle chili powder if you don't have cayenne pepper on hand
A tablespoon of dried oregano
How to Make aTri Tip Marinade — A Step by Step Guide
Step 1
Pour all of the ingredients into a mixing bowl and mix it all until it's fully combined.
Step 2
Make sure that your cut of beef is prepped and pat the meat dry.
Then place the tri tip into a metal baking pan or roasting pan.
Step 3
Sprinkle the dry rub or marinade over the steak and then proceed to rub it into the meat.
You want to make sure that it's covering all sides of the cuts of meat.
Step 4
Next, you will want to cover your pan with a sheet of aluminum foil or a piece of plastic wrap.
Leave it to sit for around an hour. This will allow the flavorful marinade to really penetrate the cut of beef.
You do not need to place it into the fridge. Just leaving it at room temperature is completely fine.
Step 5
After that, you can just grill or roast the tri tip roast as you normally would, and that's it!
Try This Ginger and Sesame Marinade Recipe
This marinade recipe is for a 3 lbs tri-tip roast and you will be needing:
¼ cup brown sugar
2 tbsp honey
2 tbsp black pepper
2 tbsp kosher salt
2 tbsp minced garlic
1 tbsp dried minced onion
½ cup lemon juice
2 tbsp soy sauce
½ cup vegetable oil
(You can also add in a little tiny squeeze of lemon juice for that extra kick)
How to Make and Use This Marinade — A Step by Step Guide
Step 1
Make sure that you have a re-sealable freezer bag that can hold up to a gallon-worth of contents.
If you don't have that, then you can use a huge airtight container.
Place your piece of meat in your bag or container. Then pour all of your wet and dry ingredients in.
Step 2
If you've opted for a container, make sure that the liquid marinade covers the entire cut of meat.
Be sure to mix everything gently so that the tri tip is evenly coated.
If you've decided to use the bag, then massage the bag and make sure that the marinade's been mixed properly.
Be sure to squeeze out as much air as possible before you seal up the bag.
Step 3
In terms of the marinade time, leave the bag or container in the fridge for a minimum of three hours.
However, we personally like to leave it in there overnight.
Step 4
Once you've taken the meat out, you can roast, smoke or grill the marinated tri tip as you normally would.
Got Leftover Tri Tip?
Leftovers are the best part of cooking!
Here are some of the best ways to use your leftover tri-tip. My favorite is the sandwiches!
We hope you learned a little bit more about trip tip steak, as well as how to marinate it in a variety of ways.
While these aren't the only marinade recipes available, we like them because they were even approved by our extremely picky friend.
Definitely be sure to give them a shot and let us know how you like them!
Smoke On!

Charlie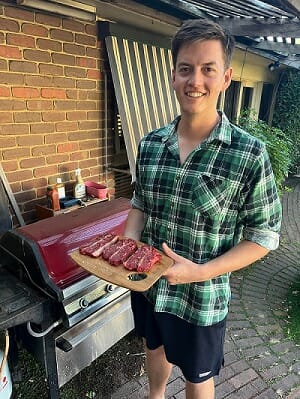 Author: Charlie Reeves
Hi, I'm Charlie, I am head taste tester at Simply Meat Smoking! I love it grilling, smoking, and getting out in the yard with the kids! The family also love to test all my recipes (especially my EXTRA CRISPY pulled pork, smoky pork loin, and ANY SEAFOOD I grill)
You will usually find me playing with the kids, perfecting my brisket bark, or sipping beers with boys around the fire. Can't wait to share all my delicious smoking and grilling adventures with you!

You can read more on our About Us page.
Hungry For More?