I get it. You bought a Big Green Egg… and it is the best investment you have ever made. You have even developed a better relationship with it, than your firstborn child.
And like any favorite child you want to spoil it! Spoil it rotten with every accessory under the sun.
You can get cheap knock-off parts but deep down you know there is nothing like authentic BGE products.
Just like buying gifts for your real child, buying gifts for your BGE is hard.

There are so many to choose from. Never fear! In this post, I will share with you my favorite!
DigiQ DX3 BBQ Temperature Controller
This style of cooker can suffer from temperature fluctuations. It can be a learning curve to start with! A temperature controller will help you keep a nice even internal Egg temperature, speeding up your process to becoming a grill master.
The DigiQ Dx3 BBQ temperature control unit by BBQ Guru is the our favorite temperature controller for the Big Green Egg.
It is also a great unit for the Kamado Joe and other Kamado Joe style cookers.
BGE Cook Book
The Big Green Egg cookbook is going to be your best friend along your journey (or perfect for the egghead in your life).
It will help you through the slight learning curve of using your Big Green Egg. Not only that it is one of the ultimate Big Green Egg accessories. The Egg cookbook includes everything from smoked meat to fish, pizza and bread!
Flexible Cooking System
The flexible cooking system by Kamado Joe is one of the great accessories which also fits the Big Green Egg. It allows you to cook at two different heights. This allows you to cook different types of food and flavors at one time.
Great for those who have family or friends with different dietary requirements.
BGE Mini Slider Basket
No egghead get-together is complete without a slider platter.
Sliders can be time consuming and a little bit fiddly to make. Never fear the Big Green Egg mini slider basket is here!
This genius gadget makes creating sliders fun and easy. The handle is also detachable so it doesn't get hot while cooking.
BGE All Natural Charcoal Fire Starters
Starting your Big Green Egg is a simple task. But like making things even easier for ourselves.
These all natural fire starters have no nasty surprises. They are 100% safe and odorless. They allow your favorite wood chips to naturally flavor your cook.
Easily start your charcoal Big Green Egg without tainting the flavor of your delicious cook. One of the essentials to keep in your fire supplies kit.
BGE Extra Long High Heat BBQ Gloves
How many time have you gone straight in and tried to grab you meat or cooking tray from your Big Green Egg?
If you have you would have found out the hard way that the Big Green Egg gets hot. Protect yourself with these extra long heat resistant bbq gloves or welding gloves. Perfect for refilling wood chips and emptying ash baskets in your egg.
No more surprise burns when checking on your BGE brisket. There is one of the most important Big Green Egg Accessories.
If you have a spare pair of welding gloves at home they also work very well!
BGE Natural Lump Charcoal
The Big Green Egg lump charcoal is some of the best out there.
The BGE lump charcoal is made from 100% natural ingredients. All American oak, hickory and other 'ultra premium' hardwood make up this charcoal.
It only takes around 10 minutes for the lump charcoal to come up to temperature and has a long clean burn.
BGE Table Nest
>
If you are cooking with your Egg on a block of wood, granite, or glass table, you really should have a stand.
The stand creates a gap between the egg and your surface to help protect and generate more airflow.
BGE Cast Iron Cooking Grate
The BGE cast iron cooking grates are a great addition for those who love grilling and searing meat over charcoal. The grates are designed for the Big Green Egg, however also fit a Kamado Joe!
Learn: How to clean cast iron grill grates. Regularly cleaning your grill grates ensures they will last a lifetime.
BGE Drip Pan
If you are cooking anything with a high fat, moisture or marinade content you need a drippan. This model is made from cast iron.
A drippan will stop flareups, catch all the delicious drippings to make gravy, and keep your Egg in tiptop shape.
BGE Wood Shelving
>
The Big Green Egg shelves are a must-have Big Green Egg accessory. Not only do the wooden shelves give you the extra room you need for your BBQtool kit (aka beer) and food they give your BGE a custom table feel.
Personally, I could not go without this accessory, and as an egghead neither should you. They are sturdy, convenient and turn your Big Green Egg into an outdoor custom table.
BGE Vertical Turkey Roaster
Do you want to know the secret to cooking tender, juicy turkey in your Big Green Egg? Well, I will tell you, it's as simple as a turkey stand.
You will impress everyone around the Thanksgiving table with this one.
---
Big Green Egg Covers & Care Accessories
Unfortunately, Big Green Egg Accessories are not all fun and games. Some have the specific purpose of keeping your Big Green Egg looking and running to the best of its ability.
Big Green Egg Covers
Another one of the must-have Big Green accessories is a cover. It is essential to keeping your Big Green Eggs cooking surfaces and exterior in good shape.
For the smaller models such as the Mini, MiniMax and Small a cover is really great for keeping your unit safe. Particularly while tucked away in storage, in the shed, in transit or if you leave it outside when not in use.
A cover is a great way to prolong the life of your Big Green Egg (or any other smoker, BBQ or grill for that matter).
Don't be silly get yourself a cover. Below are a few different covers to suit different sizes of Big Green Eggs. There are also a couple of covers that are just for Eggs without stands.
If your model is not below, click through below to find the size of your Egg
Big Green Egg Cleaning Equipment
Cleaning your Big Green Egg is one of the most important parts of cooking.

You want to make sure you thoroughly clean your equipment after use. This prolongs the life of your equipment helps avoid nasty grime buildups and helps protect from mold and bacteria. If your Big Green Egg has mold, don't worry, we have had the same problem and figured out how to remove it.
BGE Ash Tool
An ash tool is essential to having a clean and tidy Egg.
Unlike other tools out there that try to copy the authentic BGE ash tool, the BGE ash tool is the only tool that truly fits between the nest and sidewalls of your Egg. It is also the perfect shape to remove ash from your Big Green Egg into ash baskets.
The ash tool is made from stainless and has a hook for convenient hanging.
Big Green Egg Ash Pan
The Big Green Egg Ash Pan is created specifically for the BGE and has a curved lip to seamlessly fit into the door.
You can scrape all the leftover ash without spilling any on the floor. It is crafted with steel and easily stores away under the BGE lower vent door.
Big Green Egg Stainless Steel Mesh Grill Scrubber
Scrubbing your grill plates is essential. Having a decent brush to get the job done is also essential. Step in the Big Green Egg Stainless Mesh Grill Scrubber.
It has an extremely sturdy construction which lets you really put in some elbow grease to get your BGE clean. It also has a hole to hang for convenience and you can also replace the mesh pads easily.
BGE Grid Cleaner
The spiral grid cleaner has two brushes to simply and effectively clean the Big Green Egg steel or porcelain-coated grids. This tool is also great for cleaning other types of griddles such as the Kamado Joe or similar barbecue units.
The Big Green Egg Thermometers
The key to a good BBQ is getting your meat off at the perfect temperature. The best way to keep on top of your temperature control is not with guess work or old chefs tales of checking.. you need a thermometer. A good one too.
BGE Dual Probe Wireless ET-734
In my eyes a wireless unit is the way to go. This is another can't live without Big Green Egg accessories.
You get a constant reading on how your meat is going, you can set different alarms for your perfect doneness and even walk off to watch the game and get on top of your BBQ.
BGE Instant Read Digital Thermometer
If you are a little more old school and don't like all these wireless and bluetooth units, you can't go past the BGE instant read thermometer.
Get an accurate temperature reading almost instantly with this good old trusty thermometer.
BGE Infrared Cooking Surface Thermometer
You can't sear a steak on a cold grill. Whats the best way to check? With an infrared heat gun.
This heat gun takes readings from 32ºF to 800ºF so you can always be sure you ave the right temperature for everything you are cooking.
Big Green Egg Accessories – Cooking Utensils
Cooking utensils are products that I love. My wife says that I have an unhealthy obsession with having every cooking utensil under the sun.. I think she might be right about having every cooking utensil under the sun but I couldn't disagree anymore about it being an unhealthy obsession.
Here are the utensils that I really think every Big Green Egg owner should have.
Big Green Egg Grid Lifter
The Grill Gripper is one of those products everyone should have. It allows you to safely pick up a hot baking stone, cast iron pans, an ash basket and other hot cooking surfaces.
Big Green Egg Aluminum Pizza Peel
If you are anything like me you want to smoke pizza in your BGE.
However, without the BGE pizza peel you are going to have a tricky time getting your pizza in and out without dropping it in all the wrong spots. It is also very useful for handling baking stones and pizza stone.
The handle is soft and grippy and even includes a loop for convenient hanging. To make the most out of your pizza peel and to create the best pizzas, ensure you have a pizza stone!
Big Green Egg Knife Set
Nothing is quite as satisfying than prepping your meal with matching knives.
The 3.5 in / 9 cm paring knife and 8 in / 20 cm chef knife are constructed from high carbon stainless and have comfortable ergonomic grips.
Set includes knife protectors to keep blades sharp when not in use. Hand wash and dry is recommended also.
BGE Pizza Stone
The Big Green Egg is capable of reaching high temperatures. Perfect for cooking pizza. The BGE pizza stone takes cooking pizza to the next level. Easily achieve pizza oven quality pizza! This pizza stone is the perfect fit for the large Big Green Egg. The pizza stone is produced by Island Outdoor.
BGE Italian Calzone Press
Its a matter of evolution. If you are like me you love cooking pizza in your charcoal Big Green Egg.. however, over time you can get a little bit sick of pizza and need a change.
Step in one of my favorite accessories for Big Green Egg, the Calzone press. This little gem will turn your pizza into a real work of art I promise!
BGE Skewers
Everyone loves making skewers, it is the perfect way to use up leftovers, and make something interesting with what you have.
The best part about the two-pack of BGE skewers is that they are flexible so you can marinade the whole skewer!
The stainless steel BGE skewers also have hooks for convenient hanging.
BGE Meat Claws
You have just spent house smoking your pork butt and you go in with two forks to pull it… but it doesn't really work and it's taking a long time.
Step in the BGE meat claws. These bad boys will shred anything you cook in a matter of minutes and give you restaurant-quality results.
BGE Professional Tool Set
Everyone needs the right tools for the job. The BGE professional BBQ tools set gives you just that.
These essentials are crafted using stainless steel and wood to give you a finish like no other.
Once you have these tools, you will be on the way to cooking success.
BGE Corn Holders
We all love corn, but it's so hard to restrain yourself and wait until it had time to cool down to hold it.
The BGE corn holders eliminate this issue altogether!
These products are made from heavy resin and have a super sharp end to get right in the end of the corn.
BGE Bottle Opener Magnet
What better way to show your love of the Big Green Egg than to open your beers with it too! This little gem even has a magnet so you can always keep it close and ready to go!
BGE Basting Brush
What's the perfect way to keep your meat juicy and well basted while in your Big Green Egg? With the Big Green Egg basting brush of course!
This basting brush has a solid wood handle and hanging hook so you can hang it with your other BGE accessories!
BGE Pizza Wheel
Show your Big Green Pizza you love it by cutting it the right way with the Big Green Egg Pizza Cutter. The ergonomic handle makes cutting pizza a breeze.
To make the most out of your pizza wheel and to create the best pizzas, ensure you have a pizza stone!
I hope these help you on your Big Green Egg learning curve!
If you are in need of more Big Green Egg products, head on over to The ceramic grill store! They have a huge selection of accessories and cooking units!
Do you have any Big Green Egg Accessories I missed that you absolutely love??
Smoke On!

Charlie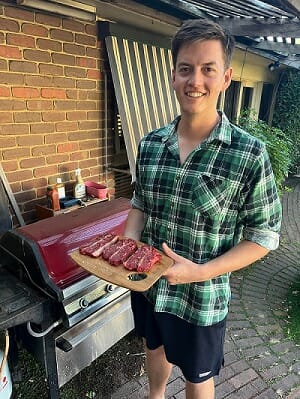 Author: Charlie Reeves
Hi, I'm Charlie, I am head taste tester at Simply Meat Smoking! I love it grilling, smoking, and getting out in the yard with the kids! The family also love to test all my recipes (especially my EXTRA CRISPY pulled pork, smoky pork loin, and ANY SEAFOOD I grill)
You will usually find me playing with the kids, perfecting my brisket bark, or sipping beers with boys around the fire. Can't wait to share all my delicious smoking and grilling adventures with you!

You can read more on our About Us page.
Hungry For More?
What to Do Next?
Have a read of some of our guides below. They will help you become a better pitmaster!
Read: Essential Side for BBQ Ribs
Read: How to Smoke a Turkey in an Electric Smoker