Is your Pit Boss showing an error code?
Don't worry this is normal!
Below we have layed out all the common error codes.
Then we will show you how to fix the problem and/or prevent it from happening again!
What Are Pit Boss Error Codes?
If you currently own a Pit Boss you would know that they're reliable and easy to use.
However error codes may appear on the grill's control board display from time to time.
All of these codes have a solution to them, so do not fret.
We'll go over some of the most common error messages that may appear on your Pit Boss pellet smoker in this article.
And we'll show you how to fix them too.
How Are the Possible Solutions? Can These Error Messages Be Fixed?
There are about nine common codes that will usually pop up.
Each of these codes will indicate which part or section of your pellet grill needs checking, cleaning or fixing.
For example, you might need to replace some parts, clear away build-up dirt, or even cool down your entire Pit Boss smoker.
Pit Boss Pellet Grill Error Codes Relating to the Temperature Probe
The Er1 error code, Err error code, and ErL error code are all indicators that points to an issue with the temperature probe.
It shows that the electric pellet grill's temperature sensor is malfunctioning.
With this being said, there are multiple solutions to this issue.
Sure, we know that the temperature probe isn't registering accurate temperature measurements.
But this could be caused by a variety of factors.
For example, the probe may need cleaning.
Or there could be a bad wire connection. And in some cases, the probe itself might need to be replaced.
It's always best to clean the dirty temperature probe first, then make sure that there are no insecure connections.
Then if the issue still persists, you may want to reach out to the Pit Boss customer care team before replacing the temperature sensor.
Error Code Er2 — There's an Issue With the Ignition
While this code is a lot more serious compared the error codes mentioned above, there is only a single solution for this problem.
You will need to replace the ignition in order for your pellet grill to be operable.
The Er2 code will appear only when your pellet smoker fails to reach the temperature range of 160 ℉ and above within the first half an hour of start up.
Unfortunately, your BBQ appliance won't even function at all until you've fixed in a working ignition.
Error Code ErH — It's Too Hot!
There are three triggers that will spur on this code — an issue with the grill temperature probe, the presence of excess fuel, or a grease fire.
In order to clear this ErH code, you should start by immediately shutting off your unit.
After that, you'll want to pull out all of the grill's wires from the wall sockets.
Next, you should throw out any of the excess pellets from the pellet hopper.
After that, you'll want to clean the inside of the grill with a homemade mixture of salt and baking soda.
And lastly, you should check that the wire connections for the temperature sensor.
It needs to be connected properly and safely secured.
Error Code ErP — Did You Shut Your Pit Boss Smoker Down Correctly?
You should not panic at all if you're grill flashes an ErP code. This issue can easily be fixed.
After this code just indicates that your Pit Boss wasn't shut off properly.
For example, there might have been a power outage.
Or, you might have switched off the power switch on the wall socket before making sure the grill was properly turned off.
You can easily remedy this problem by turning off the pellet smoker — simply press the smoker's power button.
After that you'll want to wait for a solid two minutes before turning the appliance back on.
Nop Smoker Error Code — What Does It Mean?
This code is related to the smoker's meat probe. These probes will allow you to monitor the internal temperature of your meats while you're cooking.
The simple solution to this problem is to check that the wires for these probes are connected properly.
If they are, but the error code still appears then you might need to replace the probes entirely.
Pit Boss Grill 4P1 Error Code
When this code pops up, it means that the grill's control board is no longer syncing up with the program correctly.
This will most likely happen if the control board's been damaged in any way.
The good thing is that you'll still be able to grill with your Pit Boss pellet grill, but the control panel's display will most likely be inoperable.
The solution involves replacing the control board or having it professionally looked at.
And that's it!
You should now be fully knowledgeable of all of the smoker error codes on your Pit Boss, as well as know what they all mean.
While the little error messages might look intimidating at first, they're actually really helpful.
After all, they help point out which part of your cooking appliance needs cleaning, fixing or replacing.
We hope that you found this article helpful!
Happy grilling and good luck!
Smoke On!

Charlie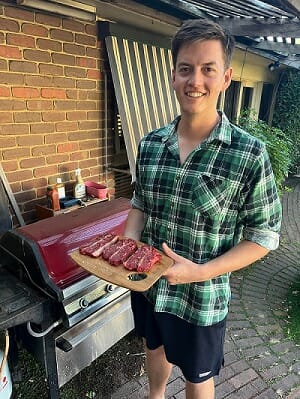 Author: Charlie Reeves
Hi, I'm Charlie, I am head taste tester at Simply Meat Smoking! I love it grilling, smoking, and getting out in the yard with the kids! The family also love to test all my recipes (especially my EXTRA CRISPY pulled pork, smoky pork loin, and ANY SEAFOOD I grill)
You will usually find me playing with the kids, perfecting my brisket bark, or sipping beers with boys around the fire. Can't wait to share all my delicious smoking and grilling adventures with you!

You can read more on our About Us page.
Hungry For More?