Carne asada is perfect for a cookout or week night meal.
Packed full of incredible flavor, it is a guaranteed crowd pleaser.
Not sure what to serve it with?
No problem.
We've put together some amazing recipes so that you don't have to!
Have a read of the guide below to find out what to serve with carne asada.
Creamy Parmesan Brussels Sprouts Gratin
This dish is not only fantastic with carne asada, but it's also a great holiday meal.
Hearty, savory and cheesy, brussels sprouts will be your new favorite food.
This recipe can be easily made with frozen vegetables as well.
Smoked Salsa
This smoked salsa is perfect to top your carne asada tacos with!
This recipe is perfect if you are looking to use up vegetables that are about to go off.
Refried Beans
This tasty vegetarian dish is made using canned pinto beans.
If you find that they are lacking flavor, add some cream cheese at the end.
Serve this dish alongside your carne asada or with warm tortilla chips.
Smoked Tomatoes
If you're looking for a little something extra for your dish, this is the perfect recipe.
By smoking these tomatoes you will be rewarded with a huge amount of flavor.
Smoking tomatoes is also a fantastic way of preserving them for later!
Asada Tacos
If you want to stay on theme, try these delicious tacos.
They are jam-packed full of authentic street taco flavor and will no doubt be a winner.
Serve them with homemade corn tortillas and feel free to experiment with the toppings.
Smoked Carrots With Brown Butter
If you're looking to do something different with carrots, we have the dish for you.
These carrots are sweet, savory and all-round delicious.
This is a great dish for balancing out the heaviness of carne asada.
Avocado Corn Salad
This bright and cheerful salad is full of healthy stuff (and tastes just as good!).
For an extra 'zing' add some fresh lime wedges on top or to the dressing.
This salad is wonderful if you're serving carne asada in Summer and want something fresh.
Smoked Mushrooms
These mushrooms are ideal for serving alongside your carne asada.
Most of the flavor in this dish comes from the wood chips used.
We recommend hickory for the best flavor possible!
Chipotle Peppers
These smoky chipotle peppers can be easily added to your carne asada.
Not only will they give your dish a unique twist, but they're also easy to make at home.
For this recipe smoke the peppers or use a dehydrator for best results.
Smoked Asparagus
If you are looking to add more greens to your dinner, then try this recipe.
Smoked asparagus is anything but boring.
Crispy and yummy, this is fantastic when served with carne asada.
Chili Lime Rice
This chili lime rice recipe is one of the best carne asada side dishes ever.
It can be done in one pot and is an amazing dish with Mexican food.
We love the balance of flavors and how easy it is to cook.
Smoked Cheesy Potatoes
These potatoes are a fantastic appetizer or side dish for carne asada.
They are also kid-friendly and an all-around crowd pleaser.
Stick to the recipe or add your own topping depending on personal preference.
Smoked Corn on the Cob
If you're in the mood for some Mexican street corn, then head this way.
This smoky corn goes with pretty much anything and is incredibly delicious!
This recipe is not only super tasty but it's also packed full of vitamins and fibre.
Fresh Guacamole
Why bother buying guacamole when you can make it better yourself?
This simple guacamole recipe is authentic and well worth the effort.
Serve the fresh guacamole sauce with tortilla chips or use it as a topping.
Smoked Baked Beans
This hearty dish is perfect for keeping tummies happy and full.
It can easily be served alongside any Mexican dish, or own its own.
Cheap, tasty and simple- what more could you want?
Brown Rice
If all else fails, whip up a batch of homemade brown rice.
It works with pretty much any dish and is healthier than white rice.
Make your rice ahead of time and heat it up in the microwave when you're ready to serve.
Smoked Whole Cabbage
This recipe is a super sneaky way to fit some extra veggies into your meal.
Cabbage is a perfect vegetable for smoking and the result are divine!
For extra flavor, add some bacon and seasonings to the centre of your cabbage before smoking.
Veggie Quesadillas
For a classic combination of Mexican food, whip up some quesadillas.
They work well as a side dish or an easy weeknight dinner meal.
For a meaty option, try beef quesadillas instead.
Smoked Queso Dip
This white cheese dip is meaty, spicy and of course, smoky.
It's super simple to make, is kid-friendly and goes perfectly with carne asada.
If you don't have a smoker, this cheesy dip can be made using a gas grill.
Three Bean Salad
With a couple of basic ingredients, you've got yourself an easy side dish.
This authentic recipe is a great dinner side dish full of amazing flavor.
Season it with lime juice or your choice of dressing.
Carne asada is a staple of Latin America.
A delicious, textured cut of meat that will please even the fussiest of eaters.
There are plenty of fantastic dishes that you can serve alongside carne asada.
From dips to salads to tacos and everything in between!
We love how versatile this piece of meat is and all the amazing flavors that it can be combined with.
What do you like to serve with Carne Asada?
Smoke On!

Charlie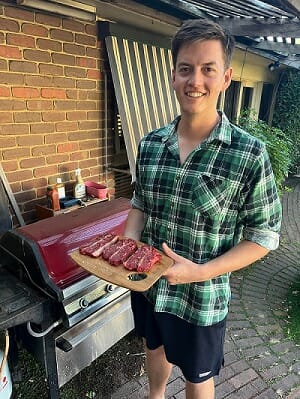 Author: Charlie Reeves
Hi, I'm Charlie, I am head taste tester at Simply Meat Smoking! I love it grilling, smoking, and getting out in the yard with the kids! The family also love to test all my recipes (especially my EXTRA CRISPY pulled pork, smoky pork loin, and ANY SEAFOOD I grill)
You will usually find me playing with the kids, perfecting my brisket bark, or sipping beers with boys around the fire. Can't wait to share all my delicious smoking and grilling adventures with you!

You can read more on our About Us page.
Hungry For More?