If you're tired of pan-frying, steaming, or grilling your Tilapia, you should give it a try on a smoker.
This a declious smoked tilapia recipe, perfect for adults and kids. Plus this type of fish doesn't have a strong flavor, so it's great for absorbing the smoke.
It will also do a great job of taking on the flavor of any marinade you decide to use.
But what if you want to try smoked fish but don't have a smoker? Don't worry I have you covered!
But What If You Don't Have a Smoker?
You don't need to use a fancy smoker to smoke fish or meat. You can even use a gas grill, cedar planks, charcoal grill, or make your own DIY smoker. Below I'll show you how to use a gas grill or charcoal grill to smoke.
Smoking on a Gas Grill
If you're using a gas grill, you need to first set it up from indirect cooking.

Then fill your smokebox or homemade smoke pouches with woodchips.
Then place that on the heat source, once it starts smoking your go-to go! Just place your fish on the opposite side of the grills. (You don't need special smoker racks!).

See our tips on turning a gas grill into a smoker.
Smoking on a Charcoal Grill
If you're using a charcoal grill you also need to set it up for indirect cooking. (If you have a round grill you can use the charcoal snake method). Get your coals hot and move them to one side of the grill.
Then place your smoking box or pouch over them. Once smoking, place your fish on the opposite side.
Cooking a piece of tilapia this way is different from when you grill tilapia. This is because you're using an indirect heat source when you use a smoker.
Is Tilapia Good For Smoking?
Tilapia is a white, flaky fish that has a mild flavor. That means it is perfect for absorbing all the delicious smoke.
While it's tilapia is not considered a fatty fish, it does contain more omega-3 fats than chicken, pork, beef, or turkey. This can also help keep the fish moist during the smoke. You can also try smoking others like salmon, carp, and trout.
3 Tips to Smoking Tilapia Fillets Perfectly
Some of our tips for smoking tilapia fillets include;
Marinating:
The basic marinade I use is lemon juice, honey, kosher salt, and black pepper.

Marinades are made for experimenting! Throw together some of your favorites flavors. Just remember to try and get a balance of sweet, salty and acidity.

We suggest that you try out this teriyaki marinade (its for salmon but works well for tilapia too), a cayenne pepper spice rub, or even replace the lemon juice with ponzu juice.


Using Frozen Fish:
I understand that not everyone has access to fresh fish. So don't worry, you can also smoke frozen tilapia. As long as it's still properly thawed, it's good to go.


Pick a Complimentary Wood.
Smoked tilapia tastes the best when it is smoked using your favorite type of wood chips (our's is Alder wood!).
Tips for Smoking a Whole Tilapia
When you're smoking a tilapia, the tastiest way is to smoke it as a whole.
Plus its easier to smoke a whole tilapia than it is to smoke tilapia fillets
Since this type of fish has such a flaky texture, it can easily fall apart on your grill.
If you're smoking it as fillets, it is best to place the fillets on aluminum foil or use grill mats. If you're smoking it as a whole, you can just plop it straight onto your grill or in your smoker.


Some of our tips for smoking tilapia whole include;

1. If you're in a rush you can wrap it. If you wrap it in alfoil the fish would cook faster however you may not get the same level of smoke penetration.


Note: Ensure you monitor the internal temperature of the tilapia with a thermometer.
Picking The Right Wood
Alder wood is my favorite wood chip to use for smoking tilapia. This is because it will not overpower the flavor of your fish.

Tilapia is a mild fish, so you don't want to use wood with a bold flavor.

Apart from alder wood, yowe also like using cherrywood and applewood
How to Prepare Your Tilapia
If have a whole tilapia but prefer fillets, you may need to gut, debone, and filet before smoking it.
For the full guide on how to properly fillet a fish, please watch this video.
After you've filleted the fish. Either place it in brine or marinade.
Times and Temperatures for Smoked Tilapia
Let the fish smoke for about 1- 3 hours at 170°F to 205°F.
It really depends on whether you smoking a whole tilapia or fillets. You must smoke the tilapia until it has reached an internal temperature of 160°F
Much like any other fish, it's important to keep an eye on the temperature when you're cooking tilapia. You don't want to overcook it, and you don't want to undercook it.
Since tilapia is already known to be flaky, overcooking it, could ruin its texture.
What is the Best Temperature to Smoke Tilapia?
The best temperature for smoking tilapia is at approximately 170℉ to 205℉.
You can preheat your smoker or grill to that temperature while you marinate the fish.
Target Internal Temperature for Smoked Tilapia
Tilapia is cooked once the internal temperature is 160°F.
After placing the fish in your smoker or pellet grill, you'll need to keep an eye on the internal temperature. It's best to stick a meat thermometer into it now and then.
Check to see if the internal temperature has risen to 160℉. Once it has, removes it from the heat and let it rest for up to 15 mins. 
Smoked Tilapia Recipe
There are many different ways to cook and prepare smoked tilapia. One of our favorites includes Citrus Smoked Tilapia.
Citrus Smoked Tilapia
How to smoke tilapia white fish fillet with a your chocie of a marinade
Ingredients
1

kg

Tilapia

.5

cup

orange juice

2

tsp

honey

2

tsp

lime juice
Instructions
Mix the ingredients for the marinade

Add the fish to a bowl with the marinade, make sure the fillets are covered. Place in the fridge for at least 3 hours.

Set your smoker to 260, and add the wood chips of your choice. If your using a grill to smoke, see the notes below

Remove the fish fillets from the marinade, then place then on a foil covered tray, then place the tray in the smoker. Smoke the fish until they reach an internal temperature of 165F, about 2 hours.
We love seafood at our house! When we have time to smoke it!

Let me know if you have good marinades for tilapia, I am always looking for new ones.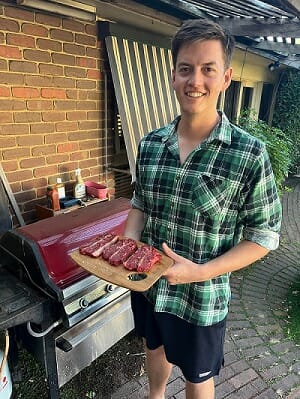 Author: Charlie Reeves
Hi, I'm Charlie, I am head taste tester at Simply Meat Smoking! I love it grilling, smoking, and getting out in the yard with the kids! The family also love to test all my recipes (especially my EXTRA CRISPY pulled pork, smoky pork loin, and ANY SEAFOOD I grill)
You will usually find me playing with the kids, perfecting my brisket bark, or sipping beers with boys around the fire. Can't wait to share all my delicious smoking and grilling adventures with you!

You can read more on our About Us page.
Hungry For More?