Your pellet grill isn't just great for smoking brisket!
In this article, I'll show you how to easily smoke a whole frozen pizza on your pellet grill.
Trust me, it's so simple to do.
We especially like to use this method for preparing frozen pizzas when we have friends over.
After all, everyone's already outside, and the Pit Boss is all fired up and is ready to go.
So, why turn on the oven in the kitchen when you can just toss the frozen pizza into the smoker?
Is It Even Possible to Cook Frozen Pizza in a Pellet Smoker?
Yes! Of course, it's possible!
In fact, you can cook anything that you would normally make in an oven on your pellet grill.
Unlike a gas grill or a charcoal grill, you can fully control the cooking temperature of pellet smokers.
Not sure what else you van cook on your smoker? See my favorite pellet smoker recipes that you can try at home.
So, How Do You Do It?
Preparing a frozen pizza using a pellet grill is not that much different from cooking it in an oven or on a stove.
So, if you've ever done that (which we're sure you have) then you won't have any trouble learning how to cook a pizza with your Pit Boss.
What You Need for Smoked Frozen Pizzas
Homemade Pizza / Store-bought Pizza (Frozen)
Pizza stone (optional)
A Pizza Pan
Your Pit Boss Pellet Grill
That's all you need!
What Is the Best Pizza to Use?
There is definitely no definitive answer to this question.
However, we definitely can give you a couple of suggestions:
Dr. Oetker Ristorante Pizza (We especially love the Pepperoni Pizza!)
ALDI Mama Cozzi's Pizza Kitchen
Empire Food Co
DiGiorno Pizza
Thankfully, there are so many different options available when it comes to selecting frozen pizzas.
For example, there a lot of vegan or dairy-free options available to suit everybody's dietary restrictions or taste.
And, honestly, it doesn't really matter which brand or type of frozen pizza you use.
So, just pick your favorite one!
Also, you could always just make your own pizza at home too!
Get creative and throw together your favorite pizza ingredients together.
Cooking's all about trying out new taste combinations and flavors!
(By the way, if you're attempting to DIY you're own pizza, you might want to try out this delicious pizza sauce recipe that we tried and loved!
And while you're at it, you might also want to try out this easy homemade pizza dough recipe that we found.)
Using a Pizza Stone on Your Pit Boss
If you have a pizza stone at home then you can definitely use it to cook your pizza. It's also perfectly safe to put it inside your pellet smoker.
Before you preheat your Pit Boss smoker, place the cool pizza stone onto the grill grates.
You will want to let the stone heat up in the pellet grill while it is preheating.
Simply let it sit in the pellet grill for around 25 minutes to half an hour.
You do not want to put your pizza onto the pizza stone until the stone is hot.
Placing uncooked pizza onto a cool pizza stone is what causes the pizza to stick to it.
Which, in turn, makes it much more difficult to remove after it's cooked on the stone.
To prevent your pizza from sticking to the pizza stone is to dust a thin layer of baking flour onto the flat stone.
Of course, you'll want to do this before placing it in the smoker to heat up.
Using a Pit Boss or a Traeger Grill?
You can use either type of pellet grill to cook your pizza.
See the methods for cooking both below.
How to cook pizza on a Traeger (it will be as tasty as wood fire pizza)
How to smoke pizza on a Pit Boss grill.
What Else Can You Bake In Your Pellet Smoker?
Wondering what else you can bake in your pellet smoker?
You can also bake pizza, bread, pies, tarts, and even cakes in your pellet smoker.
I am currently working on a few delicious baked recipes to share with you soon!
Can Pizzas Be Cooked in Pellet Smokers Without a Pizza Stone?
You definitely don't need to have a pizza stone on hand in order to grill pizza in your Pit Boss.
If you're working with a frozen pizza, then you'll need to wait until the grill grates are hot before you place it in.
If you put the pizza onto the grill grate too soon, then the dough will melt through as the smoker's heating up.
When cooking pizza directly on the grates, you'll also need to keep a close eye on the pizza crust.
This is because the crust and the underside of the pizza are definitely more prone to burning when it's directly exposed to heat like that.
Of course, if you're working with fresh pizzas, then you'll need to place it onto a baking sheet or tray.
This will prevent it from slipping through the grill grates as it cooks.
Do You Need to Consider the Type of Pellets You Use?
There's absolutely no hard or fast rule for the type of pellets you should use.
After all, everybody has different preferences when it comes to taste.
However, we do have some recommendations we'd like to share with you!
For meatier pizzas, we like to use hickory wood pellets.
However, if you're cooking vegetarian pizzas, then we'd highly recommend using fruit pellet wood instead.
We found that cherry pellets and apple pellets work especially well with vegetable pizzas!
They definitely add a slightly sweet taste to the pizza without completely overpowering the mild taste of the vegetables!
Steps for the Perfect (Frozen) Pizza on Your Pellet Grill!
Follow my steps below to get a perfect pizza!
No one will even know it was a frozen pizza!
Step 1: Heat Your Smoker
Preheat your smoker to 250°F and put your pizza stone on the grill (if your using one)
Step 2: Place Pizza Inside
Once fully heated place your pizza on the stone. If you're not using a stone put your pizza on a tray and place that in the pellet smoker.
Put on a timer for 15 minutes and wait.
Step 3: Increase the Temperature
After 15 minutes increase the temperature to 300°F and set the timer for 10 minutes.
Step 4: Pull Out, Slicer, and Enjoy
Remove the pizza from the smoker after the final 10 minutes.
Then slice and enjoy!
Now that you know how to grill frozen pizza with your pellet grill, you can definitely transform your normal BBQ dinner gatherings into a fun pizza night.
Just to shake things up a little bit!
We hope that you found this article helpful!
Have fun on your cooking adventures!
Smoke On!

Charlie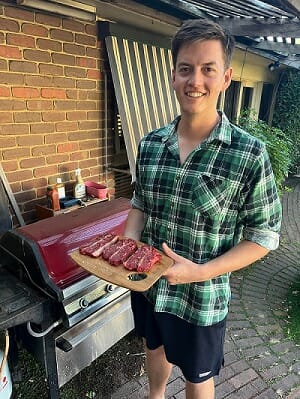 Author: Charlie Reeves
Hi, I'm Charlie, I am head taste tester at Simply Meat Smoking! I love it grilling, smoking, and getting out in the yard with the kids! The family also love to test all my recipes (especially my EXTRA CRISPY pulled pork, smoky pork loin, and ANY SEAFOOD I grill)
You will usually find me playing with the kids, perfecting my brisket bark, or sipping beers with boys around the fire. Can't wait to share all my delicious smoking and grilling adventures with you!

You can read more on our About Us page.
Hungry For More?