There is nothing like fall off the bone beef ribs smothered in sweet, smoky, and sticky barbecue sauce. You might think that a huge rack of ribs is hard to cook?
However, this is my grilled beef rib recipe that is super simple to do! Plus I don't even use a smoker! Cooking them on the grill helps to break down the connective tissue into juicy delicious gelatine.
What You Need for Grilled Ribs
Beef back ribs
Coco-Cola
Water
Whole black peppercorns
Kosher salt
See what you need to make the sweet smoky sauce below
My Secret BBQ Sauce
Then the BBQ sauce which has a secret ingredient to make it extra sticky, sweet, and delicious is! This delicious beef ribs recipe uses Coca-Cola to give you ribs that flavor!

It only takes 10 minutes to make your own EPIC bbq sauce! Then you slather the ribs in the sauce. Then you want to preheat your grill. You want to get the grill to about 275°F

You want to cook them for about 1.5-2 hours total. You want to use indirect heat for 40-60 minutes, then flip the ribs over and cook for another 35 minutes.

You'll notice that the sauce starts to caramelize and char. That's then why are ready to come off.
What Ribs to Buy?
Try to pick up short ribs s for this recipe.

They work well, then they have been braised then finished on the grill
Cook Ahead of Time
You can cook the ribs ahead of time. Then when you are ready to eat, just crank up your grill.

Get your ribs out of the fridge and bring them up to room temperature Throw the ribs in the BBQ sauce and then put them on the grill. You can also make the BBQ sauce ahead of time, it will last in the fridge for 5 days,
Print Recipe
Grilled Beef Ribs with Smoky-Sweet Barbecue Sauce
Sweet, smokey and sticky beef ribs
Ingredients
Ribs
15

pounds

beef back rib racks

1

litre

Coco-Cola

1

liter

water

1.5

teaspoons

whole black peppercorns

1

pimch

Kosher salt
Sauce
1

cup

brown sugar

1

cup

ketchup

1.5

cup

cider vinegar

1.5

cup

tomato sauce

1.5

cup

molasses

1/4

cup

tomato paste

2

tbsp

hot sauce

2

tbsp

liquid smoke

1

tbsp

onion powder

1

tbsp

garlic powder

1

tbsp

Worcestershire sauce

1.5

yellow mustard

1.5

chile powder
Instructions
Cooking the Ribs
Put the ribs in a very large pot or roasting pan; add the cola and enough water to just cover. Bring to a boil, skimming off any scum on the surface. Add the peppercorns and 1 tablespoon of salt. Cover and simmer over low heat until the meat is tender but not falling off the bone, 2 hours; drain.

In a medium saucepan, combine all of the ingredients and bring to a boil. Simmer over very low heat, stirring frequently, until thick and glossy, about 15 minutes.

.You want to get the grill to about 275°F. You want to cook them for about 1.5-2 hours total. You want to use indirect heat for 40-60 minutes, then flip then over and cook for another 35 minutes.
Smoke On!

Charlie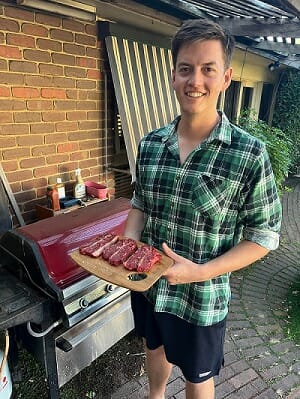 Author: Charlie Reeves
Hi, I'm Charlie, I am head taste tester at Simply Meat Smoking! I love it grilling, smoking, and getting out in the yard with the kids! The family also love to test all my recipes (especially my EXTRA CRISPY pulled pork, smoky pork loin, and ANY SEAFOOD I grill)
You will usually find me playing with the kids, perfecting my brisket bark, or sipping beers with boys around the fire. Can't wait to share all my delicious smoking and grilling adventures with you!

You can read more on our About Us page.
Hungry For More?