Thermomixs can help anyone create a variety of dishes that are bound to please the whole family.
But what recipes do you use if you want to barbecue?
No need to stress. We've put together some great options for you to try out.
Mini Haloumi & Vegetable Kebabs
Looking to incorporate some more veggies into your dinner?
Aren't we all…
These kebabs are guaranteed crowd-pleasers, easy to whip up, and perfect if you want to get the kids involved. Feel free to play around with what vegetables you use and use up what's in your fridge.
This recipe is also gluten and nut-free for anyone with allergies. This dish works well as a side, or as an entrée.
Spicy BBQ'd Octopus
Feeling a bit fancy?
Well, we've got a fantastic recipe for you to try with your Thermomix.
Octopus is not only delicious but works well when barbecued. This dish is ideal as an appetizer doesn't take long to cook and requires simple ingredients.
If you get nervous around spice, feel free to adjust the seasoning to your preferences.
Moroccan BBQ Koftas
Looking for an easy family dinner?
This dish meal is not only tasty but also highly nutritious. It is also a highly versatile recipe, where you can use beef or lamb mince depending on what you have available.
We recommend making the mince mixture the night before so that it can absorb the additional flavor for cooking the next day.
For serving, try these koftas with salad, Greek yogurt, and pita bread. If you're feeling adventurous, maybe try making your pita bread as well!
BBQ'd Stuffed Jalapeno Poppers
Feel like experimenting with something different?
Then give these jalapeno poppers ago.
This is a great dish that works as a snack, entrée, or party appetizer. Don't be afraid to experiment with the seasonings and find what works for you.
Again, this recipe can be adjusted for spice preferences- just be careful with how many seeds you add.
Peri-Peri Chicken
If you're willing to let your chicken marinate for 8 hours before cooking, we recommend this Peri Peri Chicken.
It's wonderfully healthy, tasty, and easy to make.
This recipe also comes alongside a great video tutorial for those among us that prefer a visual guide. If you don't have access to a Thermomix, this recipe can easily be done using a blender or food processor.
BBQ Greek Lamb Roast
This dish is perfect for large gatherings, special occasions, or changing up your usual roast recipe. It's incredibly tasty, juicy, and full of flavor.
Try serving it alongside pita bread, salad, or roasted vegetables.
This recipe is also great because the meat can be frozen both before and after cooking.
If you're looking to save your leftovers or make food ahead of time this recipe could be the way to go.
BBQ Chili Lime Pesto Prawns
Sometimes it's hard to find the perfect marinade. But don't worry, we've tracked down a great one that can be used with a variety of meats.
If prawns aren't your thing, this recipe also works with chicken or salmon.
For a delicious vegetarian option try this marinade with tofu or mushrooms. This dish can be served with bread, rice, salad, or on its own.
Using a Thermomix is lots of fun. And they're not just for baking. It's also a great tool for barbecuing and can create some brilliant results.
We love using Thermomix because they're quick, easy to use, and are ideal for barbecuing. There are so many wonderful recipes out there and we'd love to hear some of your favorites.
What do you cook with your Thermomix?
Smoke On!

Charlie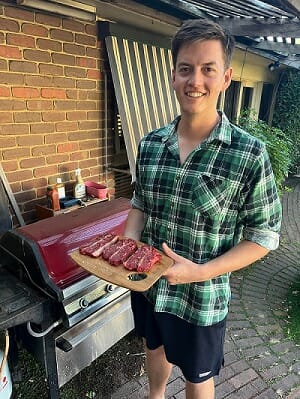 Hi, I'm Charlie, I have been meat-smoking and grilling for the past 15 years. I have an array of different smokers, thermometers, and have a love for finding the right wood and charcoal combo My favourite recipes are my EXTRA CRISPY smoked pork belly, juicy pulled pork, smoked brisket, duck poppers, and ANY SEAFOOD I grill).
I loves sharing his tips with beginners, helping them navigate the world of smoking. I find it's not just about cooking; it's a quest for that perfect smoky flavor.
You will usually find me playing with the kids, perfecting my brisket bark, or sipping beers with boys around the fire. Can't wait to share all my delicious smoking and grilling recipes with you!

You can read more about me on our About Us page.
Hungry For More?