Have you just whipped a batch of delicious meatballs?
Not sure what to serve with them?
You can't go past the traditional spaghetti and fresh garlic bread.
But sometimes we want something a little different.
Meatballs can be very versatile with a little bit of imagination. Round them out for a great family meal.
Have no fear! We've come up with a list of 17 no-fuss sides to turn the humble meatball into the star of the show.
And not a strand of spaghetti in sight!
Smoked Creamy Macaroni Cheese
Why not combine two family favorites?
Serve a smoked macaroni and cheese dish with the meatballs!
Mix the meatballs through the Mac and Cheese while it smokes, or serve side by side on the plate.
You'll have a hearty, delicious meal that every family member will enjoy.
Find the recipe here: Smoked Mac and Cheese
Creamy Mashed Potatoes
Few things beat the classic taste of creamy, buttery mashed potatoes.
Pair with creamy sauce or rich gravy.
This mashed potato recipe will take your saucy meatballs to new heights.
Add some fresh steamed green beans, carrots, and broccoli and you've got dinner done.
Red Roasted Potatoes
Following along the potato theme, are roast potatoes. Another great side dish for meatballs.
Season with the herbs and spices of your choice.
Then roast in the oven or smoker grill until they are deliciously crunchy.
Top the lot with some rich gravy or barbecue sauce.
Add in some smoked Brussel sprouts, sweet potato, and green beans and you have a solid meal.
Cilantro Lime Rice
Meatball meals don't always have to be hearty and heavy.
This delicious cilantro lime rice dish gives a fresh, zesty twist to a family favorite.
For a more earthy flavored base, try sauteing the rice with fresh garlic and onion first.
Egg Noodles
I know we said no spaghetti, but egg noodles aren't quite the same thing!
Try Swedish meatballs paired with a creamy-based sauce poured over egg noodles.
It's quick, tasty, and filling – perfect for a family meal.
Make your own with the following recipe.
It uses simple ingredients that you probably already have in the pantry.
Or if you are short on time buy ready-to-go noodles and add whip dinner up in no time.
Fresh Spinach Salad
As the weather warms up, fresh salads are coming into their own.
Try your meatballs with this spinach salad.
Bulk it out with eggs, avocado, mushrooms, tomatoes, and cucumber, and top with crispy bacon.
You can use whatever fresh salad vegetables are in season.
This salad will go with beef, turkey, or chicken meatballs.
It makes a great meal, hearty and healthy, and lets the natural flavors of the meatballs shine.
Italian Meatball Sub
Italian meatball subs are my personal favorite!
Fresh toasted French baguettes, juicy meatballs, and marinara sauce. All covered in melted cheese.
Divine!
Meatball subs are perfect for big groups, kids' sleepovers, or Super Bowl get-togethers.
Use a bread roll that's sturdy enough to hold the meatballs and sauce. Top with fresh basil and mozzarella cheese.
You'll guarantee all your dinner guests will be smiling.
Smoked Corn on the Cob
Plain old corn on the cob won't do for these delicious meatballs.
Try this tasty smoked corn-on-the-cob recipe for a side with impact.
Coated with butter and seasoned to perfection, this corn on the cob will get your mouth watering.
Throw it on the grill and you'll have gloriously smoked corn on the cob. The perfect side for barbecue meatballs.
Find the recipe here: Smoked Corn on the Cob
Couscous Stuffed Bell Peppers
Usually, we stuff the bell peppers with ground beef.
But for this recipe, we are using minced meat as meatballs. The bell pepper stuffing is couscous.
Just for something a little different!
Couscous instead of rice means it's a low-carb/high protein meal. Perfect for the health conscious.
And delicious as well!
You can serve your meatballs as is, or with a fresh tomato and basil puree over the top.
Summer Salad Sides
Summer salads are the perfect sides for backyard barbecues.
Use whatever is in season for the freshest flavors.
Fresh coleslaw or a tossed green salad are great sides for homemade meatballs.
Smoke the meatballs and top with some barbecue sauce to fit the backyard dinner theme.
Sauteed Broccoli and Zucchini
This is such an easy meal to throw together and tastes delicious!
Saute the vegetables in crushed garlic and a little olive oil for a rich flavor.
Or, for something lighter try some chili pepper flakes and lemon juice.
Top with a little parmesan cheese for a little extra flavor.
Substitute the vegetables with whatever is readily available and in season.
If your meatballs are pre-cooked, you can have dinner on the table in under 15 minutes with this tasty side dish.
Cheesy Squash and Zucchini Casserole
If it's comfort food you're looking for, look no further than this divinely tasty casserole.
Served next to juicy meatballs, this casserole will fill all the criteria.
It's creamy and healthy and adds a dash of color to the plate.
Make it ahead of time, and have it ready to go in the oven for a fuss-free dinner.
Lemon Garlic Broccolini
This broccolini side dish will have you licking your lips with anticipation.
The heartiness of broccolini is paired with the freshness of lemon and the punch of fresh garlic.
This recipe works well with beef, chicken, or turkey meatballs. Broccoli will work if broccolini is hard to source.
Zucchini and Tomatoes
This side dish is simple, healthy, and light, perfect for hearty meatballs.
It's full of fresh flavors and easy to throw together.
Best of all it's all made in one skillet so cleanup is a breeze.
Sautee with some fresh garlic and onion for a flavor kick.
When you're looking for a simple side dish, grab some fresh produce from the farmer's market and whip this one up.
Garlic Herb Cauliflower Rice
If you are cutting back on carbs, try this cauliflower rice as a tasty substitute.
The mild taste of cauliflower goes well with an assortment of herbs and spices.
So you can season the rice to complement the flavor of your meatballs.
Pairing cauliflower rice with flavored meatballs gives you a lighter but filling meal.
Perfect for summer evenings and backyard meals.
Mozzarella, Tomato & Basil
You can't go past tangy fresh tomatoes and fresh sweet basil as the perfect side dish for juicy meatballs.
Top with some freshly grated mozzarella and you have a winning family favorite dish.
Fry the diced tomatoes with some garlic and onion for an Italian spin.
Blend it into a savory sauce, or serve as a chunky salad.
Marinara Dipping Sauce
This marinara sauce is incredibly versatile.
You can pair it will mini meatballs as a dipping sauce for tasty finger food.
Or mix with meatballs and pour over pasta and pair with fresh garlic bread for a classic combination.
The marinara sauce also makes a great sauce on the meatball subs.
It's so easy to whip together, and chances are you already have most of the ingredients on hand.
For a meatball dish with a difference, why not try out some of these sides?
They'll completely change the style and taste of the old family favorite!
Smoke On!

Charlie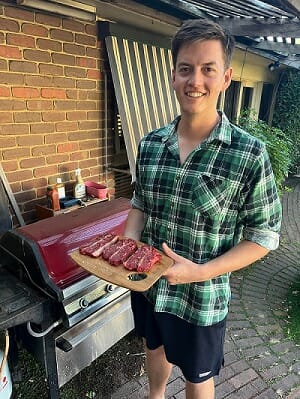 Author: Charlie Reeves
Hi, I'm Charlie, I am head taste tester at Simply Meat Smoking! I love it grilling, smoking, and getting out in the yard with the kids! The family also love to test all my recipes (especially my EXTRA CRISPY pulled pork, smoky pork loin, and ANY SEAFOOD I grill)
You will usually find me playing with the kids, perfecting my brisket bark, or sipping beers with boys around the fire. Can't wait to share all my delicious smoking and grilling adventures with you!

You can read more on our About Us page.
Hungry For More?