Are you looking for a ham flavored packet substitute?
A seasoning packet is a simple and effective way to get extra flavor into your food.
It saves valuable time and removes the meat component or animal products.
This time we are substituting a ham flavor packet you might be using for a bean soup!
From bacon to mushroom, we have delicious flavors.
Let's get cooking!
Why Do We Substitute in Recipes?
Out of ham flavor packets or want to try something different?
Learning how to substitute flavors helps you experiment with your recipe.
Understanding complementary flavors will make you a better chef.
You might even find the substitute works better!
My Top Alternatives for a Ham Flavor Packet
These are my top substitutes for a packet of ham flavor.
A ham flavoring packet can be split into 3 components.
– The meat/ham flavor
– The vegetable base
– The spices & herbs
Don't limit yourself to 1 of my recommendations as they can be mixed and matched.
Don't eat meat? Just use mushrooms.
Want the full package? Fry the bacon and then add in a bunch of veggies & spices!
Get that crock pot ready whatever you decide.
Smoked Bacon
Frying smoked bacon before adding other ingredients is a perfect substitute.
The rendered fat and smoked meat will spread the traditional flavor a packet mimics.
A simple and cheaper way to add flavor.
Ham is often smoked as a way of preservation.
So make sure you choose smoked rashers to elevate it further.
This is a tried and tested method used in cooking classic recipes.
Get frying the next time you want a burst of ham flavor!
Note: Bacon as a substitute can be applied with the following recommendations.
Even consider another type of meat like sausage or even salami!
Spice & Herb Blends
Spices and herbs are used to season and add flavor to any recipe.
These will be a component of the flavor in a ham spice packet.
It is easier to mix your own spice blend as a substitute.
That way you always have it to hand for flavoring the basic components of your dish.
Popular picks are Italian seasoning, celery seeds, fennel, and chili.
Layer flavor to cold water as you build a soup.
Fry off Tyme sprigs in olive oil with garlic.
The possibilities are endless!
Bouillon Cubes
Convenient portions of dehydrated stock.
Bouillon cubes are very similar to adding the basic flavors found in a ham packet.
When combined with bacon it makes a very good substitute.
There are a variety of different types available such as chicken or beef.
Add I cube per 3 cups of water and adjust for seasoning.
Be aware of salt levels if combined with bacon or chicken stock.
Fresh Vegetable Stock
A yummy pot of soup starts with fresh vegetable stock to disperse your ham flavor.
Throw in those raw veggies and break down the complex sugars to release flavor.
Think beans with onion, celery ribs, and tomatoes with juice.
Add fresh water and simmer for at least 2-3 hours.
You control the balance of flavors for a delicious and complete meal.
Porcini Powder
The mushroom flavor from Porchini's is used in vegan recipes to mimic meat.
It is my go-to if catering for vegitarians for a boost of flavor.
Add the powder to clean water and boil gently with a cup of onion.
The dark stock with an earthy flavor will complement any savory meal.
It makes a great substitute for a ham flavor packet without the meat
Liquid Smoke
Liquid smoke is a complex flavor additive.
It is a quick way to develop a smoke flavor with minimal effort to your dishes.
Add 1 or 2 drops per 5 cups of liquid.
But use sparingly as it can overpower your dishes.
Shop around for one with the most authentic taste.
This is a good alternative as it mimics the ham's curing method
Why Don't You Do It With a Real Ham?
Let's be honest with each other.
You're going to be adding the seasoning to a bean soup mix recipe in your slow cooker.
Extracting natural flavor from a real ham isn't hard.
In fact, it literally is the same as making soup or broth and will taste much better.
You can easily freeze homemade stock after making it in big batches.
This is way more cost-efficient and healthier for you.
Avoiding any nasty additives like high levels of monosodium glutamate.
Check out my recipe for perfectly Christmas smoked ham here or if you planning on smoking a ham for Easter I also have a recipe for that.
Smoked Ham Stock Recipe
Follow the below to extract real natural ham flavor for your dishes.
– In a deep saucepan, fry garlic, yellow onion, celery, and carrots in olive oil.
– Wait until soft and fragrant.
– Add black peppercorns, bay leaf, and a sprig of thyme.
– Add a leftover ham bone with some shredded meat.
– Cover the bone with cold water and set to medium-high heat.
– Cover with a lid and reduce by half on a simmer for 7-8 hours.
– Remove the bone & sieve the vegetables and whole spices.
The Pros of Smoking & Getting Natural Flavor Infusion
– No nasty additives or artificial flavors.
– You control the flavors and seasoning.
– Accomplishment and control of your dish.
– Natural and healthy.
– Smoking lowers the need for salt.
Smoke On!

Charlie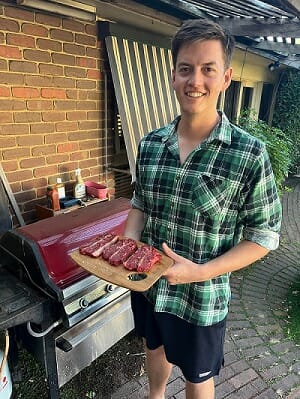 Hi, I'm Charlie, I have been meat-smoking and grilling for the past 15 years. I have an array of different smokers, thermometers, and have a love for finding the right wood and charcoal combo My favourite recipes are my EXTRA CRISPY smoked pork belly, juicy pulled pork, smoked brisket, duck poppers, and ANY SEAFOOD I grill).
I loves sharing his tips with beginners, helping them navigate the world of smoking. I find it's not just about cooking; it's a quest for that perfect smoky flavor.
You will usually find me playing with the kids, perfecting my brisket bark, or sipping beers with boys around the fire. Can't wait to share all my delicious smoking and grilling recipes with you!

You can read more about me on our About Us page.
Hungry For More?