Do you love ham? But what to try something a little different?
Maybe you want some healthier alternatives.
Or provide a vegan option?
Well, look no further! I have plenty of choices packed with amazing flavor for you and your family.
My Top Substitutes For Ham
Remember that you don't always have to be traditional.
You should experiment with your cooking and get creative without missing out on any delicious flavors.
Roasted Pork Shank
My first suggestion comes in many names depending on where you are from!
Pork knuckle, shank, or pork hocks!
Call me a cheat as this cut is from the lower knee area of the pig. So it's still technically a pork leg.
It is also cured but usually smoked longer than a whole ham.
The pork shank meat has a rich flavor but more connective tissue than the general ham. This means you should give it gentle cooking over a long period.
I recommend making a quick vegetable stock with a splash of white wine and olive oil.
Simmer the hock for at least 5 hours or until the meat is coming off the bone.
Serve with mashed potatoes and gravy. Don't forget to save the smoky stock for ramen!
Bacon
The second option is classic bacon! I mean who doesn't like bacon?
I want to recommend bacon that has been fried to a crisp and then left to cool.
Use this as your new sandwich fillings, like you would with sliced ham.
Bacon is from the under belly side of the pork instead of the leg.
It has a higher fat content so it is important to render it down completely before you dry with paper towels.
Add some freshly made mayonnaise, lettuce, and tomato for the ultimate lunch sandwich. Your kids will love you!
Tofu
My first vegan meat substitute is tofu.
It might seem a bit weird but hear me out! Tofu has an excellent texture like that of ham.
It can also be infused with traditional flavors like smoke or salty soy sauce.
This is a great vegetarian alternative because it doesn't substitute texture or flavor.
There is a restaurant in LA called Vinh Loi Tofu that inspired me.
They make homemade tofu as a ham substitute and advocate you to do the same!
Tip: Marinade the tofu with liquid smoke, pineapple juice, and maple syrup. Season with salt and pepper before adding to the air fryer.
Roast Pork Shoulder With A Honey Glaze
If you want an alternative to pork, why not choose… Pork?
I know it might seem a little lazy…
Don't you know that each part of the animal has different flavors and textures?
If you can't get hold of a traditional ham leg then go with the shoulder. Add the classic flavors you enjoy with a ham leg.
Star anise and sugar with collard greens sound pretty good!
Make extra so you can use the leftovers for your sandwiches. The shoulder has similar fat content as the legs.
So start prep for the perfect crackling!
Seitan Chickpea Vegan Ham
Haven't heard of seitan?
It is a vegan meat substitute made using wheat gluten.
You must 'wash' the wheat flour until all the starch is removed. When the starch is gone you are left with pure gluten.
The gluten will act as a base and binder for your other ingredients.
In this case, I have chosen chickpeas as they have high natural protein and a nutty flavor.
Combine the gluten and chickpeas and then mold them into a burger patty. We can then start adding the classic flavoring behind our beautiful ham.
Hickory smoked bbq sauce and soy.
Or what about English mustard, honey, and cloves?
Bake or grill to discover a vegan dish worthy of its own.
Smoked Watermelon Ham
Now, this might seem a bit crazy, but you need it to try it.
You cure the watermelon like you would ham for a week, then cook it.
It take some effort but it is worth it.
See our smoked watermelon ham recipe here.
Smoked Pork Chops With Cranberry Sauce
My last recommendation is another cut of pork.
This time we will be using smoking in the cooking process.
Instead of curing use a simple brine with black pepper and bay before adding your favorite rub.
Just be sure you include brown sugar.
The smoking process will form a bark around the meat.
This will not only improve the taste of dark savory heaven but also form an extra texture.
The cranberry sauce will cut through the richness. Have on with a side of roasted veggies. Or between a lovely sourdough bun.
See our smoked pork chops recipe here.
Looking for a Tasty Ham Recipe?
Decided you do want to cook ham?
You have to try this bourbon-injected smoked ham recipe. It is super simple and tasty. Or try my smoked Christmas ham, this recipe is simple but tasty
What does Ham Taste Like & How Should I Use It?
A traditional American ham will be pink in color. It will have a beautiful smoky flavor.
The strong pork taste can be paired with a variety of spices and seasonings.
Traditionally I like to use a sweet garnish like an amazing maple mustard glaze.
Are you using deli slices for a quick meal or lunch?
Put on wheat bread with avocado. It is also a big source of protein for your body.
Be aware that these protein cells hold lots of moisture from the curing process.
Smoke On!

Charlie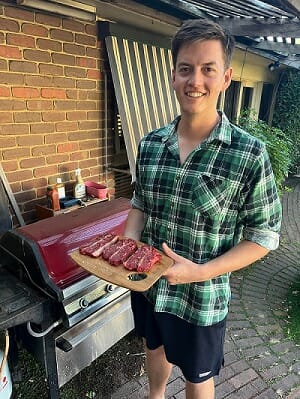 Author: Charlie Reeves
Hi, I'm Charlie, I am head taste tester at Simply Meat Smoking! I love it grilling, smoking, and getting out in the yard with the kids! The family also love to test all my recipes (especially my EXTRA CRISPY pulled pork, smoky pork loin, and ANY SEAFOOD I grill)
You will usually find me playing with the kids, perfecting my brisket bark, or sipping beers with boys around the fire. Can't wait to share all my delicious smoking and grilling adventures with you!

You can read more on our About Us page.
Hungry For More?