There is nothing like a big bowl of chili with your favorite toppings.
With extra shredded cheese and pepper flakes.
I always have fun cooking up a beef chili.
The biggest flavor factor for me is the types of onions I use.
It helps to achieve that classic homemade chili taste.
So, whether you want a sweet flavor add a yellow onion.
Or a stronger flavor from white onions.
You learn below which types of onions to use!
Let's serve up a bowl of chili with maximum flavor!
Why Onions?
Onions are one of my favorite vegetables and a pantry staple.
They are on the recipe list for almost all of my dishes.
But why?
– Onions are packed with vitamins, minerals, and fiber.
– They have natural sulfur compounds that help to reduce bad cholesterol.
– Onions contain natural sugars with a deep, umami-packed flavor.
– There are around 20 different types of edible onions.
What Are the Best Onion for a Chili?
The best onions to use in a hot chili are all of them!
When prepared with the correct cooking methods you can create a depth of flavor.
From all the varieties!
Read further to find out how!
Our Favorite Chili Recipes
Need a delicious chili recipe? I have you sorted!
Brown Onions
The brown onion is the most popular cooking onion.
They have white flesh with a pungent flavor coated with a thin brown skin.
Brown onions are best cooked through at the start to remove the sharp taste.
To layering the flavors in a chili.
Chop very fine and fry in olive oil on medium heat until translucent.
This will take around 5-10 minutes.
When the brown onions are ready, it is then time to add your blend of spices and tomato sauce.
Scallions/Green Onions
Scallions, spring onions, or the long green onions.
Different names but all the same!
These have a milder onion flavor and as a result, have less cooking time than the other varieties.
To get the best out of scallions and for an amazing chili, snip the green top.
Garnish the chili with the raw onion snippings for an aromatic flavor.
Red Onions
Red onions have purplish-red skin and flesh with red papery skin.
They are used in curries and salads.
As red onions have high sugar content, they are best caramelized before adding to your chili.
In a separate pan, slowly heat chopped red onion until lightly frying.
Add a pinch of sugar.
Keep on the low heat for 45-60 minutes.
Add red wine vinegar.
They should be thick and sticky.
Add this caramelized red onion after cooking out the spices.
This will balance out the spices, thicken the sauce and give your taste buds something to savor!
Shallot Onions
The shallot onions or just "shallot" are smaller in size than a regular brown onion.
They have a mild flavor with a thinner skin and are mainly used in french sauce cooking.
Add a shallot at the beginning of cooking your chili.
The same as a brown onion.
This will form a base of additional flavors of onion.
Onion Rings
Onion rings are rings of onion that have been battered and fried.
My personal favorite is to load these on top of chili cheese dogs or any chili recipes.
Onion rings give a different texture and soak up some of the spicy flavors in the batter.
Topping with tortilla chips or corn chips can be replaced by onion rings if you had eaten them all!
What Kind of Onion Do You Top Your Chili Off With
The best kind of onions to top your chili with is either red onions or green onions. Both have a mild taste with earth crunch. If your chili is super spicy I would suggest a yellow onion, these onions have a sweeter flavor and will help to balance the flavors.
Once you try the chili onion crunch you won't want to go back!
Smoke On!

Charlie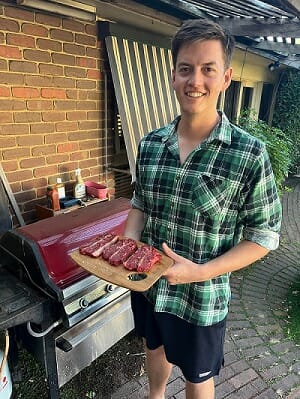 Author: Charlie Reeves
Hi, I'm Charlie, I am head taste tester at Simply Meat Smoking! I love it grilling, smoking, and getting out in the yard with the kids! The family also love to test all my recipes (especially my EXTRA CRISPY pulled pork, smoky pork loin, and ANY SEAFOOD I grill)
You will usually find me playing with the kids, perfecting my brisket bark, or sipping beers with boys around the fire. Can't wait to share all my delicious smoking and grilling adventures with you!

You can read more on our About Us page.
Hungry For More?